What is a VPS? A Beginner's Guide to Virtual Private Servers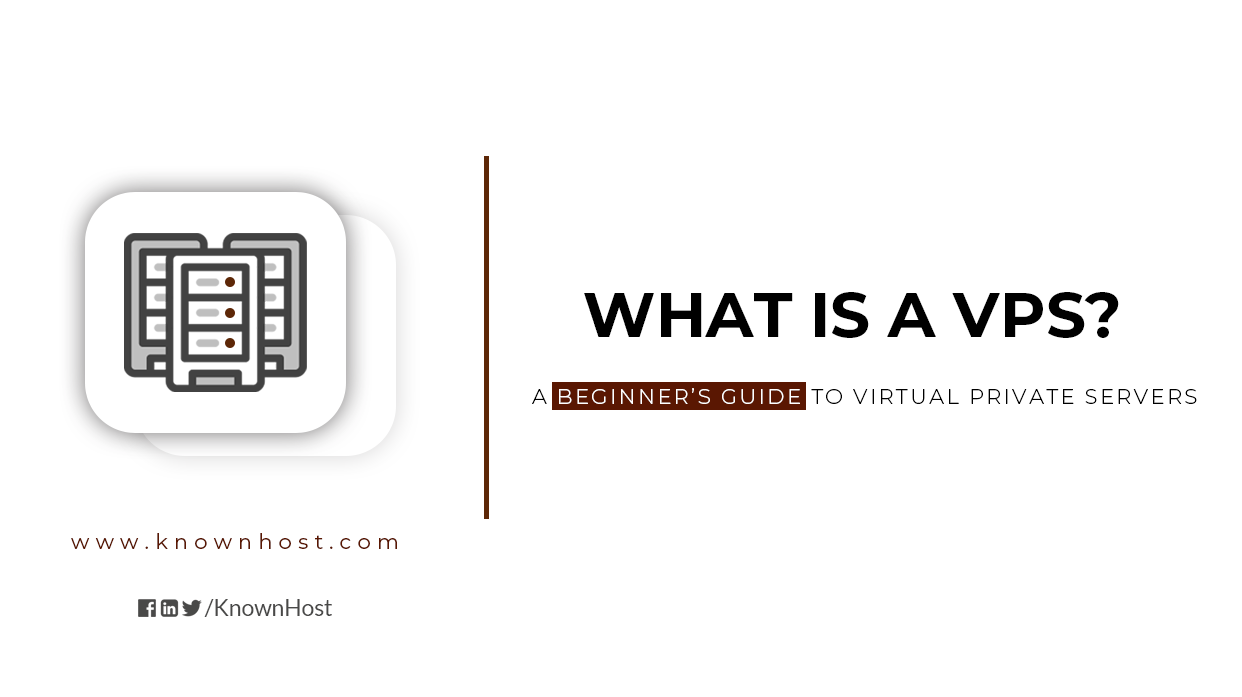 Even before your website can be designed, created, and prepared for launch, you must select a web hosting service. In order for your website to be available online, the files need to be uploaded to a web server, and hosting is the key to this essential step.
Rather than using shared hosting, with many websites using the same server, website owners these days are switching to VPS hosting services due to the advantages. Depending on your business and website needs, VPS hosting may be well worth your investment.
What is a VPS?
The acronym VPS stands for Virtual Private Server. So to explain what VPS hosting is, let's begin with the definition of a server. A server is a powerful computer that stores all the data and files that your website consists of. When a person wants to browse your website, that massive computer "serves up" your site onto that individual's device so he or she can access it and interact with it.
But how is the server "virtual"? Every VPS uses virtualization technology to split that one larger server into multiple smaller virtual servers. Each "smaller server" has its own operating system along with dedicated storage, RAM, and CPU resources.
The term "private" is used because, when you use a VPS, you are the only one using your virtual server. It is reserved solely for your use, and you won't have to share your CPU or RAM with any other websites, which brings many advantages.
What is Shared Hosting?
The majority of new website owners begin with a shared hosting plan. This type of hosting is provided by one physical server that is host to multiple sites without the division of small, virtual portions. In other words, you aren't using your own private server.
A shared server may host hundreds of users. Each user retains a section of the server where individual website files are stored.
You could compare shared hosting to renting a space in an apartment complex – it's cheaper than buying your own home and comes furnished with everything you need. The downside is that you may have to share larger living spaces with others and sometimes resources are limited.
Similarly, a shared hosting plan usually works fine for smaller websites that don't require as much speed, bandwidth, storage, and reliability. When you're on a shared hosting plan, your website is being run on the same operating system as everyone else using the same server.
The loading time of your website can be affected by the volume of traffic of another website on the hosting server. For this reason, shared hosting is less of a problem for lower traffic sites, but VPS hosting will be a far better option above a certain threshold.
For businesses with large or perhaps rapidly expanding websites and greater traffic volume, a shared hosting plan will be invaluable. VPS hosting is sure to make a difference in the performance and security of the website.
VPS Hosting vs. Shared Hosting
As you may have noticed by reading the above, shared hosting and VPS hosting both allow users to share the resources of a single server. However, the main difference is that, with shared hosting, all of the server's resources are shared equally between users.
A single user using shared hosting will never have control over how the server handles the website at any given time; it will always fluctuate depending on the usage and traffic of all the other sites on the server.
Returning to our housing illustration, VPS hosting could be compared to condo living. While you still have to share the building (server) with others, there are fewer people around and you have more control over how and when you use your space.
Likewise, when you use a Virtual Private Server, you're able to customize your resources based on your needs with more control over your data and bandwidth usage. While other websites are still hosted on the same large server as yours, the difference with VPS hosting is that you will have your own RAM, CPU, storage, operating system, and bandwidth at your disposal.
The result? Increased performance.
VPS Hosting vs. Dedicated Hosting
While Virtual Private Servers allow users to equally share a portion of a single server, a dedicated hosting plan actually allows users to rent an entire physical server for their websites. If you have a large, high-traffic traffic website, then dedicated hosting may be the best option for you. Your own personal server will be fast, flexible, and completely customizable.
The downside of a dedicated hosting plan is the cost. This type of plan is more expensive than VPS hosting. However, if you have a large business, the service quality may be well worth the extra expense. A dedicated hosting plan gives you full control over your resources and allows you to customize the software to meet the needs of your website (or websites).
The Best of Both Worlds: Benefits of VPS Hosting
Many website owners are choosing VPS hosting because it combines some of the best features of shared and dedicated hosting. Consider some of the following benefits
Enough speed
Shared hosting doesn't work well for websites that use a large amount of RAM. As your business expands and you add more content to your website, your site's load times will start to decrease. This is an indicator that you are maxing out your limits on your shared hosting plan and it's time to upgrade your plan to use a VPS. Increased loading time decreases website visits and sales conversions, so website speed should be your priority.
Reliable security
With shared hosting, the mistakes of other users could affect the functionality and performance of your website. A VPS allows you more privacy and security since your databases and files are locked away, separate from other server users.
Customizability
A VPS is relatively easy to customize, allowing you to choose your bandwidth, CPU, and even your own operating system. As your website grows and is visited more frequently, you can simply upgrade your plan when needed to accommodate the influx of traffic.
Reliability
With VPS hosting, you have your own allocated storage and bandwidth at your disposal – you don't have to share with other companies. Your memory and bandwidth are guaranteed and won't fluctuate with usage.
Root access
A VPS functions as an independent server, meaning you get root access. This is needed to install your own operating systems, applications, and custom-built tools.
Reasonable cost
VPS hosting is a great, more affordable alternative to a dedicated hosting plan. Consider VPS hosting if you are restricted to a budget but still require more bandwidth, security, and RAM. A VPS will provide you with many of the same features of a dedicated hosting plan but at a lower rate.
Great platform for website building
A VPS is beneficial for users who build websites for clients because it will allow you to host an unlimited number of domains.
Secure online store infrastructure
If you run an online store selling goods or services, you're definitely going to need a VPS (as opposed to shared hosting) for your website. With a secure VPS, your site is more likely to pass a PCI compliance test. When you are accepting credit cards as payment on your site, you want to ensure that your customer's information is as secure as possible. A Virtual Private Server is more secure than shared hosting, making it a better, safer option for eCommerce.
If you require more than what a VPS can provide but hesitate to jump straight into dedicated hosting, KnownHost also offers semi-dedicated and budget dedicated hosting plans to better meet your intermediate needs.
How to Know Which VPS Hosting Plan is Right For You
Now you know what a Virtual Private Server is, how it differs from shared and dedicated hosting, and some of the many advantages of VPS hosting. If you're considering switching your hosting plan, you'll need to decide what type of VPS hosting plan is right for you.
At KnownHost, we offer both managed and unmanaged VPS hosting packages. In order to select the one that best meets your needs, please consider the differences between the two.
An unmanaged VPS is often referred to as a self-managed VPS. In other words, with lower cost comes less perks.
With unmanaged VPS hosting, the hosting provider provides the server, maintains the hardware, and ensures network connectivity. But you, as the website owner, are responsible for installing server software, monitoring security threats, setting up your website's backup services, and configuring and maintaining your server.
The major advantage of an unmanaged VPS is that it is more cost-effective. However, you'll only want to consider using this type of hosting option if you are knowledgeable in server administration and troubleshooting, or if you have an IT person on hand.
With a managed plan, your hosting provider will take care of the initial server setup, maintenance, and software updates installation. The hosting team will also watch for signs of hardware failure or security breaches and backup your files so that you won't lose everything in the event that something goes wrong with your website.
Website owners without a technical background, the time to spare, or an IT team on staff are going to want to go with a managed VPS plan. When your website's VPS is managed by the hosting provider, you'll have a group of IT professionals handling the technical side of things and ensuring that your server is functioning at peak performance.
How to Choose the Right VPS Hosting Provider
Website owners should select a VPS hosting provider that they feel confident in and comfortable with. KnownHost has worked hard to build reliable and cost-effective VPS services for our valued clients, and the outstanding features of our VPS hosting packages speak for themselves.
Uptime
A VPS hosting service should have a minimum acceptable uptime rating of at least 99.5 percent. Anything lower than that is simply unacceptable since even each second your website lags could lead to significant reputational and financial losses for your company.

The Virtual Private Servers that KnownHost provides, though, are built on some of the fastest and most reliable drives in the world, so you can get the reliable speed you need. Our proven availability is 99.996 percent as of 2021!
Hardware
When you are shopping around for a website host, ask for information on the servers that the hosting provider uses for their VPS services. A good hosting service provider should offer the newest and most powerful hardware available.
This should include solid-state drives (SSD), which, simply put, lack moving parts and are thus faster than traditional hard drives. At KnownHost, all our clients have access to high-speed SSD that outpaces the competition.
We also offer NVMe VPS hosting, if you require the newest and fastest technology available to ensure ultimate performance and data transfer rates.
Round-the-clock customer service
You never know when you're going to need assistance with your website, so make sure you choose a hosting provider that offers 24/7 customer support. This is KnownHost's own policy.
You might even reach out to the companies before making a decision to see which ones are the easiest to speak with and what their response time is. Contact the team at KnownHost any time day or night, any day of the week, year-round, to get answers to your questions and see how we treat you.
Backup services
A reliable backup service is absolutely essential, especially in the event that you're making some changes to your website and accidentally make an error that is irreversible or causes you to lose everything. Thanks to the backup service of your VPS hosting provider, everything should be saved and easy to restore.
At KnownHost, we offer remote storage locations for your backups so you can always have peace of mind.
Scalability
Ask your hosting provider what their process is for scaling VPS hosting on their servers. This means that, as your website and income grows, you may find yourself needing more extensive VPS sources down the road.
At KnownHost, when you require more drive space and CPU and need to upgrade your package, we can expand your VPS instantly. We can take care of the changes for you without you having to worry about DB issues or downtime.
Cost
Most hosting providers will charge a monthly fee for a VPS package that includes an allocation of storage and RAM, as well as a specified data transfer speed, bandwidth, and IP addresses. Packages range in price depending on the amount of resources and the level of management provided. Please look into each of your options and select the package that provides what you need with the highest value for the most reasonable price.
Conclusion
Now you have a clearer understanding of what Virtual Private Servers do and why you should consider investing in VPS hosting. A VPS hosting plan could be the perfect solution to your expanding online business. You'll have access to guaranteed storage bandwidth and other resources, as well as full control, without the headache of having to manage your own server if you opt for managed hosting.
If you're looking for a cost-effective solution in order to pace with the demands of a busy and expanding site, then you'll want to seriously consider VPS hosting. This is the ideal option for websites that are beginning to grow and attract more attention. A VPS also offers a secure, affordable hosting environment for online stores and other sites that are resource-heavy or experiencing medium to high traffic.
While you're going to pay more for a VPS hosting plan than a shared hosting plan, the benefits of VPS hosting far outweigh the costs. If you're looking for a VPS hosting provider, KnownHost offers affordable packages and performance that outpaces the competition. Our unmanaged VPS packages start at just $5/month.