12 Best Resources to Learn How to Use WordPress in 2021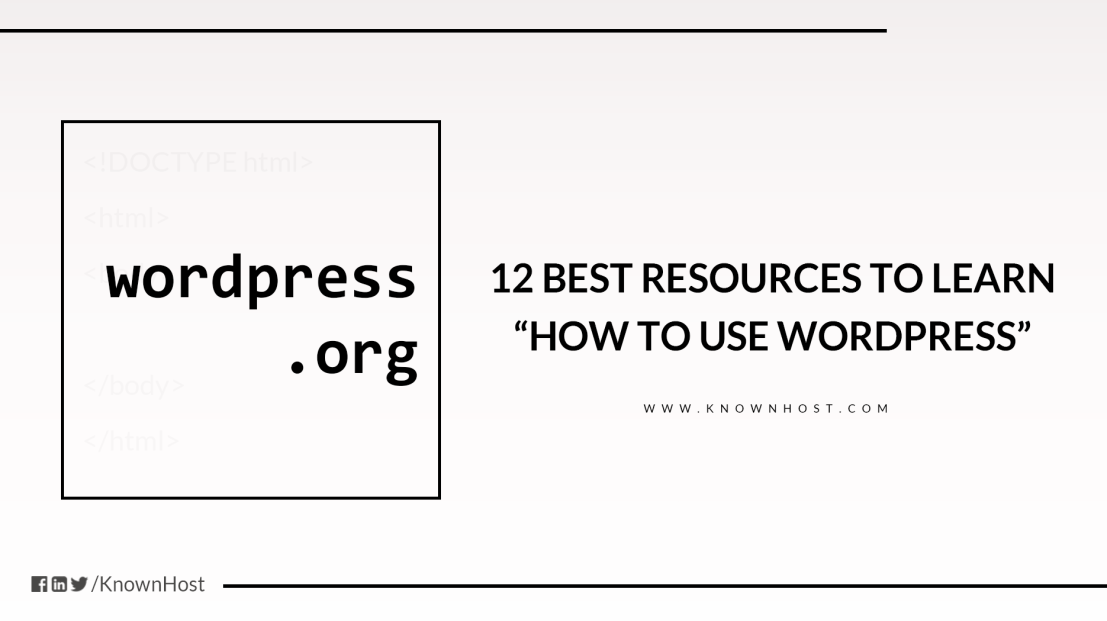 You've decided to use the popular website building tool WordPress to create your own personalized website, but you're a beginner and may be feeling overwhelmed or unsure of where to start. So where can you go to learn about the WordPress Hosting Platforms to create your first website?
The internet is saturated with forums, blogs, videos, online courses, and webinars directed toward teaching everyone – from beginners to skilled developers – how to use WordPress, so where should you start? How do you know which resource is best for you? We've compiled a list of the top 12 resources we recommend to learn WordPress as of the year 2021.
The Top 12 Recommended Resources to Learn WordPress
The following recommended WordPress resource list covers the cost and value of the content, the skill level it teaches, how well-structured the course material is, and whether the information is easy to understand and to follow.
It's hard to find a more trustworthy resource to learn about WordPress than the WordPress Codex. This free platform is the official online manual from the developers of WordPress themselves. As such, it is a monumental resource that you will find valuable at any WordPress skill level.
One feature we especially appreciate is the WordPress installation and update guide. The WordPress installation guide can be a little technical, but the WordPress Codex explains the process in an easy-to-understand way. Another important section of the Codex has WordPress lessons, with dozens of tutorials for beginners and developers.
For beginners: Have you read or heard any WordPress "vocabulary" that you don't know or understand? The Codex contains a glossary that provides definitions for close to 150 terms.
For advanced users and developers: If you're unsure how to use a feature of WordPress or you receive an error message, the Codex also offers a troubleshooting guide. What's more, there is a theme development page that covers every aspect of creating a theme, as well as a plugin development page that's helpful for advanced users wanting to develop their own WordPress plugins.
Perhaps one of the best features is that the codex is a Wiki, which means that you can translate, edit, and discuss information with other users. So if you have questions, start here on the Codex, the ultimate WordPress "Bible" and public forum.
The WPBeginner team believes that all basic education should come at no cost. Because of this belief they proudly offer free WordPress training on their website.hat can be accessed by filling out a basic email signup form. WPBeginner then allows you, the subscriber, to search within the site for specific topics that you want to learn.
The site contains a WordPress dictionary, blogs, articles, over 2,000 step-by-step tutorials – WPBeginner even has its own YouTube channel.
The courses offered on the site cover a broad range of subjects such as:
How to Speed Up Your WordPress Site
How to Make Your Site Multi-Media Friendly
How to Fix Common WordPress Errors
Due to the abundance of the content contained in WPBeginner and the fact that the site doesn't outline a proper course format, some people find it a bit overwhelming. If you're the type of person who prefers sticking to a strict course with articles, videos, and quizzes, then this may not be the best WordPress resource for you.
WP101® offers video tutorial courses designed solely for WordPress users, primarily beginners. Each structured course is complete with learning goals, quizzes, and downloads. Each lists a complete syllabus of the content provided and lasts between 45 and 140 minutes.
You don't need a laptop to take the course since the lessons can be watched on any device. New videos are frequently added to keep up to date with the newest WordPress releases. While WP101® doesn't contain as much content as other paid courses, it does offer users a clean and friendly platform that is beneficial to most beginners.
The WP101® blog boasts many pro tips and has a forum that you can browse for free. However, the courses themselves are not free and are paid for on a monthly, yearly, or lifetime subscription basis.
The cost is reasonable, ranging from $19/month to $89 for all time. However, WP101® does give developers a chance to try out the course first by offering a 2-week trial period with a full money-back guarantee.
Much like WP101®, WP Apprentice offers WordPress instruction by means of beginner-friendly video tutorials. The courses are highly detailed, and the content of each video is clearly listed. The course lays out the absolute basics for creating a website and outlines a system that ensures that you get your site up and running without any hitches.
WP Apprentice offers a free WordPress Quick Start course to give you a feel for the platform. Should you wish to continue, monthly access to all courses starts at $15/month. The course content is well-structured, kept up to date with each new WordPress version release, and accessible on any device. Members are offered monthly group coaching sessions and have access to a members' group forum where they can network and share ideas.
iThemes is a company that produces high-quality WordPress plug-ins. It offers some of the top WordPress security, backup, and maintenance available. While some tutorials are free, the majority of training offered on the site comes in the form of webinars that provide an interactive learning experience.
iThemes has recently released a new theme platform named Kadence WP, which many developers are excited about. It offers a variety of well-designed templates and countless customization possibilities. This multi-purpose tool is beneficial for anyone starting and managing a WordPress website.
So if you require a highly customizable theme but aren't a developer yourself, Kadence is one of the best tools to use. And as far as learning how to use the platform, iThemes Training is pretty much the horse's mouth.
The iThemes platform contains a collection of over 900 hours of recorded webinars that cover a range of topics for beginner to intermediate WordPress users. In order to participate in the weekly live webinars, you can become a member for $39/month or purchase an annual pass for $399.
This is a well-known WordPress resource, which has been around for a number of years. Formerly under the name Lynda, the site is now owned by LinkedIn. Previous users of the platform can be assured that the site still offers the same great services as before, with all of its courseware and tutorials having been transferred over to the new site address.
LinkedIn Learning offers professional video tutorials on a wide range of subjects including design, business, photography, audio-video, and marketing. After finishing a section of each course, you can practice with quizzes and you receive certificates for each course completed. The quality, well-designed courses make the WordPress learning process enjoyable and interesting.
The downside of LinkedIn Learning is that it's not free. And until recently, it has not been designed for users looking to just take one or two courses. Currently, only some 5,000 of the 16,000+ courses offered are available to be bought individually, but LinkedIn intends to expand this number over time. You also have the option to sign up for a one-month free trial; after that, prices start at $24.99/month if you pay annually.
Udemy is unique in that any WordPress instructor can make a video series and sell the course on the website. This is beneficial because you have a wide variety of tutorials to choose from. But, at the same time, you should be careful to check the ratings before purchasing a video course. Since anyone can make a tutorial, you don't want to waste your money on a bad teacher – higher ratings often indicate higher quality teaching.
Prices are set by the course instructors and may start as low as $10, but the majority of WordPress courses range from $100 to $200. Once you purchase a course, it permanently becomes part of your digital library which you are free to access whenever you want. Premium courses incorporate message boards and chat rooms, allowing you direct access to instructors.
WP Setup contains step-by-step instructions for beginners who want to create personal or business websites. The website contains an abundance of practical guides that can help you grasp the WordPress platform quickly. Topics covered include installing the platform, blog and website setup, and choosing the right host for speed optimization.
The online courses are laid out displaying the required skill level for each tutorial, allowing you to progress methodically in your WordPress knowledge.
Everything on the website is free, with no email login required. The WP Setup team also updates their content regularly, ensuring you're being kept up to date on new WordPress releases.
If you're a beginner looking for some basic courses to get you started, then Joy of WP might be right for you. The site lists two free courses, one being the "WP A to Z" series. This series consists of over 50 video tutorials that show you how to build a basic site from start to finish. The other free course is entitled "How to WordPress" and provides instructions on using the Gutenberg editor and Elementor site builder.
Learners who are interested in more in-depth lessons can sign up for private training classes, where prices start at $85/class. If there's a certain aspect of WordPress you're interested in learning about, you have the option to request a custom class where lessons are catered to your specific interests.
LearnWoo is an excellent resource for those developing an online business selling goods or services. The website's primary focus is on the WooCommerce plugin and eCommerce in general. Whether you're a beginner or a skilled web developer, this site offers information valuable at every level and all is free with signup.
While LearnWoo doesn't offer the amount of high-quality video tutorials that other websites may provide. It does have an impressive collection of eBooks (available for sale) that cover a range of topics.
Subjects covered include:
Designing a website
Building an online store
How to avoid cyber threats
Marketing strategies
WPSessions offers courses from some of the most well-known names in the WordPress community. It's a great resource for developers who know the basics of WordPress and are ready to move on to a more advanced skill level. The site's content is not free but starts at only $5/month or $30/annually.
On the homepage, you'll see invitations to sign up for the WPSessions VIP program. This gives you access to its extensive training library. VIP members can download any video from the library to watch at their convenience. If there's a WordPress topic you don't see covered in the library, you can request a video presentation on the subject.
Developers who are visual learners and enjoy watching videos to learn new skills are going to like WordPress.tv. The website offers an extensive collection of video tutorials in dozens of languages. The videos are relatively short and in the form of classes, conferences, tutorials, interviews, or lectures.
The videos are not able to be downloaded onto your device, but everything on the site is free and no signup is required. All videos are submitted by active WordPress users. New videos are uploaded frequently, the newest being displayed right on the site's homepage.
Conclusion
Learning WordPress can be challenging for beginners, especially since there are new themes, plugins, and widgets being released regularly. Fortunately, the free and valuable resources available to help developers become skilled WordPress users also keep coming in a steady stream, so you can always keep on top of things and maintain a healthy, productive website.
Once you begin understanding how to use WordPress, you'll enjoy seeing the exact site that you want come together. So how can you get your new WordPress venture off to a great start?
For easy setup, optimal speed, and all the support you need, WordPress hosting is highly recommended. Get a managed virtual private server to have all the power of your server at your fingertips. Or if you need help with your server but don't want to compromise performance, go with our VPS Hosting. Learn more about why WordPress hosting with KnownHost is worth it on our blog.