What is Dedicated Hosting, and Why Should I Care?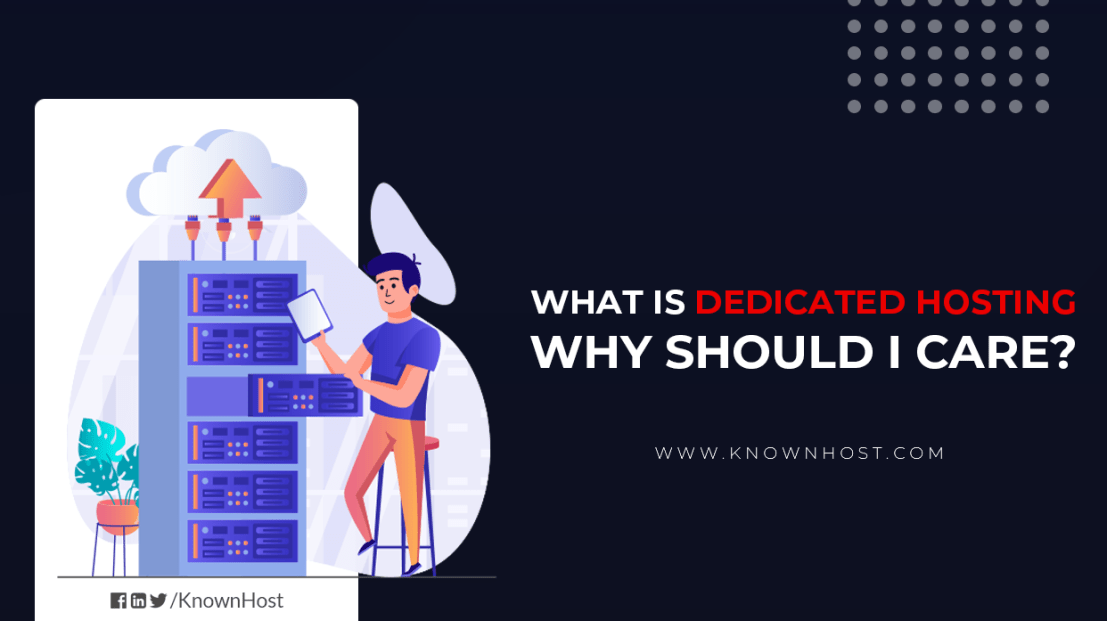 Initially, every website owner chooses shared hosting because that's usually the most inexpensive option available. You might have done the same because it's the best available option when you have a budget in mind. But, with the growth of your website, you need a hosting option that fulfills all your current and future needs. So, if you feel like shared hosting isn't enough to support your website anymore, you need an upgrade. Many website owners move to a dedicated server if their shared server doesn't offer better functionality. To learn more about dedicated hosting and why you should choose it for your website, read on.
Before choosing a server, determine why you want to upgrade. Perhaps, you've noticed a rise in the website traffic or want more features that shared hosting couldn't support. In all these conditions, you have to find a server that meets your website's requirements. Dedicated servers are the best solution for these kinds of upgrades. They offer enhanced security and reduce the loading times, thereby providing a better user experience.
What is Dedicated Hosting?
Dedicated hosting is a personal server where you are the sole user on that server. Meanwhile, shared hosting supports multiple users and their websites. Many website owners trust dedicated hosting because it is flexible and gives power that their applications may need. The only prominent drawback is the cost of these servers. Nevertheless, you receive remarkable features after going premium. Now before you hurriedly switch to a dedicated server, you must research the available options. Comparing different types of hosting will give you a clear picture of your needs and can help you decide on a suitable option.
For instance, when a website exceeds the limits of a shared hosting plan, they move to better hosting. The best options would be dedicated hosting or a virtual private server. That's when you have to make a decision. So, weigh up the differences of both servers and opt for whichever improves your website's performance.
Let's thoroughly understand this. Suppose you use a website for a small business or personal blog, and you do not want substantial features and elements that slow down performance. Therefore, shared hosting would be your best bet. On the other hand, if you have an eCommerce website that receives hundreds of orders in a single day, you need a flexible server as opposed to a shared one.
With a shared server, you cannot configure the settings to boost performance. Every website on that server shares the same configuration. Fortunately, things are more convenient with a dedicated server. Since you will be the only user on it, you can customize the settings to meet your needs. Consequently, dedicated hosting empowers you with advanced features and agility for more money.
With increasing traffic, there comes a time when you have to upgrade from traditional shared hosting. In this scenario, dedicated servers are the best option to go with.
Why Should You Choose Dedicated Hosting?
Let's dive deep and understand the benefits of moving to dedicated servers:
1. Enhanced Security
Website security is the one thing that you cannot compromise, especially when there are increasing risks of cybercrimes. An eCommerce website requires more security as it holds sensitive data. Your customers trust you with their confidential data, and you can strengthen that trust by ensuring that their information stays out of the wrong hands through things such as PCI Compliance. Choosing a reliable hosting company and the best server type protects your website from external threats. Meanwhile, shared servers could be considered less secure, as you're not able to configure them to be strict for PCI Compliance. The lack of configuration on a shared server could lead to potential security issues. As a result, websites on shared hosting are prone to security threats.
But, things are pretty different when you are on a dedicated server. In these servers, hosting companies provide valuable information to the website owners about security updates and data security. While you will make most of the decisions with regard to server security, hosting companies can connect you with their team to offer maximum security-related support. These kinds of services are essential for website owners, as they require professional help during software installations and security upgrades.
2. Faster Page Load Times
Experts suggest that when a visitor lands on your website, they will leave the site immediately if the load time is more than three seconds. They won't even bother to learn more about your company and the services you offer.
Poor load time is a serious problem, and many website owners look for a solution to it. When most potential customers leave your website, you won't be able to convert them. There's a fair chance that they won't visit your website ever again, which is a critical issue. The best solution would be shifting to a dedicated server, as it will allow extensive configurations to boost load times for your webpage. Dedicated servers can be configured to prevent overwhelming situations even when there is a massive influx of users on your website.
3. Overall Better Performance
With a dedicated server, you receive exclusivity, which results in better performance and faster applications. Comparatively, shared and cloud servers don't provide such benefits to the website owners. Instead, these hosting options provide shared platforms that limit the website's performance. Even though cloud-based servers come with more storage, it doesn't mean they offer better performance. But when you value performance more than saving on costs, you should go with dedicated hosting. Evidently, high-performing sites are the ones that yield more organic conversions to the business. Wondering why a better-performing website should be a priority? It encourages visitors to learn more about your business and take action.
4. Future Growth and Load Balancing
Your business success depends on the number of users visiting your website. If you notice an increase in website traffic, this means your business is gaining popularity. Want to know the secret to business growth? Try shifting your website to a dedicated server. But, before that, you need to learn about dedicated hosting and plan a strategy to upgrade. Shifting your website in a rush can be disastrous and cause numerous problems.
The best practice to shift from shared hosting to a dedicated server is through evaluation. Make a list of different dedicated servers and compare their features. Besides planning, you should also consider load balancing. Load balancing enables smooth and efficient shifts on a dedicated server. That way, you can upgrade to an advanced server without disrupting your future growth.
5. Cost-Effectiveness
Dedicated servers are a cost-effective option in the long run. It increases your website's performance, ensuring that visitors get what they came for. Furthermore, with a managed server you get complete assistance from your service provider to fix any critical problems that arise along the way. This means you don't have to hire professionals in your IT team. In simple words, dedicated hosting works as a complete in-house server that relieves you from time-consuming tasks such as website maintenance.
What is the Right Time to Migrate to a Dedicated Server?
Now that you understand the benefits of dedicated hosting let's learn how you can identify when you will need a change. Firstly, consider if your website's traffic is exceeding the limit of your shared hosting. If this is the case, you need to shift to a dedicated server. Otherwise, you risk losing a large number of potential customers.
Secondly, you need to evaluate the loading time and bandwidth of your existing server. If you cannot fix the load time issues, you need to upgrade. As there is only one website on the dedicated server, it offers faster performance. Moreover, you get maximum security and absolute control.
Lastly, if budget is not a concern, consider your needs while choosing a hosting plan. The only reason many website owners hesitate to shift to a dedicated server is the cost. If you can manage the cost, this is the right time to make the switch.
Conclusion
Are you experiencing traffic issues due to a slow server? Have you been told that you're outgrowing a shared plan? Then, this sounds like the right time to shift to a dedicated server. When you are the only website on a server, you get high performance, increased traffic, better load times, and enhanced security. Every website owner wishes for web hosting that guarantees growth and control. Dedicated hosting offers upgraded capabilities you may need for a growing business. You can optimize security, reduce long-term expenses, and utilize complete server resources.
Want to know more about dedicated web hosting? Reach out to us. At KnownHost, we help our clients choose the best hosting plan that aligns with their budget so they can focus on business growth.