10 Key Points When Choosing Dedicated Server Hosting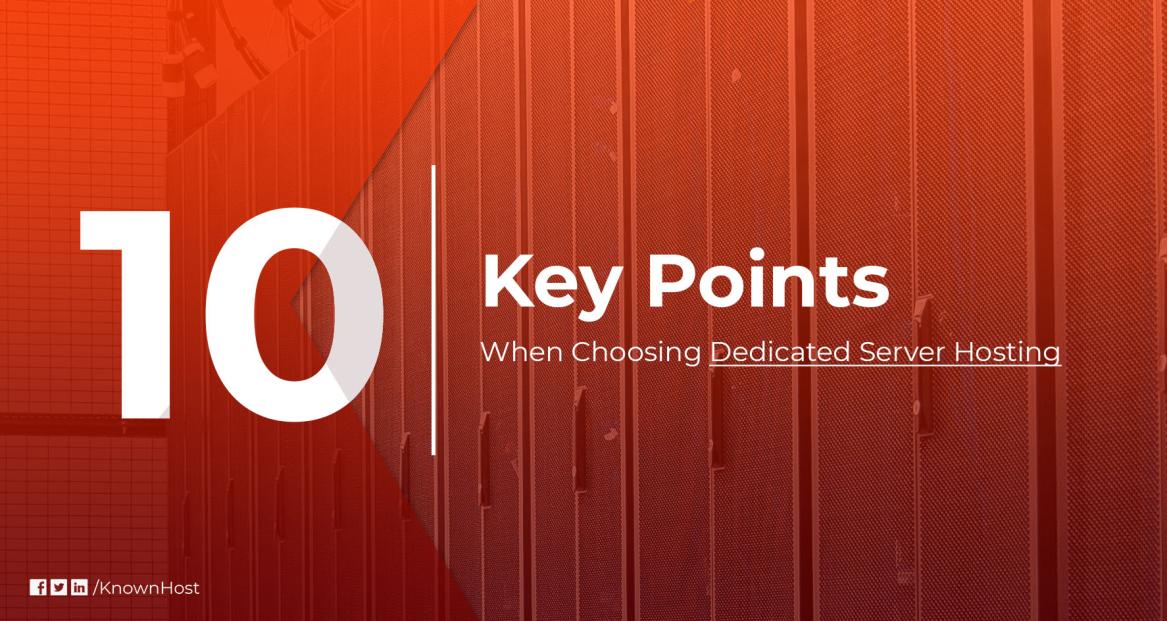 What Is A Dedicated Server?
A dedicated server essentially means that a business has a separate server for its website. This dedicated server provides a lot of power, flexibility, and control to the business owners as they can run their operations with more ease as compared to shared server hosting. The dedicated server industry had experienced a growth of around 5.72 billion U.S. dollars worldwide in 2018. The dedicated server hosting industry has been growing constantly since then and is one of the highest grossing one in the US right now.
It is important to understand what factors you should consider before you choose a dedicated server hosting.
What to Consider before you Choose a Dedicated Server Hosting
A common question that most people ask is, how does one choose a dedicated server hosting for their business out of so many options available in the market? Well, let us help you out. Following are some dedicated server points you can use to choose the right server for your business, the next time you need it.
1. Efficient Data Center
The quality of a datacenter in which your dedicated server resides in is important. Uptime is the prime concern with these facilities. A poor facility that's constantly down will not make you look good for your users. A provider with dedicated servers will have a reliable data center with things such as
Redundant power
Redundant networking
Route-optimized, low latency connections
For example, no matter how professional your dedicated server provider claims they are, it will not help you if their data center has power issues. This means that your site will stay down until their data center comes online again. Therefore, you should check out the performance and quality of services that their data center provides.
2. Prices in the Market
Let us be honest, the cost of a dedicated server is a little high. However, it doesn't mean that these servers aren't worth the investment. It is still important that businesses make sound financial decisions as the dedicated server can charge a good amount in the long run. Thus, the business needs to have the resources to pay and continue with its dedicated server.
It is best to do a comparative study of the dedicated server options available to you. This way you can choose the one with the best benefits available at the most affordable prices.
You should still keep in mind that your dedicated server is a long-term investment, so do not compromise quality for a small amount of money. The right dedicated server makes recovering this money through profits easier than you may think.
3. Higher Security Measures
Cybersecurity concerns are a major issue for most businesses online because a single attack from a virus or malware can compromise data. Not only does this set you back, but malware compromised websites also drop down the website's SEO, killing off your site traffic. This means you could lose your customers forever or stay locked out of your website if a hacker attacks it.
Fortunately, a dedicated server makes a lot of difference in this regard as it allows you to run your website without sharing any kind of information with tenants. This way all your information, resources, and sensitive data stay safe from potential threats and attacks.
In addition to this, the dedicated servers may have software firewalls, which make any intrusion less likely to occur. So, ensure that the dedicated server of your choice provides the right security measures.
4. More Flexibility
A major problem with running a website is, sometimes your system specification and website requirements do not match. What if we told you that you can change your server according to the specific needs of your CPU, RAM, hard disk, etc? Shared hosting only provides applications and options that fit well with the server.
However, you can change the server environment if you have the right dedicated server. It will allow you to configure your server according to your system and have an improved overall experience. You wouldn't want to spoil your business process because of a lack of options, so it would be best to prioritize flexibility over everything else.
5. Scalability and Potential
Most shared servers have rules and regulations regarding their upgrades, coupled with add-ons and several other costs. However, a dedicated server allows users to enjoy maximum upgrades, the latest resources, features, and much more at the click of a button.
This way, you can expand your business and its visibility in the online market, which means better revenue in the long run. You can do this simply by upgrading your current hosting plan. Similarly, dedicated servers allow users to store unlimited information due to high bandwidth allocation, without slowing the system down. So, always check if your dedicated server provider has the right scalability or not.
6. Easier Customization Options
Monitoring, upgrading, and choosing software is a big problem when it comes to dedicated servers. It is because you need to choose from whatever that shared server offers. However, you can customize the dedicated server to your specific needs and fine-tune your business website accordingly. You can install software, programs, and necessary security measures that you think will improve your business.
This means that the dedicated servers can help business owners, irrespective of their fields, industries, and business. All you need to do is buy the right dedicated server, and you can enjoy these tailored options.
7. Managed Services
The most important factor in a dedicated server is the kind of service these servers provide. A managed server generally includes security updates, the latest tools, and better customer support in case you land in trouble.
So, it is important to view the perks and benefits that your potential dedicated server offers. Make sure that whatever dedicated hosting you choose provides the best unmanaged and managed services for its customers. These managed services will make it easier for you to optimize your business process in the long run.
8. Improved Performance
Online businesses suffer when their websites aren't optimal. While your website design may be perfect, it still would not perform as well on a shared server hosting. A dedicated server, on the other hand, can be more beneficial.
You can think of it as a large space fixed only for your website processes. This way, you can use all the resources of the platform for your business only, which will greatly improve your performance.
Similarly, you can improve your website's uptime and ensure that it stays on track through most of the year. You do not have to worry about managing increased traffic with dedicated servers as it also helps with SEO optimization. So, if your online business's performance isn't up to the mark, consider professional dedicated server hosting.
9. Reliable Connection
The performance of your website depends on the bandwidth you have. It is because all of your software and programs most likely run on your website's connection. You can improve your traffic's site experience by providing them with a more reliable bandwidth connection. The good news is, dedicated server hosting helps get consistent internet performance, which does not overload your website.
Additionally, you will not need to share your bandwidth with other sites, which affects its performance too. Dedicated servers, with proper configuration, are capable of handling sudden spikes in website traffic, meaning, you will run your business hassle-free if they have a reliable connection.
10. A Distinct IP Address
Shared hosting makes thousands and millions of users not only share their information over the internet, but also makes them share the same IP address. This is not only a big SEO issue, but a serious security concern. It will affect your website traffic, and increase your chances of encountering a cyber attack.
However, you can put an end to all these problems, considering that the dedicated server will exclusively belong to you. You will not need to worry about spammed tenants on the shared hosting, putting your website's security at risk.
With dedicated hosting, you'll get your own slew of IP's in the form of an IP Block. This is beneficial, especially if you are running an e-commerce website. You could utilize those IP's to separate your websites and internal infrastructure.
When Do You Need Dedicated Server Hosting?
Now that we have talked about what these dedicated servers are and what things you should consider before buying them. Let us now move on to see when a business would require a dedicated server.
There are a few ways to find out if it is time to upgrade to a better server. We are going to discuss these factors below:
Higher traffic is the biggest indicator of needing dedicated server hosting. Dedicated servers can improve your overall performance and business processor by making them more streamlined, customizable, and flexible. However, higher traffic means that there is going to be more stress on your website and its resources.
In addition, you will also need to improve your site security because you wouldn't want to lose precious information or control over the site. Moreover, higher traffic means that you will focus a little more on your site SEO and try to maximize profits. Getting a dedicated server can help you accomplish all of this without much hassle.
If you feel like your website is underperforming in terms of page loading and overall site performance, it may be time to switch to a dedicated server. The dedicated server operates exclusively for your website and business which means you will not need to worry about sharing data with other sites. With proper server configuration then a dedicated server provides an opportunity to improve your website performance and maximize results.
Meeting Business Requirements
While dedicated servers can adapt to pretty much any business, it is still important to see if your business requires one. If you feel like your current host's resources aren't able to manage your business, then it is time to upgrade. The processor speed, disk storage, and internet speed are just a few of the factors that you will need to consider for this. If you feel like your business requirements do not match your current web hosting, switching to dedicated server hosting may be a wise choice.
Bottom Line
You most likely have a good idea by now how a dedicated server can enhance the performance and revenue of your business by optimizing your website to the fullest. Adding a dedicated server will help you structure your online business better, making it easier for you to manage it.
Just make sure that you know the right service to invest in and consider the factors mentioned in this article when choosing a dedicated server for a smooth and seamless transition.