5 WordPress Hosting Tips to Maximize Performance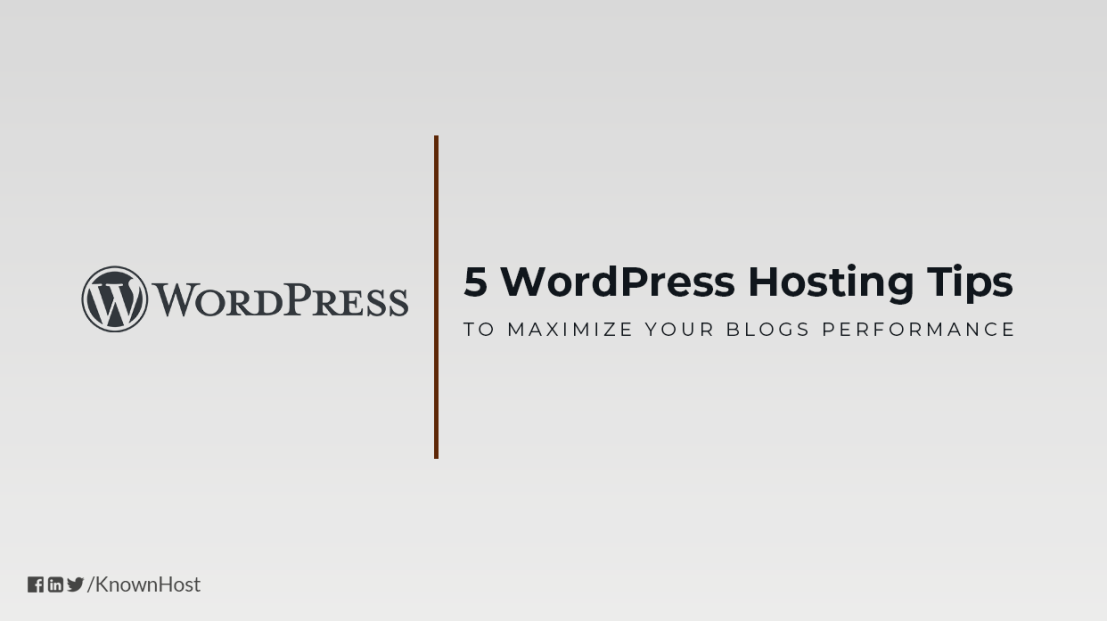 WordPress is by far the most used CMS that is available today. And if you are one of the 455 million users of WordPress, then you know that you need WordPress hosting for your website or blog. Along with WordPress hosting tips to help you optimize your WordPress application.
In simple terms, WordPress hosting is a specialized hosting service that is specifically tailored and pre-configured for to host websites and blogs made with WordPress efficiently.
So, if you want to build your website using WordPress and want it to be efficient then, you have to get WordPress hosting as well. There are a few types of WordPress you can choose from and a countless number of providers. Different WordPress hosting providers offer different plans and options. When picking the one you will get, you should be careful and choose a WordPress hosting provider that will guarantee a quality, cost-effective and efficient service.
Seeing as the largest market share belongs to WordPress when it comes to site-builders, many of the most popular and great websites and blogs are most likely using it as well. A good question to ask in this case is how to gain a competitive advantage and have a better chance at competing against the best and brightest. One way to do this is by having the fastest blog you possibly can. Besides, who doesn't like a fast-loading blog?
This article will focus on just that and list five WordPress Hosting Tips on maximizing your blog's performance and using your WordPress hosting as efficiently as possible.
Managed WordPress Hosting Is the Best Choice
One way of improving your blog's speed and performance is by using a managed WordPress hosting. A managed WordPress hosting basically does all the work for you. It deals with all things related to the server and provides you the support you need.
Managed Also, managed hosting includes features that are tailor-made for WordPress blogs. Staging environments only one click away and automated backups that will save your data without any additional work on your part are just some of the features that you get with managed WordPress. 
Who Uses Managed WordPress Hosting and Why?
This type of WordPress is the perfect choice for users who are not tech experts and want or have to focus more on growing their brand rather than just the blog. Moreover, the support that managed WordPress hosting providers offer is 24/7, so they will be available to you whenever for any issues issue or questions question you might have.
Some of the most popular users of managed WordPress hosting are jQuery, Intuit, Plesk, Dyn, Nginx, and even The White House. And if The White House uses it, then it is probably worth it.
Using managed WordPress hosting helps you save time, supports you, and offers unique features that make the customization and re-design of your blog as fast as possible. You can get a lot of work done with just one click.
Optimized Pictures for the Win
Pictures tell a thousand stories. They are very important features that all blogs should definitely have. And as they say, the more, the merrier. However, pictures can be pretty significant in size. They usually take up a lot of space, which in turn causes blogs to be slower.
So, in order to have the best of both worlds, i.e., have many pictures yet also a fast-loading website, optimizing them is your best bet. Optimizing pictures refers to resizing and compressing the picture files. This reduces them in size and allows them to not take not to take too much time to load.
Optimizing involves two steps. The first one is to edit your pictures before posting them on your blog. To do this, you will need to know exactly where the picture will be used and the size it will require. After you have figured this out, you can use a variety of tools such as Pixlr to crop and minimize the size as much as possible.
The second step is to install a picture optimization plugin. This plugin compresses the picture even more after you post it on your blog. Additionally, this plugin has numerous other optimization features you can use to boost your blog's speed even more.
For example, a combination of Litespeed and LSCache would do all of this plus more. KnownHost's Managed WordPress Hosting provides all of this by default.
Make Your WordPress Blog Mobile-Friendly
Many of the potential users that will visit your blog will probably do so on their phones. As the years go on and tech progresses, people are relying more and more on mobile devices. Moreover, surfing is more practical and accessible on the phone. So, to get as much traffic as possible on your blog, you should take mobile users into consideration.
The feature that will give your blog's mobile version the most considerable boost is picking a responsive WordPress theme. A responsive WordPress theme will make sure that your blog is displayed as best as possible on mobile devices.
Also, when mobile speed is concerned, a few plugins can further boost your blog's speed. One of the most recommended plugins for this is LSCache.
This tip serves more than one purpose, as it not only improves your blog's loading speed but it also allows you to post as many pictures as you like in the process.
Caching Gives You a Big Boost
Enabling caching on your blog means that your data will be stored in temporary storage spaces, a.k.a caches. Keeping your data in caches allows for users to access the resources quicker which then allows your website to means that the browser on which your blog will be opened can load it much faster. Additionally, with caching enabled if you enable caching, the users that will visit your blog for a second or third time will do so at an even faster speed.
However, caching is not only beneficial when it comes to the user experience. Proper caching on a web server can reduce the overall resource requirements needed to server content. A reduction of resource usage allows for the more efficient use of system services. Caching serves a big purpose in the grand scheme of things by helping provide that stable environment for your WordPress website.
Updating Your Plugins Is a Must
As with all types of technology, updates make plugins go round. There are several ways plugins can slow your blog's speed. Outdated, poorly designed, and duplicate plugins are some of them.
Having a lot of plugins can cause issues on your website. That's why it's important to have as few plugins as possible while utilizing plugins that can handle multiple tasks. Removing any unused plugins helps, too. As an unused plugin will still be loaded into the website and have a detrimental effect. Before running a plugin, you should test the plugin in a staging environment to see if it'll be beneficial. The recommendation is to ensure that whatever plugin you choose has an active development team.
While you should continually update your plugins, you should make a backup of your site for any major plugin update. This way, you can ensure that your website can be easily brought back if a plugin doesn't update correctly. You should always try to major plugin updates prior to installing them. A staging website is beneficial for this process. This same practice should be used for major WordPress updates as well.
Another thing you can do to speed up your loading time is taking advantage of WordPress's built-in parts. This can reduce the number of plugins that you need, which only increases the speed and performance of your blog.
Concluding Remarks
There are many ways you can maximize your blog's performance. This article highlights the most basic ones that will give you the most significant boost and the most practical and straightforward.
If you want to increase the speed and performance of your blog by using the tips mentioned above, you will not need too much technical expertise to do so.
All you need is a reliable managed WordPress hosting provider, some tools for optimizing pictures, and mobile-friendly WordPress themes. Also, enabling caching and regularly updating your plugins will only add to the speed and performance of your blog.
Applying these 5 WordPress Hosting Tips to your blog will make it lightning-speed fast, with no quality lost at the expense of increased speed.
So, do not waste any more time. Choose what you want to do, and get to work!