How To Market Your Business During (and After) The Pandemic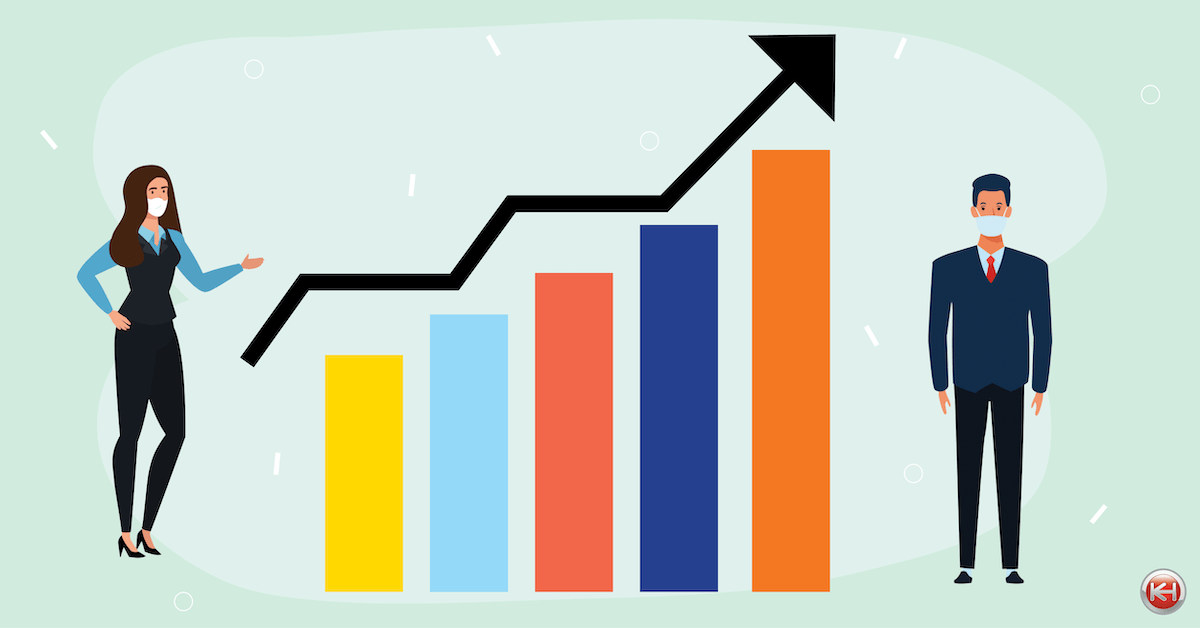 Updated August 17, 2020
The world has changed, and will continue to change, due to the impact of the COVID-19 pandemic. As you devise a marketing strategy for your business during these difficult times, your role will face many challenges along the way. Adapting your marketing strategy and tactics will be crucial. Read on to learn more about what you can do to successfully market your business during, and after, the COVID-19 pandemic.
How Behaviors Have Shifted
When governments tell people to stay home, life changes drastically. Some people are able to work from home, while others have businesses that can't be opened during the quarantine or lockdown period. In just about every case, those impacted are changing the way they behave – from communicating with loved ones to keeping up with the latest news.
From a marketer's perspective, the changes to media consumption have been the most dramatic. Not all changes have been negative though.
People are now consuming more news, spending additional time on news sites, using the newscast information as a way of soothing their anxiety over the situation.
There's also been a big upturn in podcast audiences as well as music streaming services.
Social media has seen some of the biggest usage growth during the last few months with consumption up nearly 1/3rd.
What does this mean to you as a marketer?
It's a great time to analyze your product or service offerings to see if they can benefit from paid advertising across any of these platforms. Just because there are a lot of additional users, it doesn't necessarily mean that you should hop right on!
The Need to Regularly Reassess
What was true in March 2020 is unlikely to be true in September 2020. In fact, what was true two weeks ago can be questionable at present time.
The key takeaway from this point is simply that you need to regularly be assessing how the situation is changing in your target market so that you can adjust:
– website and blog
– social media
– email communication
– paid advertising
You can't predict the future, but staying abreast of the present is critical.
Customer Contact Changes + Prospects
Staying front of mind is a fundamental component of staying front of wallet. In other words, existing customers need to know your status, actions and plans, so that they continue to be loyal customers. Keep in mind that as little as a 5% change in customer retention rates can increase profits from 25% to 95%.
During difficult times people need reassurances about familiar things, including brands they know, like and trust, such as yours.
Now is the time to increase, not decrease, communication. This includes:
email – reassure, provide status updates, changes, plans and what's being done differently
social media – build trust, engage and respond, including updates on what's happening

– inform in your own channels

– participate and contribute in others

website – if you're open, when, drop-in visit and face to face policies and what you're doing to make it safe

– any products that are unavailable or have changed terms

– has shipping / delivery times changed or are there new processes
There's a lot you can do, but focus on the essentials first. Marketing in a COVID-19 pandemic means making sure people know:
1. how the business and staff have been impacted
2. whether you're open or closed
3. what contact options are available, and when
4. are you providing home delivery, click and collect, online shopping assistance
Images and video can easily be misconstrued, particularly if they depict people in close contact such as handshakes, hugs, high-fives, and teams huddled together.
Rather than needing to apologize, explain and correct, wouldn't it be better to proactively adjust the images so they are appropriate for a social distancing scenario?
Expanding the Approach
For many companies, the sales funnel is built using the marketing funnel as its upstream source, so that marketing efforts today are what generate sales tomorrow. Stop marketing and sales will dry up.
22% of companies report increasing ad spend during these difficult times. 25% of companies are spending more, not less, on marketing. While their competitors are cutting back, they've opted instead to increase spend in an attempt to gain market share over their quiet competition.
Online is a great way to keep in touch with loyal customers and even acquire new ones. COVID-19 may hamper in-person events, but online ideas are workable – such as:
1. virtual showcases and tours
2. online events / conferences
3. conducting online training / classes / coaching
4. special ecommerce offers
This is a great time to be helpful!
Adjust Targeting
Some traditional techniques are just not going to work in this environment. But rather than giving up, why not reallocate the funds to something that will?
Traditional techniques to halt and rethink include:
– conferences
– trade shows
– in-person events and meetings
– drive time radio
– metro train newspapers
Keep in mind where people are spending their online time in different ways, so it's time to consider paid advertising in places that are seeing the upturns in usage.
People are consuming more news, which is why Twitter is benefiting from the 34% who have shifted from Instagram to Twitter.
People are using online apps for communication at a much higher rate with Facebook Messenger and WhatsApp reporting a 70% increase in time spent using the apps.
With many organizations cutting back, or shutting down, paid search campaigns, there's less competition among buyers. With fewer bids on search phrases, prices are flat or down, those who do run paid ads are finding cost per click is cheaper, cost per conversion reduced and return on ad spend (and profitability) up by a noticeable margin.
Content Messaging Changes
Given the fact that COVID-19 is a global crisis, now is the time to appreciate the severity of the situation and not downplay the severity of the situation. Being jovial or making light of the circumstances is definitely to be avoided.
Several have likened COVID-19 communication as being a bit like a hospital visit or funeral. It's a time to connect with people, show genuine compassion and build relationships. Stay true to your core brand values and find ways of connecting and helping others.
Just because times are difficult, it doesn't mean that you should be negative or pessimistic. In fact, it's great to have positive hope for the future – optimism isn't a bad thing.
With the shift in how we work, helpful content can include topics that focus on or incorporate things like:
1. dealing with stress or anxiety
2. working from home
3. online apps to improve productivity
4. juggling family demands with work as well
A focus on how to do things to make their lives easier, healthier or happier – all would be appropriate.
Sometimes it's okay to not generate from scratch, but rather to aggregate useful information into a handy compendium. This includes handy resources, tools, apps, online events, service directories and more.

Use of Web, Social, Email and Paid Ads
Web
Connecting with your audience through the company website and blog is important to inform, reassure, engage and continue relationships as well as building new ones.
In addition to the basics (open/closed, how/when to contact, delivery timescales), people are looking for helpful information such as tips on work and education. Parents with children at home are looking for edutainment opportunities – those things which are entertaining and educational at the same time. Sharing sites which offer free online courses and one-off programs is a great way to give something beneficial without asking for their credit card details.
Social
Sharing blog posts across owned social channels is a good technique, particularly when the blog posts have been purely helpful (not sales oriented). But it doesn't have to stop there.
Social media is also about visibility, which means your brand being seen in places that aren't wholly controlled by you. For this, it means participating in conversations on channels owned by others. Contribute, engage, give without taking – these are the fundamentals of being a good member of the community.
Email
Email is a good tool for getting the word out about how your company is responding to the changing ways of doing business as well as pointing to helpful new blog post content. It's ideal for staying connected with existing customers, helping to maintain relationships during uncertainty.
Email campaigns during COVID-19 tend to progress in stages:
1. alerts – initial status on open/closed status
2. we care – support and caring
3. content guides – what info we have that may be useful
4. giving – what we're doing for the community
5. distractions – positive entertainment and stories
6. plans – how things will be in the future
Bombarding subscribers with a flurry of sales messages is not recommended. Informative, helpful, positive emails are frequently opened, clicked and appreciated.
This is not the time to pull back and go silent, but rather to continue solidifying relationships and building brand value.
Paid Ads
Adjusting ad targeting and spend is necessary to maintain reasonable marketing return on investment / return on ad spend. While demand for products and services may have dried up in some categories, it has increased in others.
Perhaps it's time to consider content marketing rather than product marketing as a temporary shift. Creating pages or posts which are substantial enough to be bookmarked and shared is great for organic search, but it can be so much more.
Using high quality content as an introduction to the brand, without trying to sell something immediately, is a great way to make a favorable first impression. Paid advertising across social media can be a very inexpensive way to expand reach, get in front of new potential customers and do it at a low cost per click.
Post Pandemic Strategy
Lockdowns can happen, be lifted, then happen again. It pays to be flexible in planning, but remember to always be assessing and planning!
A good post-pandemic strategy involves how your business will change and communicate those changes including:
– physical store reopening / hours
– how face to face will be different
– what distancing procedures will continue
– if delivery timescales will shift
– what contactless payment options
– mention of added sanitary procedures
People want to know how things will remain the same, yet different at the same time.
Showing the world that you care, take action and can be counted on to communicate with them whenever is required all will make an impact in success during and after the COVID-19 pandemic.