What You Actually Get With a KnownHost VPS Package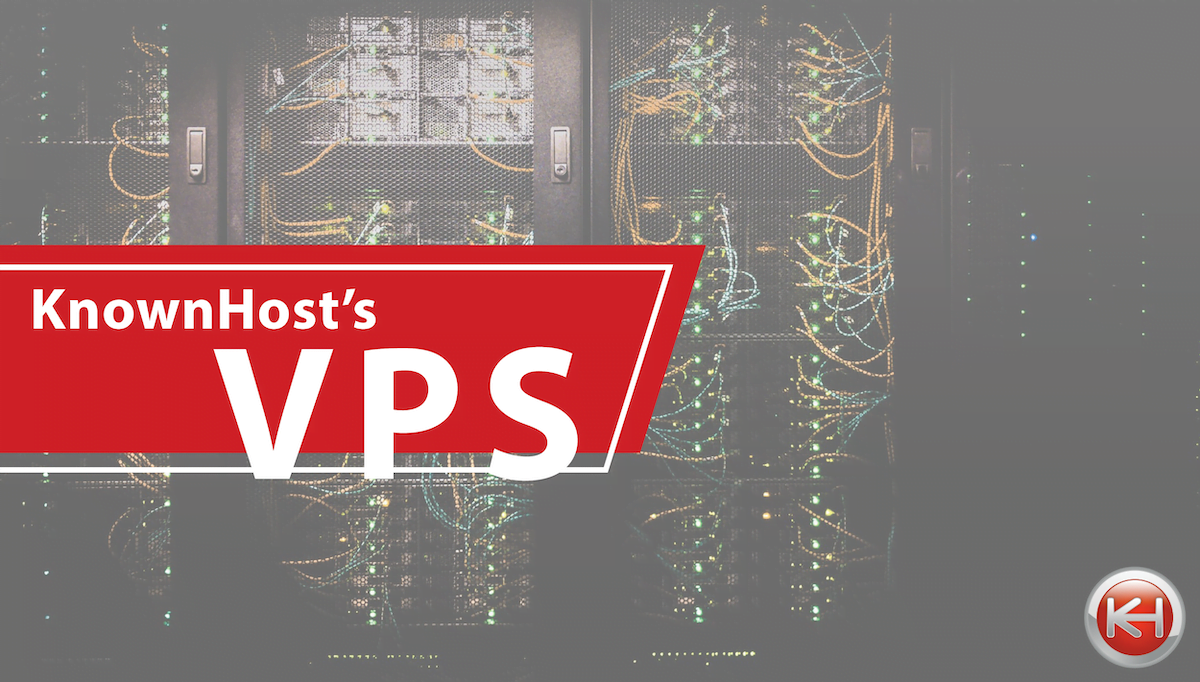 Updated April 19, 2021
Getting a managed VPS package at KnownHost means getting an incredible array of standard features, common to all managed VPS packages, plus a few particulars that are unique to any given plan. Read on to find out what's included in KnownHost managed VPS packages, why those features are important and how you can get signed up to the most dependable hosting on the planet.
Basic Features
Automated Backups
KnownHost backup system is pre-configured so that it's up and running from the instant your account gets provisioned. It's set to give you two daily and one weekly backups, all without having any additional charge or need to set it up on your own.
All backups are stored off-server for disaster preparedness so that even if there's a catastrophic failure on the main site (something that hasn't happened), your backup will be safe, stored away from the main site server.
Full backups are taken as snapshots of the system, giving you the ability to restore all the files, databases and emails in one fell swoop. Backup restoration is fast and painless, enabling you to roll-back to an earlier point in time whenever you feel the need. It's great for undoing large scale changes like upgrades or new installations that conflict or have some type of problem that you want undone.
If you feel the need and want more backup snapshots than the default 2 daily and 1 weekly, additional backup space can be added for a nominal fee.
Control Panel
For many of us, imagining life as a site owner without having a control panel is just not an option.
Knowing that not every site owner is wanting a headless install, KnownHost provides a DirectAdmin control panel for no additional cost, giving site owners an intuitive graphical user interface by which they can administer their hosting account, apps, databases, files and more.
For a small additional fee, depending on the number of domains that will be hosted on a given account, cPanel control panel can be selected, with a cost ranging from $0.19 to $2.00 per domain, per month as the panel total cost.
Datacenters Near You
Pick a datacenter where your VPS will be hosted so that you get the peak performance in terms of speed for your primary target market. Choose from three datacenters in selecting what's best for your audience.
Seattle – for west coast USA, Canada and Asia-Pacific
Atlanta – for central and east coast USA, Canada and Central/South America
Amsterdam – for Europe, the Middle East and Africa
Discounts
Saving an extra dollar or two isn't a bad thing. Some hosts offer Black Friday deals or other special occasions. Instead, with KnownHost, signing up for a VPS account allows you to pick the standard month to month term without a penalty. Choosing a 3, 6 or 12 month plan and you'll be able to progressively save more and more money.
Remember to choose a longer term at signup to lock in the best possible savings.
Guarantee – 30 Days
Want to change your mind? Need a way out if things aren't exactly as you envisioned? In those cases, you'll be glad to that you've selected hosting with a 30 day money back guarantee. KnownHost VPS plans come with a 30 day satisfaction guarantee so that you can rest assured that things will be perfect.
If there is anything that needs attention with your account, from email configuration to web server, backups and more, just pop in a support ticket and let the friendly server management and support teams get things sorted for you quickly.
Instant Activation
When ordering a new hosting account, we all want it to happen immediately – not 3 hours or 3 days later. With KnownHost, managed VPS plans are provisioned and activated instantly. That means you can get on with setting things up, customizing the design and working through managing the business of owning a site. Instant activation lets you hit the ground running.
IP Address – 2 Unique
Whether it's IPV6 or IPV4, having a unique IP address included as part of your hosting, makes good sense. First, having a unique IP makes your choice of SSL certificates easier, since you'll have a wide selection thanks to not using a shared IP address. Second, spam email senders get flagged based on IP addresses, so by having your own distinct IP, you won't get tarred with the same brush as potential spammers who would have otherwise shared an IP address with you.
At KnownHost, you automatically get 2 unique IP addresses with budget unmanaged plans and 2 unique IPV4 addresses with standard managed VPS plans. Additional addresses can be obtained where you've got a business need for having such.
Migration
Having one or more existing sites and want to get migrated onto a new host? For some, this is the start of a long, convoluted, painful process involving downtime and an occasional facepalm.
At KnownHost, VPS customers will receive free migration support. Get your sites moved onto KnownHost at a time and date of your choosing thanks to the efforts of top notch technical and administrative teams.
Network – DDoS Protection
Distributed Denial of Service attacks are the bane of existence for site owners. Without DDoS protection at the network level, long before the attacks would reach your server, every domain in your account could fall victim from a sustained DDoS attack.
With 10 million such attacks occurring in 2020 alone, it's a wonder that all web hosts don't deploy DDoS protection. The sad fact is, most hosts don't bother providing such a defensive solution – mostly because of the expense, but also because of lacking the technical expertise to make such a reality.
KnownHost proudly provides, at no additional cost for customers, robust network DDoS defenses.
Network – Multiple Tier 1
Having fast websites means having fast hardware and network connections, with networking being the most common point of performance failure in the industry. Each of the 3 datacenters used by KnownHost have proven high-performance capabilities thanks to multiple, redundant, top tier network connections to the internet backbone.
Check out the KnownHost network page, which explains much more about the datacenters and the excellent connectivity.
On-Shore Support
KnownHost technical, administrative and management teams are located on-shore in the United States. For site owners that means dealing with experts who can easily understand problem descriptions, rectify matters and who can communicate back, directly with customers, in explaining how things were corrected.
All managed VPS plan customers enjoy free technical support, free server management and around the clock assistance. Rapid response times any time of day.
Operating System
Hosting can feel like the early days of car manufacturing where you could get a car in any color you want, as long as it's black, with hosts giving few options to get things just the way you want. Operating system selection is no exception.
Some prefer Debian. For others it's Ubuntu or CentOS. Whichever of those three you choose, there's no added cost at KnownHost. Get the operating system you prefer and get on with running your site.
Server Management – Fully Managed
Without a doubt, fully managed server hosting is a crucial component of site hosting success for thousands of happy customers. By letting the server administrators employed by Knownhost take care of the server side matters, website owners are left with time to deal with running a site and running a business (instead of learning how to be technical experts).
Not all VPS packages at KnownHost are fully managed, but the ones which are managed are clearly labeled as such. If you'd rather take care of the technical matters yourself, and save some money each month, unmanaged VPS plans are also available.
SSD RAID
From a performance standpoint, HDD just doesn't compare to HDD technology. With SSD RAID, KnownHost customers enjoy having their hosting accounts running on ultra high-performance hardware that can result in page loading times rivalling the fastest in the world.
All KnownHost managed VPS plans run on RAID-10 SSD storage.
SSL Certificates
There's absolutely no excuse for running sites on http:// instead of https://. SSL certificates are cheap, or free, and take minimal time and effort to deploy. Knowing SSL certificates are important for human, and search engine trust, KnownHost gladly provides free SSL certificates for all VPS hosting customers.
Choosing managed hosting means you don't even have to install the certificate yourself. Just pop a note to tech support and they'll deploy the SSL certificate for you, giving you a free cert and free installation. This is why there's no excuse for ignoring SSL.
Uptime – Proven
Downtime means disappointed visitors, lost revenue and potentially long term damage to the company reputation. These are just a few of the reasons why KnownHost has invested so heavily in building a stable platform that is online all the time.
VPS customers won't pay extra to get 99.99%+ uptime. This industry-leading stability is included with the basic hosting monthly fee at KnownHost. Uptime is guaranteed!
Optional Features
Imunify360
Security is mission critical, by definition. Imunify360 costs just a few dollars a month but provides an incredible number of defensive features, making it a terrific value and a sound investment for managed VPS customers. Simply choose the Imunify360 option at the time of placing your order and it'll be pre-configured right from the start.
Firewall
Port scans, DDoS, brute force – all are covered under the basic Imunify360 protection. The combination of cloud data and algorithm AI makes Imunify360 a powerful firewall defensive layer.
Intrusion Detection & Protection
Recognizing intrusion attempts, scanning logs and knowing popular exploit vectors is how Imunify360 can be so good at detecting and defending, acting to quickly ban obvious attacks and intruders.
Malware Detection
By comparing existing file footprints of known good files with script scanning and file compromise detection, the malware detection system is able to alert on issues and quickly quarantine troublesome files.
Proactive Defense
With AI heuristics and access to tons of field data, Imunify360 is able to pattern match in detecting attacks upon the server. With this level of defense comes protection from known as well as not yet discovered attacks.
KernelCare
Thanks to the magic of KernelCare, site owners can get kernel updates performed without need to reboot the server. Update reboots have always been a pain point, but with KernelCare, this is no longer an issue.
Reputation Management
By automatically checking Google blacklists and other spam databases, Imunify360 monitors your online reputation and provides alerts when there are issues needing attention, including whether your mail server has been flagged for spam.
LiteSpeed + LSCache (LiteMage Extra)
For site owners that want the absolute fastest servers, look to LiteSpeed and LSCache – a potent combination of performance building technologies. Magento owners can benefit from the additional LiteMage add-on.
Take advantage of the performance boost provided by LiteSpeed technology and get your site outpacing the competition.
Proactive Monitoring
Proactive monitoring turns the focus of support teams into keeping an eye on 15 different server processes and resources so that they engage before you have a chance to notice anything going wrong.
A few dollars a month can crank up the level of support to the point of it being proactive, giving you additional assurances of people performance and minimal service interruption.
Softaculous
There really is no easier way to install, update or remove any of 400+ different software packages than via the Softaculous 1-click wizards. At a cost of just $1.00 per month with managed VPS packages, Softaculous represents an amazing tool that enables you to save time on a grand scale.
WHMCS or Blesta
If you're providing web services, you know that the billing end of things is where administrative time can get sucked up, turning an otherwise profitable venture into something that's filled with pain and aggravation.
WHMCS and Blesta are both offered. They integrate with your control panel and make service provision inextricably linked to service billing – a real timesaver.
Variable Features – Cost Based
A select few features of VPS hosting plans change based on the cost of the package selected. These include things like CPU cores, RAM, storage and bandwidth. Spend more, get more.
Here's a quick rundown of why each of these variable features are important and why you may need more, or less, than someone else.
CPU Cores
As websites grow in complexity, with applications like blogs and ecommerce suites leading the way, demand grows for the ability to process multiple tasks at the same time. When you've got multiple databases, multiple scripts/plugins and applications running along with multiple users simultaneously visiting the site, CPU cores are what gives the server an ability to process all these tasks quickly.
RAM
Processing capability is important and needs to be accompanied by a sufficient amount of memory. Without RAM, no amount of CPUs will make a site fast. RAM is what allows applications and scripts to get loaded into memory so that CPUs can then process them quickly.
SSD Storage
Drive space is essential in order for you to download and install applications, scripts, plugins, themes and platforms on which these would be built. Drive space is also important so that you're able to upload photos, video and other created content. SSD just means you're getting higher performance storage than traditional HDD.
Bandwidth
Getting your content from the server to your visitors is where bandwidth comes into play. If you don't have enough monthly transfer capacity, you won't be able to satisfy all the requests. Sites that have more rich media, like video, and those with high traffic are particularly in need of bandwidth.
What You Get – Variable Features Per Plan
Basic VPS – $40/month
2 CPU Cores
4GB RAM
75GB SSD Storage
2TB Bandwidth
Standard VPS – $60/month
4 CPU Cores
8GB RAM
150GB SSD Storage
4TB Bandwidth
Professional VPS – $80/month
6 CPU Cores
10GB RAM
250GB SSD Storage
5TB Bandwidth
Premium VPS – $100/month
8 CPU Cores
12GB RAM
300GB SSD Storage
6TB Bandwidth
Conclusion
Choosing a managed VPS package doesn't have to be difficult. Look at what features you need and what your budget can allow, then pick the one which fits the best.
If you'd like a hand in choosing the perfect VPS package, just give the KnownHost sales team a shout. We'll be happy to discuss what are your objectives, what resource demands your installations require and narrow it down to the ideal VPS selection.