A Guide To All Things cPanel – Answering Common Questions
Updated May 4, 2020
"cPanel" is a word that gets thrown around often in the web hosting industry, but what is it? If you're new to the online world, you may not be familiar with this term just yet!
cPanel is an online graphical interfaced based on Linux. It is used as a control panel to upload content, manage your domains, create email accounts, and more. Created in the late 90's, cPanel has been a leading panel software in the United States for over 2 decades.
How Much Does cPanel Cost?
While you can't get cPanel for free, it typically comes included in your hosting package. Beware though, some hosting providers up charge this service, or make you pay more when you're contract is up.
In 2019, cPanel raised their license pricing making most hosting companies raise prices and consider switching to alternative panels including DirectAdmin. According to Hosting Journalist, some small hosting companies were debating ending their cPanel services, "To give you an idea, for just one of the Walker Hosting servers, the cost of the cPanel license has just risen from $45 to $335 per month."
See Our knowledge base article for a cPanel vs. DirectAdmin Comparison.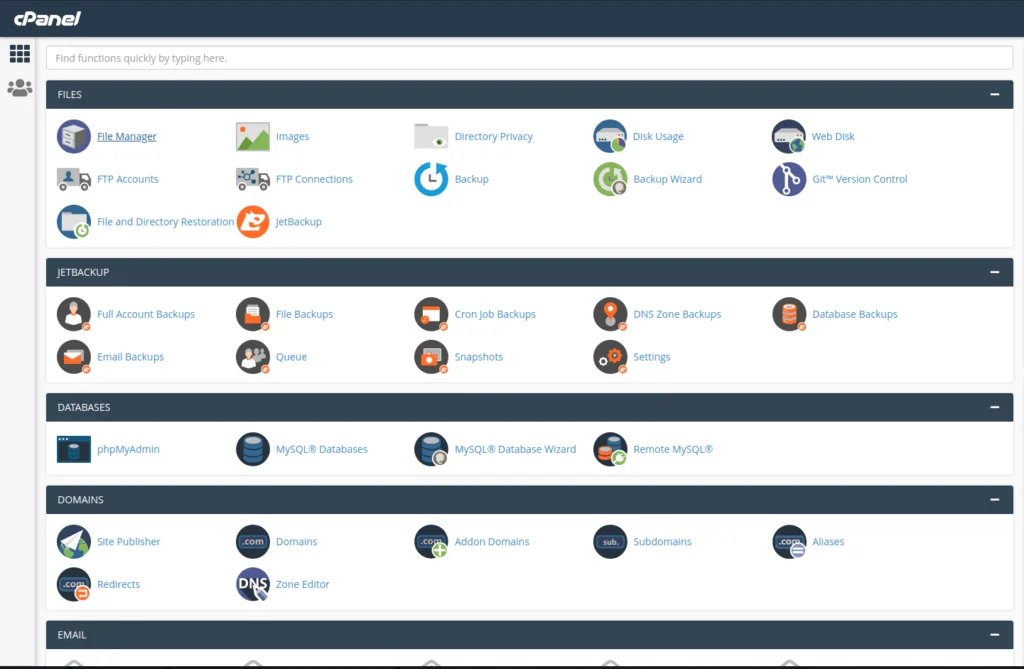 What Permissions Do I Have?
cPanel & WHM supports several types of users with multiple levels of permissions:
– The root user can create or modify any account and possesses access to all of cPanel WHM's features.
– Resellers can create and manage the cPanel accounts that they own and can access both the cPanel and WHM interfaces. The root user specifies the privileges for these accounts. For example, you can modify access to only allow resellers to suspend or unsuspend the accounts that they manage.
– cPanel users can access the cPanel interface and possess access to manage most aspects of a website. The root user and the reseller who owns the cPanel account can specify the account's privileges.
How Do I access my cPanel Account?
You can login to your cPanel using the address bar of your browser. Type in your website address followed by a colon and then 2083. Accessing your cPanel would look like this https://yoursite.com:2083.
You can also log in to your cPanel by typing in /cpanel after your website address. When you use this method to log in to your cPanel, it would look like this: https://yoursite.com/cpanel.
If you have a new website and the DNS records have not yet propagated on the server, then you can use the IP address instead. Accessing your cPanel via IP would look something like this: https://10.10.10:2083.
cPanel Modules Broken Down-

Files
In the Files module, you will find all of your site's content. This includes (but isn't limited to) Images, Disk Usage, File Restoration, etc.
This is pretty much your bulk information, and where you will go to view content, conduct backups, specify privacy levels, and more.

Databases
If your website uses a content management system, the database module is where you will be able to manage your databases. In this module, you will find database resources that include phpMyAdmin, MySQL, Remote MySQL, etc.

Domains
With cPanel, you can conveniently access any of your multiple domains – or subdomains in the domain module. In this section, you'll find items like Site Publisher, Domains, Subdomains, Add-on Domains, Redirects, etc.

Security
In the online world, security should be a top priority. That's why there's an accessible security module within your cPanel account. In this module, you will find crucial information about your site including SSH Access, Leech Protection, Two-Factor Authentication, Imunify360, IP Blocker, etc.

Software
If you consider yourself advanced in site building, you'll most likely find a software module within your account. This module includes Cloudflare, WordPress Themes, Site Builder, Select PHP Version, etc.

Metrics
Performance is key in building your site, that's why the metrics module is imperative in helping grow your brand. Here, you will find insights into your site and how you can improve it. In the metrics module, look for important items like Errors, Google Rankings, Visitors, etc.
Keep in mind, not everyone's account is the same. You may have more customization features and more or less modules than another site owner. This all depends on your plugins, and the plugins your hosting provider provides.

Quality cPanel Provisioning
Looking for superior cPanel hosting? Look no further, you're already there! At KnownHost, our hosting plans are built around premium hardware and networking, to deliver high availability and ultra high-performance hosting for your websites. Not only are our Shared Hosting plans use cPanel (at no additional cost), but also get unlimited EVERYTHING with our professional shared packages. See our plans here!
Already have a WordPress site but looking to move it to another cPanel account? Simple! Read our 'how to' article here!
Conclusion
Overall cPanel does make for a quality paneling option. It's up to you to determine the pros and cons of cPanel vs. their competitors, but after that, the choice is yours!