Facebook Ads, YouTube Ads or Both?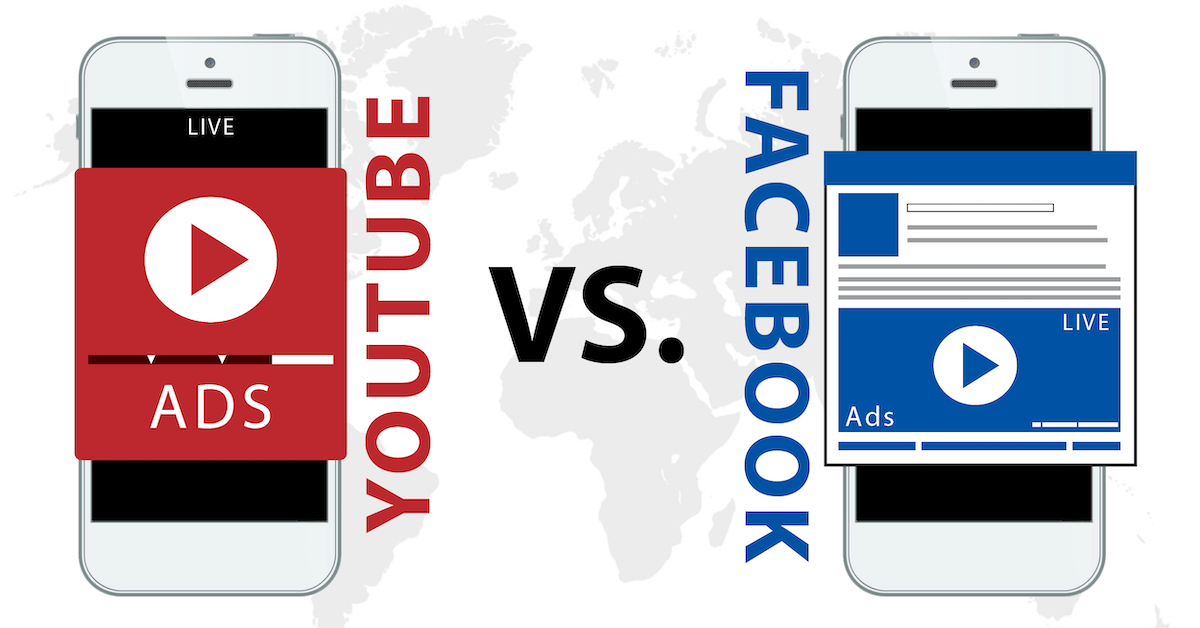 Updated November 5, 2020
While there are no absolute hard and fast rules about how advertisers use Facebook Ads differently than YouTube Ads, both/either can be used for multiple marketing purposes such as:
1. Brand Awareness / Brand Lift
2. Repetition for Sales Life / Conversion Improvements
3. Answer Questions / Provide Detailed Information
4. Demand Generation / Lead Generation
5. New Product Launches
6. How to / Use Cases
7. Multi-Channel Campaigns / Retargeting
Many articles on the web tout the use of one network for one purpose but one for another. Keep in mind that comparing Facebook Ads to YouTube Ads is just as inaccurate as comparing Facebook Video Ads to Google Ads – they're like comparing milk and motor oil…. very different when you don't restrict comparisons.
The fact is, Facebook Ads are much more than just video advertising – there are many different ways you can have ads that display on Facebook, just like there are a lot more than just video ads on Google.
We'll take a look at the numbers behind Facebook and YouTube and cover why you míght want to consider one, the other, or both as part of your marketing mix.
Why Advertise on Facebook
Many think of Facebook as a purely personal social networking site where friends and family can get together and chit chat, but that's far from the only use of Facebook.
More than 2,000,000 advertisers are active at any given time on Facebook. Some are promoting one or more of the 40,000,000 small business pages. Businesses are flocking to Facebook for good reason!
There are over 1.6 billion daily Facebook users and not just the young, unemployed or uneducated. In fact, as education levels or income increase, so does the percentage of people who can be found using Facebook.
More than ? of American adults use Facebook (75% of women and 63% of men), with approximately 250 million monthly active users in the United States and Canada alone. That 250 million represents between 10% and 15% of the Facebook global audience (Asia Pacific is over 40%).
74% of Facebook users login daily, giving brands a chance to get brand visibility multiple times per day in a very short period of time.
With Facebook users spending more than $1,000,000,000 per year on goods and gifts due to ad exposure, there's definitely money to be made by savvy sellers and knowledgeable marketers.
Did You Know…?
Facebook posts average just 3.6% engagement rate. Yes, that's right. Less than 4 of every 100 people that are friends or followers will actually see and engage with a typical post.
Some of this is due to a lack of interest by the audience (not everyone cares what you had for breakfast or your political views on X, Y and Z), but part of it is down to the Facebook algorithm not showing every post you make to the entire audience you've built.
Part of the reasoning behind this is to prevent saturation. If every friend and follower saw every post by every other friend and follower, the feed would be so overwhelming than people would limit their connections in an effort to reduce this – which would be bad for Facebook.
The other part of the reasoning behind limited feed visibility is that Facebook wants advertisers who spend money to boost visibility, not just rely on free organic views all the time. If you know only 3.6% will see a post – you'll promote it by spending advertising dollars to get greater visibility, if you really want to sell stuff.
Facebook Ad Key Statistics
Facebook advertising is successful for most advertisers, provided they understand what it can and can't do, and understand how to calculate ROI.
There's no point trying to sell $2.00 widgets when cost per click is $1.72 (the average on Facebook) and conversion rate is 2% (a rough estimate across many advertisers and sectors). With a bit of math, you'll see that a 2% conversion rate means 50 clicks are needed to make one sale. 50 x $1.72 = $86 per conversion. You may be able to get clicks for 10% of that, or 10x that, depending on your sector – this is just an example. But in this example it makes no sense to sell anything with less than $86 profit per unit, because that's what the advertising would cost!!
A typical user on Facebook will click 11 ads every month, with women clicking 14 per month and men clicking 10, on average. With 2.4+ billion active users every month, that means 24,000,000,000+ clicks on paid ads occur every month on Facebook.
Facebook does get 75% of all social media ad revenue globally, partly due to the fact that it's the #3 most popular site in the world, but partly due to the fact that people who click end up buying stuff! 80% of ecommerce site referrals from social media comes from Facebook (in the United States).
Facebook advertising is actually getting cheaper as impressions have climbed 37% while cost per click is down 6%. The fact is, the algorithm is getting better at matching advertisements with social media visitors, improving efficiency and increasing advertiser return on investment. There's a lot of speculation about this being to compete head to head with Google advertising.
How to Be More Effective with Facebook Advertising
Understanding the techniques to improve visibility, click-through rates, conversions and cost per click or cost per conversion are all instrumental in creating the most effective campaigns when advertising on Facebook.
It's important to understand that 2/3 of Facebook advertising revenue comes from mobile advertising, because that's the device type most commonly used by visitors (700,000,000+ daily mobile visitors). Facebook video advertising is 94% mobile!
Success Factors with Facebook Ads
1. photos in posts get 53% more likes, 2x as many comments and 84% more clicks than posts with just text
2. posts with less than 250 words outperform those which are longer
3. posts with emoticons get over 50% more likes and 1/3 more clicks and shares
4. to get 2x the comments ask a question at the end of a post, not in the middle
5. 11am to 2pm Wednesday and Thursday sees max traffic, though Friday pm gets max engagement
6. if using Facebook video ads, remember that 85% of viewers will have sound muted
7. video ads that are square are more than 1/3 higher performing than landscape video ads
8. don't wait, don't set long delays – engagement happens within 5 hours of a post, 3/4 of the time
9. use custom audiences for 64% lower cost per conversion
Why Advertise on YouTube
If you think YouTube is "just" some video site where people go to kill an hour, you'd have underestimated the magnitude of YouTube and the significance it can play in your online marketing success.
YouTube isn't just a video sharing site. It's been around since 2005 and has grown to be the #2 most popular site in the world, right behind Google and just ahead of Facebook. YouTube is globally available in more than 80 languages with over 100+ localized versions available, as over 2,000,000,000 unique visitors a month stop in to spend on average over 11 minutes a day.
When thinking about the pure scale of YouTube, keep in mind that being the #2 site means that, in the United States, you can reach more people aged 18 to 49 on YouTube than you can on all cable and broadcast television networks combined. This reach is particularly impressive in the 15-25 age range, where over 81% of Americans visit YouTube regularly.
The split on mobile is a bit different given the fact that just 70% of watch time is via mobile devices, though the average user does spend close to 12 minutes a day as they view 6.7 pages.
Shopping on YouTube is impressive with 90% of shoppers discovering brands here. It's a great place to uncover new gems. There's plenty of reasons that YouTube advertisers spend $5.5 billion per year in the United States alone!
Viewers use YouTube to see how to do things they've never done before (50%), kill time (30%), decide on a product purchase (20%) and get the latest news (20%). There's lots of other reasons, but these are the top ones. Don't forget that 70% of YouTube content viewing comes from the algorithm making suggestions. Oh, the power of suggestion.
Note: People use YouTube for several reasons, not just one or the other.
How to Be More Effective with YouTube Advertising
YouTube success has been studied, measured, tested and retested by thousands of marketers who have sought to unlock the magic money of YouTube paid advertising. YouTube ads have been running since 2007. It's now the #2 search engine, #2 social network and #2 most popular site in the world.
That said, YouTube is 3rd in paid social with 48% of marketers using it. Many don't because of preconceived notions about the audience and returns on investment. Just 9% of small businesses rely on YouTube ads whereas 62% of larger companies "get it" and use YouTube for marketing purposes.
Marketers typically use YouTube ads for:
– building brand awareness
– securing leads
– nurturing leads
– converting leads
Success Factors with YouTube Ads
1. pre-rolled, skippable ads are the most effective (3x display ads and 4x non-skippable video ads)
2. consider brand recall lift campaigns which are effective some 90% of the time
3. turbocharge your brand recall lift by using Google Preferred ads (where you appear next to top content) to get more than 100% lift and more than a 50% purchase intent increase
        4. look at TrueView ads (where viewers pick what they watch and advertisers only pay if they            actually watch the video ads) for the ultimate in engagement
5. carefully consider call to action text because it's the only text overlay you're going to get (unlike Facebook which lets you put text over the top)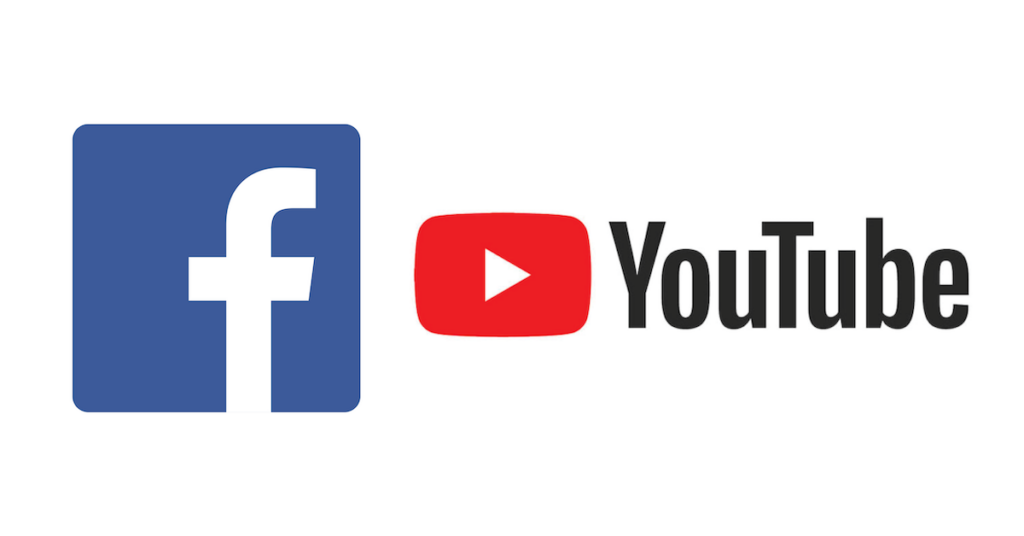 Facebook, YouTube, Either or Both?
Comparing Facebook Ads with YouTube Ads is an unfair comparison, since YouTube has videos but Facebook has a multitude of different appeals, from games to groups, friends to feeds or brand pages to videos of their own.
When it comes to just comparing video marketing platforms, 79% of marketers polled said that YouTube is the most effective video marketing site, while just 59% said that Facebook was the most effective for video marketing.
YouTube is tending to be used for brand following and updates, new product exposure, product discovery and consideration and generally a pre-purchase / pre-conversion segment of the sales funnel and is now shifting into becoming more and more an actual conversion generator.
Facebook, on the other hand, is showing strong signs that it's good for adding that extra retargeting as much as for prospecting, with custom audiences out-converting categories and interests by a huge margin. Take website visitors who look at your product offers via the website, but don't convert and follow-up with them via Facebook and the added reinforcement touch is a great way to ice the sale.
Why shouldn't you use multiple sites, like using Facebook Ads and YouTube Ads at the same time?
There's no good reason to limit yourself to one or the other!
Conclusion
Limiting your opportunities should only come based on trial and error. See which networks perform best for you. With sufficiently high ROI, you should be able to justify spending on both, more and more, until the law of diminishing returns reveals that you've reached the maximum ROI given your targeting, audience and budget.
Nothing will replace years of practice and thousands of dollars spent, but if you'd like to maximize your success, find a good training program on how to run ads profitably across both sites.
It's not enough to know how to create a campaign. The mechanics of setting up marketing campaigns can be taught to a trained chimpanzee. The goal is to learn how to run PROFITABLE campaigns. The idea is to make money – something to keep in mind as you're finding a good training course and start running campaigns for your business.