Exceeding Your Server Expectations – The Functions of LiteSpeed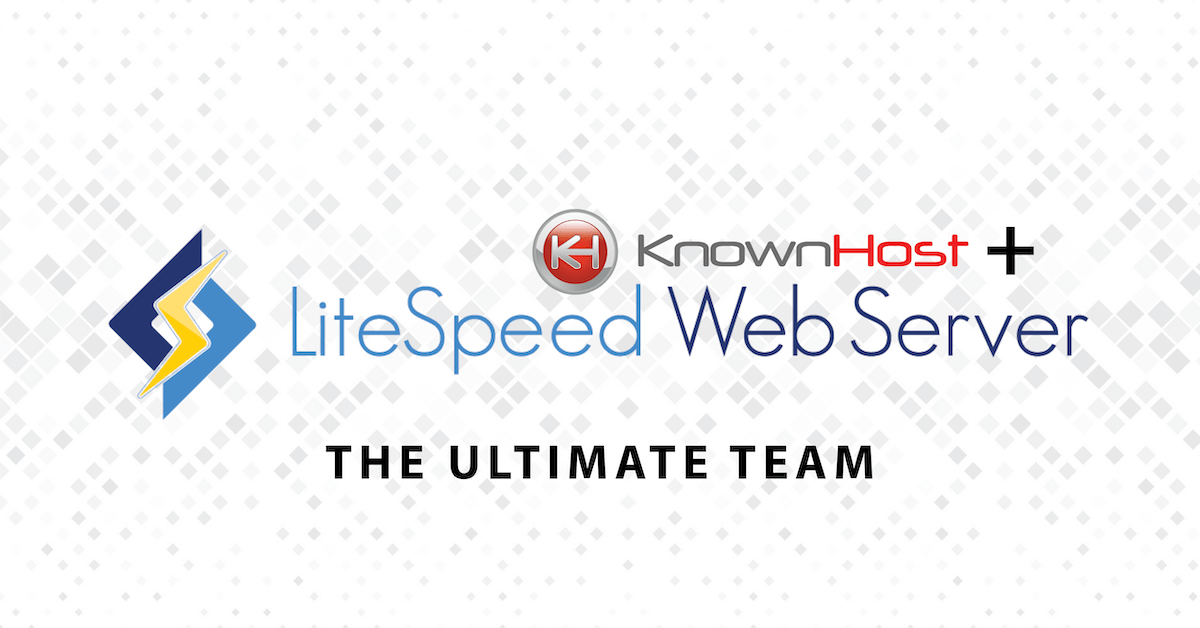 Updated September 2, 2020
Every website is powered by a web server and most developers routinely choose to go with Apache for its commonality. However, at KnownHost, we take advantage of the industry-leading, fully customizable web server option – LiteSpeed. LiteSpeed's objectives include; having the fastest built-in cache, intelligence + optimization, and complete acceleration.
Having a dependable web server is crucial for obvious reasons – speed, optimization, performance, security, etc. The list goes on and on, but with LiteSpeed, superb quality comes as standard.
Below, you will find the top 6 reasons why switching to LiteSpeed is beneficial to your website.

1. LiteSpeed Easily Replaces Apache
While Apache is an easy-to-use, cross-platform software, it has its disadvantages… Oftentimes, Apache users report more bugs (or put more time into debugging) than alternative HTTP servers, along with seeing slow load times or even downtime when heavy online traffic is more prevalent. Luckily, LiteSpeed is significantly faster, and Apache is 100% compatible as a drop-in replacement. This means, anything you already created in Apache will work just the same in LiteSpeed, making the migration efforts easier than you thought. The switch from Apache to the LiteSpeed web server only takes minutes to install and just seconds to get your web sites loading through LiteSpeed. Conveniently, if cPanel is your choice of panel, there is a free plugin you can use to easily administrate LiteSpeed from a graphic interface.
2. Increased Security
Like Apache, LiteSpeed Web Server is mod_security compatible and has a generous amount of built-in anti-DDoS features. LiteSpeed takes security seriously, constantly taking the Internet's newest security issues into account and implementing any safety precautions necessary to keep your site from malicious attacks. The team at LiteSpeed takes no time addressing DDoS attacks, and releases a fix within hours of the reported problem.
3. Increased Performance
Because of our recent article, 'Website Optimization For The Modern Marketer…' you know how important speed and performance really is for your site. LiteSpeed was built for the demanding sites – the sites that have thousands of visitors over a short amount of time, using minimal hardware resources. LiteSpeed serves static content faster than any other web server available. Plus, because of its custom PHP LSAPI, you're guaranteed to see an increase in PHP performance. Another benefit to switching to LiteSpeed is that hosting specialists that offer LiteSpeed often have less crowded servers, which may be a benefit for shared hosting customers, because it also results in better speeds. Once you replace Apache with LiteSpeed, you will see your load time dropping from >20 seconds to 2-3 seconds.
4. Built-In Cache
Caching is vital to site owners that have static content (images, product descriptions, etc.), this helps with loading time and overall optimization of your site. With LiteSpeed, caching comes as standard. LiteSpeed Web Server's cache engine is a highly customizable, high-performance page cache built into the server core and for WordPress sites, it has its own LSCache plugin. LiteSpeed's cache features are similar to those in Apache mod_cache, but LiteSpeed implements it in a more efficient way. This is beneficial to you because (1.) the obvious – it saves time. But (2.) you also do not have to worry about installing further plugins on your site that may help with your caching process.
5. Results = Profit
Suffering from downtime can cost you customers in the long-run. If you're running a high-traffic site, even downtime of a few seconds can constitute lost revenue and lost visitors. LiteSpeed will give your performance the boost it needs to promote full efficiency so that your uptime is better, your server is not busy, and you don't lose visitors.
6. Reduced Hardware Costs
LiteSpeed brings even more benefits than just performance and security, while keeping your budget in mind. Why pay hundreds of dollars (or more) for a server that can handle your website traffic, when LiteSpeed comes at no additional cost at KnownHost? When becoming a KnownHost customer, you not only get LiteSpeed included in your package, but also 24/7/365 expert technical support, reducing time investigating possible problems.
Conclusion
Now that we can agree that LiteSpeed is the superior choice, and you see how easy it is to migrate, switching from your old web server shouldn't even be in question! With LiteSpeed's automatic speed, security, performance, and ease of use, we can guarantee your website will benefit from the profits LiteSpeed will bring to your site.

More About KnownHost –
KnownHost is the name companies have known and trusted since 2006 for outstanding, fully managed web hosting services. Expanding each year we now offer Shared, Cloud, VPS and Dedicated hosting to suit any budget – all with proven best uptime on the planet! Along with offering LiteSpeed at no additional cost, we also take care of the technical configuration, optimization, security procedures, backups, migrations and much, much more! Start your migration process now with KnownHost's migration services!