12 Pages Every Website Must Have
Every business needs to have a strong online presence. This is usually achieved through a comprehensive website that provides users with all the information they need to make informed purchases.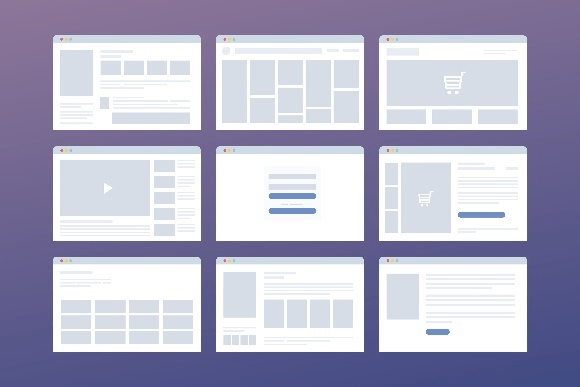 How Many Pages Should a Website Have?

There is no limit to how many pages a website can have, but it's generally recommended to have just enough pages to cover all the content needed on the website without unnecessary pages or duplicated content.
Every website should have a home page, an about page, and a contact page as a minimum requirement. These provide basic information about the business and why the website exists, as well as allowing users to interact and communicate.
The standard website template is known as a '5-page format' – including the three previously mentioned pages as well as a products/services page and portfolio/gallery page.
A website may require more pages if the business is larger, offers a wide array of products and services, or aims to expand and branch out into new projects.
A page also needs to fit its target audience. For example, products and services targeted at an older demographic may include larger text and a fewer number of pages to improve the user experience.
However, a company that produces highly advanced cybersecurity solutions may assume its users are more tech-savvy and can reflect this in more interactive page elements.
What Pages Does Every Website Need?

Twelve essential pages can enhance the browsing experience of every website. These pages are listed below:
Homepage – The homepage is the main landing page of a website and is the first page most users will see. Its purpose is to provide an overview of the website's content, navigation options, and key information.
It serves as an entry point for most visitors, guiding them to other pages of the website to find the desired information.
About Page – A website's 'about' page provides information on the website and the organization or individual behind it.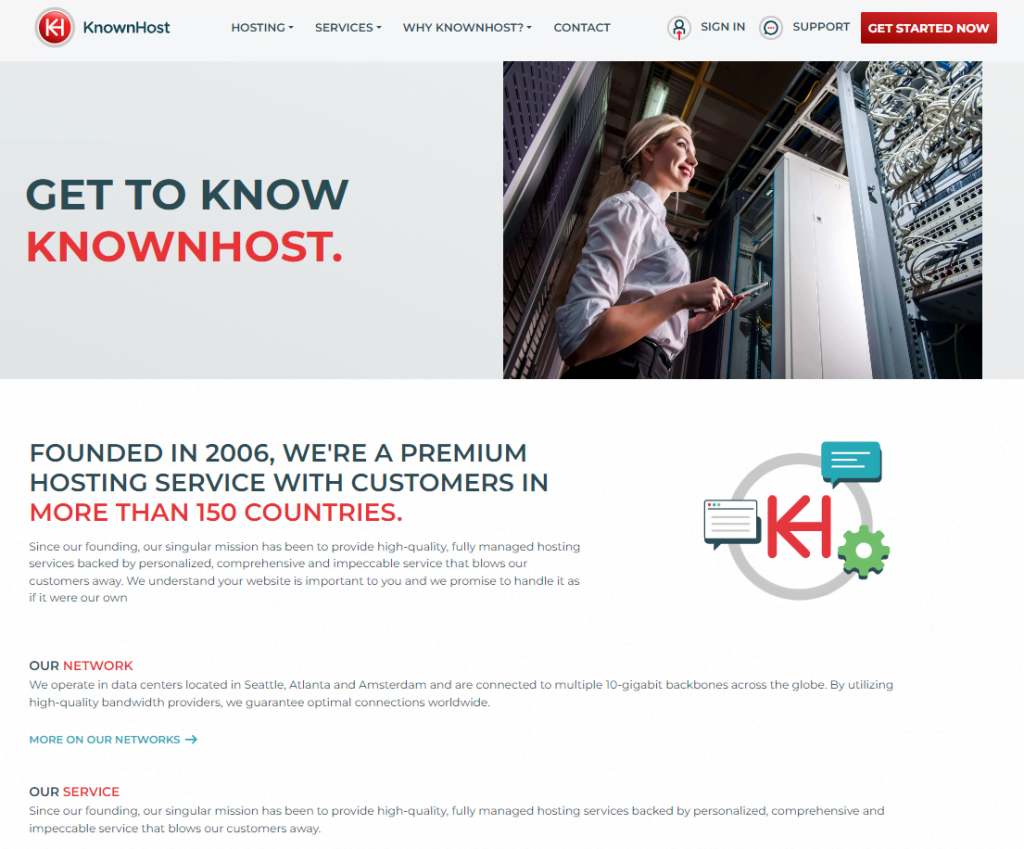 Its purpose is to convey the business' background, mission, history, and values – and relevant details about the owners or founders to help visitors understand its purpose, credibility, and establish a connection.
Thinking about starting your website? Check out KnownHost's fully managed dedicated hosting services now!
Services or Products Page – A website products/services page showcases the business' key offerings. Its purpose is to provide detailed information about the services, products, or solutions provided.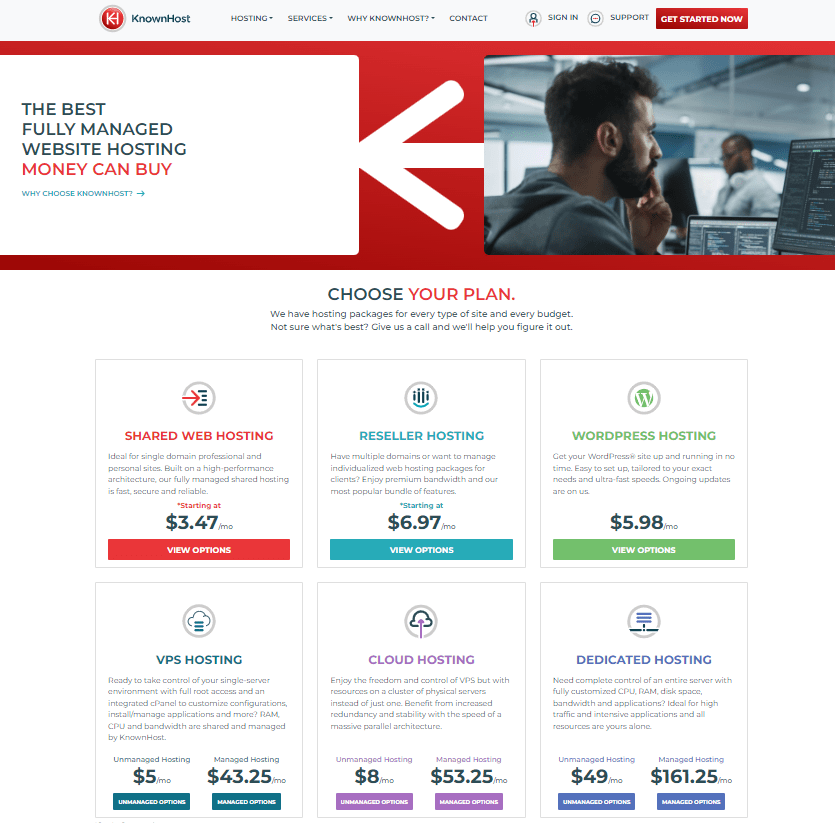 It'll often include sales copy and images that highlight specific features, benefits, and value propositions.
This page can help visitors understand what the organization can offer them. An example would be a supermarket chain advertising their products, or a cybersecurity firm advertising their protection service packages along with associated costs.
Many businesses will have multiple, if not hundreds, of product or service pages depending on their offering.
FAQ Page – A website's Frequently Asked Questions (FAQ) page addresses common queries and provides answers to them.
Its purpose is to provide quick and accessible answers to visitors by addressing common concerns, answering the most common questions the business receives, and helping users find the information they need.
Testimonials/Reviews Page – A website's testimonials page displays customer feedback and reviews on their experiences with the products or services offered.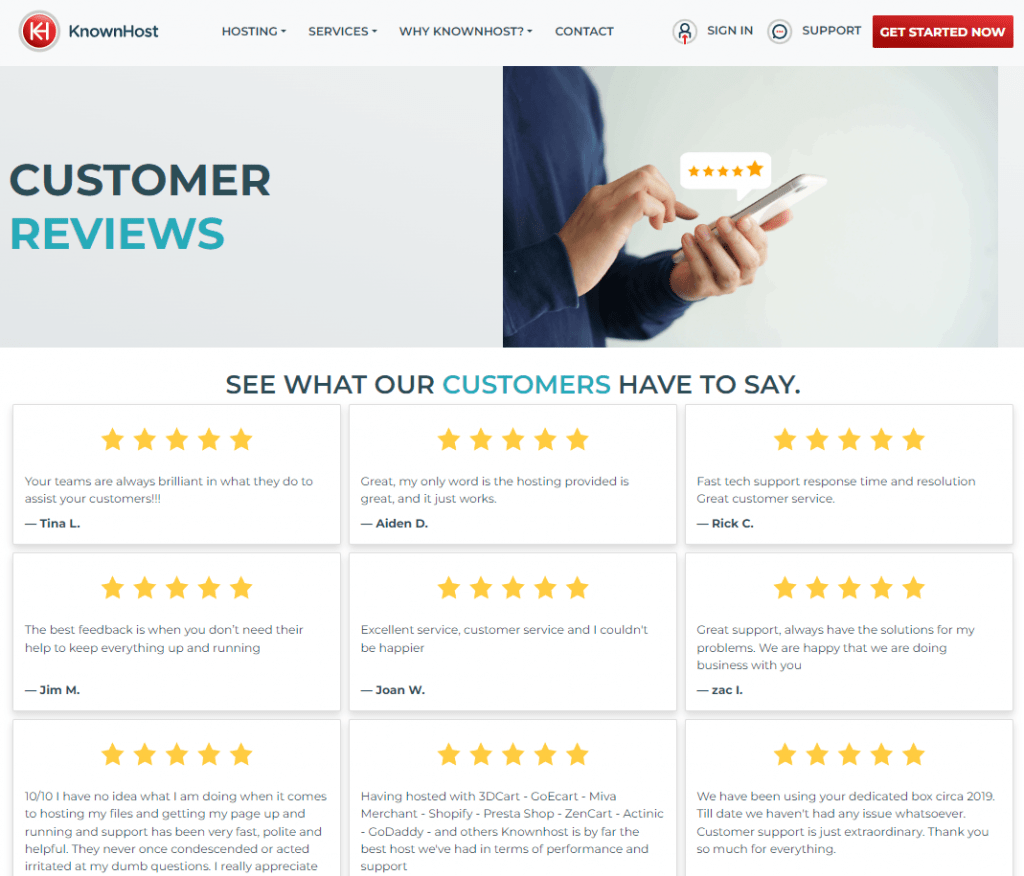 Its purpose is to showcase positive case studies and reviews from satisfied customers to add credibility, build trust, and influence potential customers in their decision-making.
Testimonials can be about a specific product or service – or the quality of the organization's work as a whole.
Contact Page – A contact page provides visitors with a means to communicate with the website owner or organization. It also contains location information if the website is advertising an on-site service.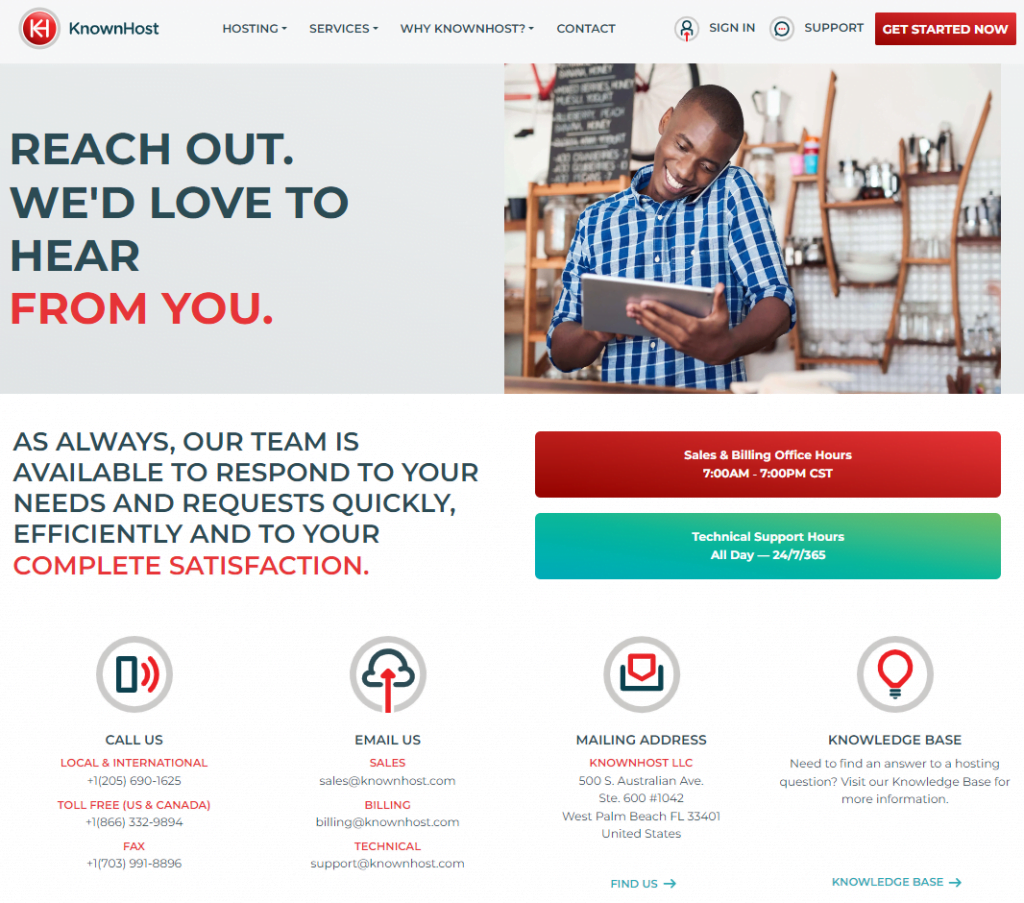 Its purpose is to facilitate interaction between the business and its customers by presenting contact information such as an email address, phone number, or contact form – enabling users to enquire, request information, file complaints, or engage in further interaction with the website.
Blog Page – A website blog page is a section dedicated to publishing articles, posts, or updates on various topics related to the website theme or industry.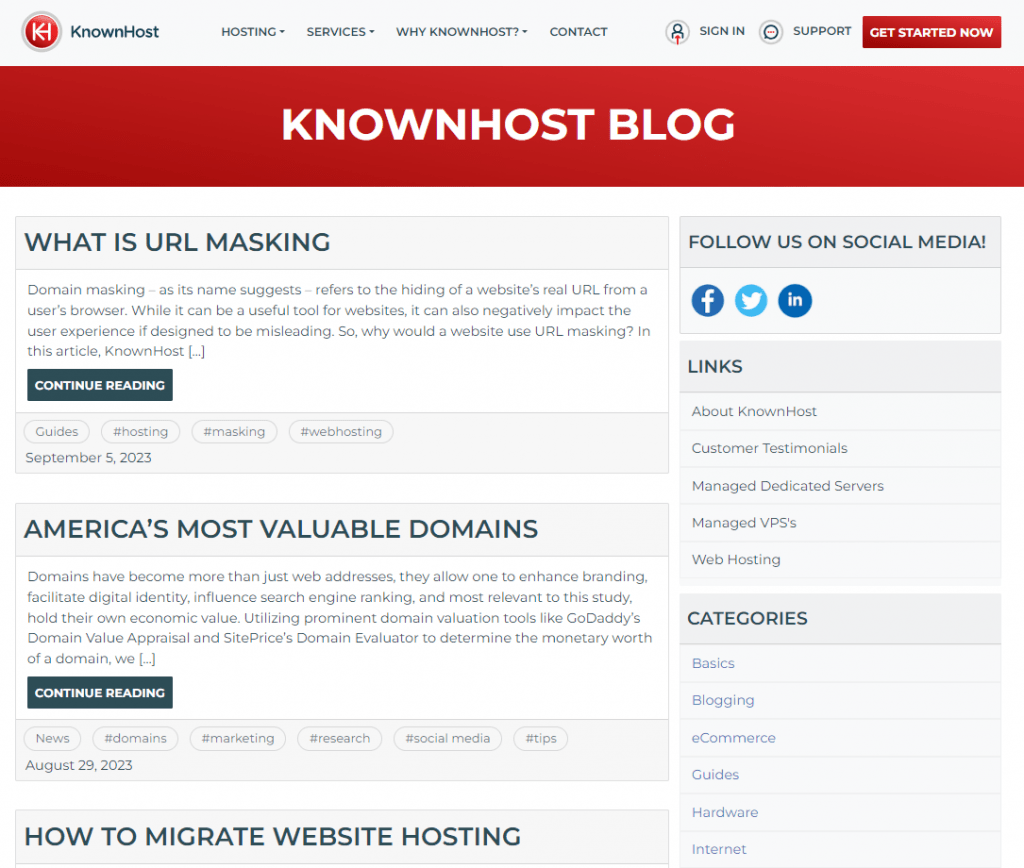 Its purpose is to provide regular, informative, and engaging content to generate website traffic – and to engage and entertain existing users to keep them on the site for longer.
This can help boost website value in search rankings, as well as establish thought leadership.
WordPress is one of the most popular websites for maintaining a dedicated blog.

Knownhost offers a fully managed WordPress hosting service that makes managing your blog effortless – try it today!
News Page – A website news page displays the latest key information and updates relevant to the website, its industry, organization, or topic of interest.
Its purpose is to inform visitors about recent developments, events, announcements, or industry-related updates that may inform how they use the website or make a purchase.
This keeps visitors informed and engaged with current information. It can also be used much like blog posts – to tackle important and popular topics and pull in site traffic.
Privacy Policy Page – A privacy policy page outlines how a website collects, uses, and protects user data. Its purpose is to inform visitors about data practices – including data collection, storage, sharing, and user rights.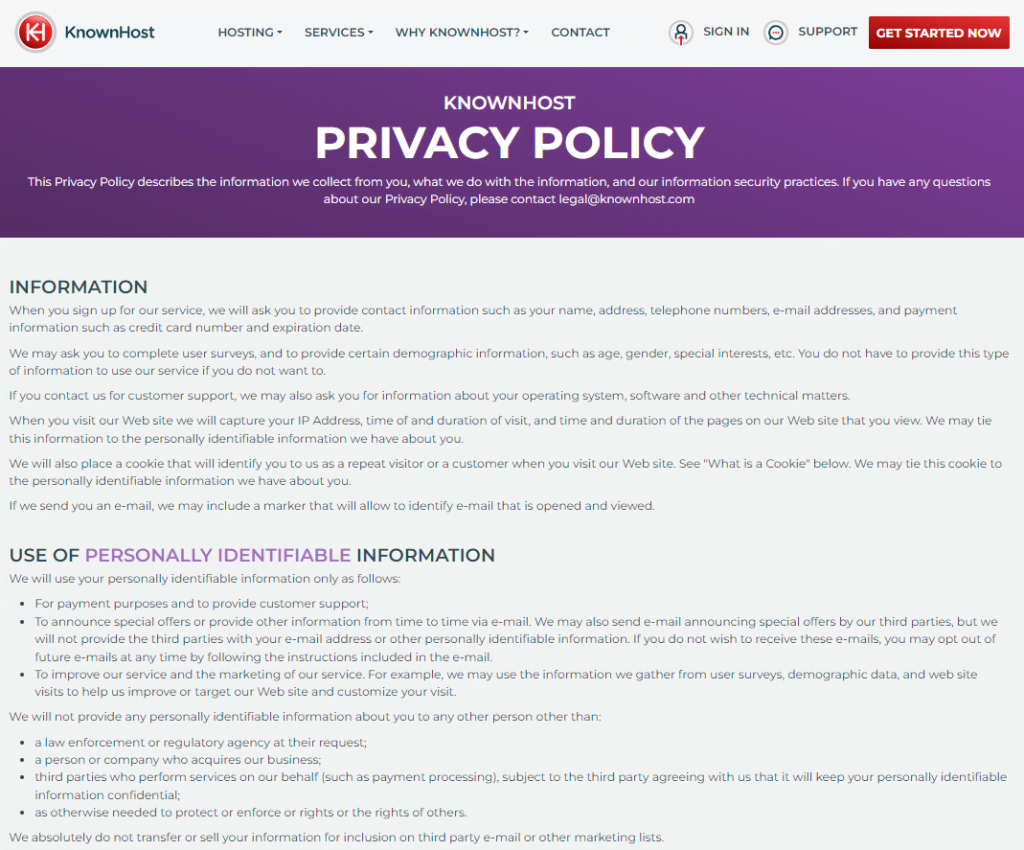 This ensures transparency and compliance with privacy regulations while building trust with site visitors.
Is data security a concern for your business? Knownhost offers secure web hosting services from only $3.47/month.
Terms and Conditions Page – A website terms and conditions page outlines the rules, guidelines, and legal agreements that govern the use of the website.
Its purpose is to establish the rights and responsibilities of both the website owner and the visitor, covering aspects such as user obligations, disclaimers, intellectual property, and liability limitations.
Sitemap Page – A sitemap page provides an organized and hierarchical list of all the pages and sections within a website.
Its purpose is to help users and search engines navigate and understand the structure and content of the website.
This facilitates easier access to the desired information for a positive user experience.
'404' Page Not Found – A '404 not found' page is a customizable error page that is displayed when a user tries to access a page that does not exist or cannot be found.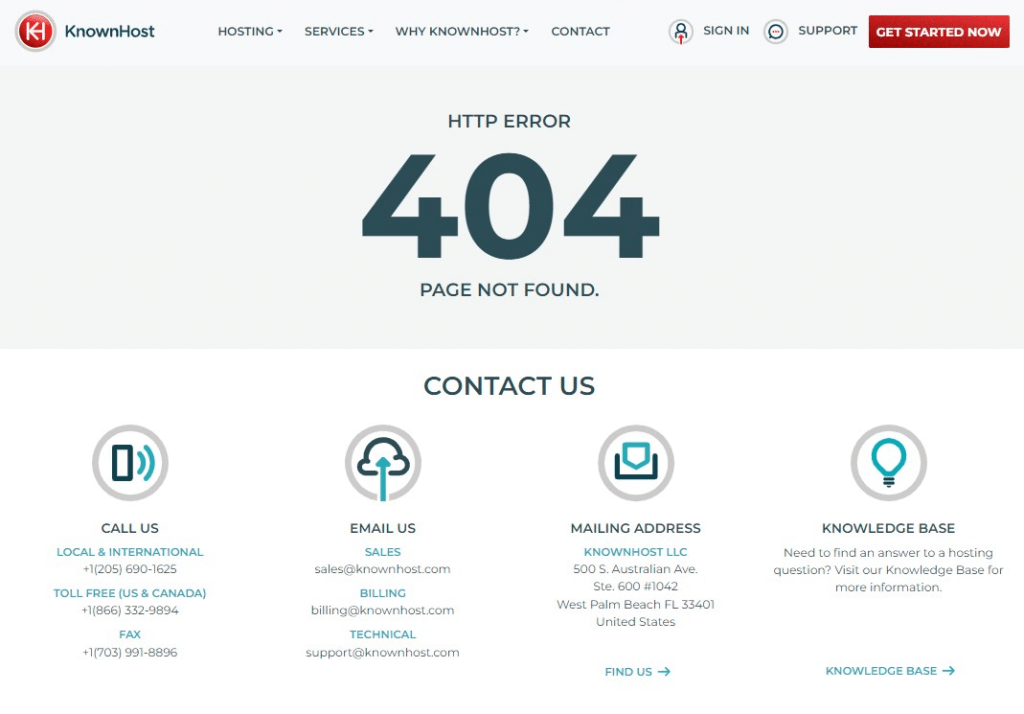 Its purpose is to inform the user that the requested page is unavailable, redirect them back to the main site, and maintain a positive user experience by offering alternative options or suggestions.

Other Pages to Consider

While the twelve key pages listed above are essential to the browsing experience of any website, several additional pages could further enhance a website. These include:
Shipping Policy Page – A shipping policy page outlines all terms and conditions related to shipping, delivery, and fulfillment of orders placed on the website.
Its purpose is to provide information to customers regarding shipping methods, costs, estimated delivery times, international shipping policies, and any other relevant details related to the shipment of products or services.
Search Results Page – A search results page is generated when a user performs an internal search on the website. Its purpose is to establish a list of relevant search results based on the user's query.
This helps a user find the specific products, pages, posts, or services that they're looking for within a website without needing to browse. This creates a seamless, positive user experience for site visitors.
Careers Page – A careers page is a section of a website dedicated to showcasing the latest job opportunities and career-related information for potential candidates.
Its purpose is to attract and inform individuals interested in working for the organization – providing details about available positions, application processes, company culture, and benefits.
Website design is key to a positive user experience, but every website also needs an effective hosting provider to avoid downtime and other risks.

Knownhost offers dedicated, fully managed website hosting services, with 24/7 support, at affordable prices.

Frequently Asked Questions (FAQs)


Q: What Are Pages on a Website?
A: Pages are sections of a website that contain unique elements and assets that serve specific purposes. They are the building blocks of a website's content and structure and are usually separated into different sections depending on the topic and purpose of each page. Each page typically has a unique URL and includes various elements such as text, video, and image formats.
Q: What Are the Three Basic Web Pages?
A: There are three types of web pages commonly found on all websites. These pages are essential for making website navigation easy for users. These include a homepage that serves as the main entry point for users and contains links to all the other web pages. An 'about' page provides information on the organization that the website is about. And a contact page contains information on how to best communicate with the site owners or their businesses.
Q: What Is a 5-Page Website?
A: A 5-page website is a typical website structure consisting of just five key web pages. It typically includes a home page, 'about' page, service or products page, portfolio or gallery page, and a contact page. This group of common website pages creates an easy-to-browse structure for the website, that helps users find the information they're looking for.
Q: What Are Pages vs. Posts on Websites?
A: Pages and posts are two separate types of content found on a website. Pages are pieces of static, standalone content that provide permanent website information. They typically also provide website structure, creating the website's overall layout. Posts are dynamic content entries such as blog posts or social media updates. They are often more topical, relevant, and timely, displayed in reverse chronological order.