America's Most Valuable Domains
Domains have become more than just web addresses, they allow one to enhance branding, facilitate digital identity, influence search engine ranking, and most relevant to this study, hold their own economic value.
Utilizing prominent domain valuation tools like GoDaddy's Domain Value Appraisal and SitePrice's Domain Evaluator to determine the monetary worth of a domain, we ensured consistency by averaging the estimates to derive reliable valuations. The culmination resulted in a catalog of America's most valuable domains, ranked in descending order from the highest to the lowest valuation.
Join us as we uncover the digital treasures that underlie some of America's most prominent entities. From sports teams that inspire millions to celebrities who shape popular culture, and trend-setting fashion brands or the nation's most appreciated restaurant chains, we'll journey through the virtual landscape, unravelling the significance and value of each domain along the way.
Most Valuable Domains
In our exploration of America's most valuable domains, we've analyzed a diverse landscape of popular industries across the US market, ranging from sports franchises to fashion giants.
This section highlights the top 10 overall domains reigning supreme for estimated value:
New England Patriots – patriots.com ($670,799)
Minnesota Vikings – vikings.com ($665,515)
Seattle Seahawks – seahawks.com ($665,492)
Las Vegas Raiders – raiders.com ($655,109)
Chicago Bears – chicagobears.com ($652,719)
Pittsburgh Steelers – steelers.com ($651,058)
Adidas – adidas.com ($638,100)
Los Angeles Rams – therams.com ($608,736)
Evidently, NFL Franchises dominate the top 10 most valuable domains in America, this could be attributed to each organization's success on the field, but also their ability to cultivate and maintain a strong online presence that resonates with fans, engages visitors, and attracts commercial interest. Their recognizable brands and dedicated fan bases contribute to higher website engagement, while their successful on-field performances and strategic online presence likely enhance their overall domain worth too.
Adidas (7th) were the first to break the sporting franchise mold, with their domain valued at $638,100 the sportswear manufacturer's site showcases its product range, culture, and branding. Their strong e-commerce presence, coupled with engaging content, make it an essential destination for customers worldwide.
Dior – dior.com ($503,996)
Dior's site serves as a virtual showcase for their haute couture, ready-to-wear collections, and brand legacy. The domain's value reflects the brand's ability to translate exclusivity and craftsmanship into the digital realm, offering customers a glimpse into the world of luxury fashion.
Under Armour – underarmour.com ($469,956)
Under Armour's domain closes out the top 10, seamlessly integrating product offerings, fitness resources, and brand ethos. The domain's value showcases Under Armour's ability to bridge athletic performance with digital accessibility, catering to a wide range of consumers and fitness enthusiasts.
Most Valuable Celebrity Domains
Now branching into the leading domains of each industry researched, we delve into the realm of celebrity influence, and their powerful platforms for connecting with fans and shaping public perceptions.
Below, you can find the top 10 most valuable celebrity domains: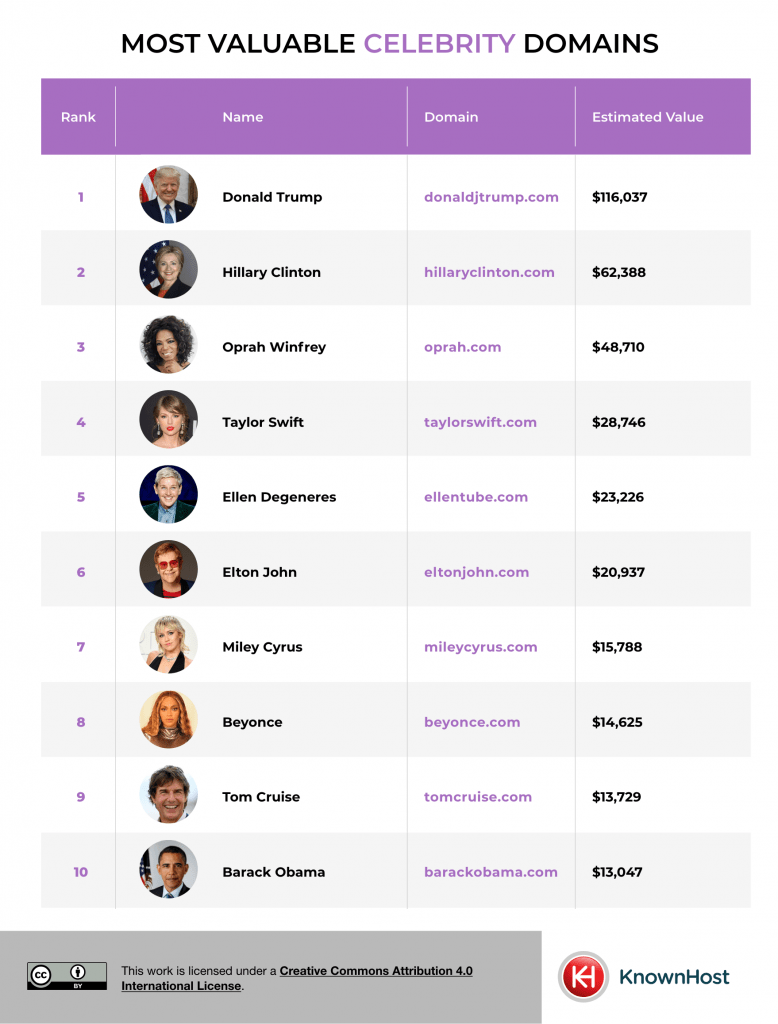 Donald Trump – donaldjtrump.com ($116,037)
Donald Trump's domain showcases the fusion of political prominence and digital reach in the modern era. The valuation reflects not only his influential presence but also the strategic use of the online platform to communicate, engage with supporters, and convey his messages directly to a global audience.
Hillary Clinton – hillaryclinton.com ($62,388)
Hillary Clinton's domain mirrors the online footprint of a significant political figure, again highlighting the intersection of politics and the digital realm. The valuation underscores her ongoing engagement with supporters and the importance of her online identity as a platform to maintain her presence in the public discourse.
Oprah Winfrey – oprah.com ($48,710)
Oprah Winfrey's domain attests to her enduring influence, showcasing the impact of a multimedia mogul's online presence. The valuation reflects her ability to seamlessly transition her media empire into the digital age, where she continues to connect with fans, offer inspirational content, and expand her philanthropic efforts.
Taylor Swift – taylorswift.com ($28,746)
Underlining the synergy between celebrity artistry and digital engagement, the valuation reflects her skill in using her online platform to release music, whilst maintaining a strong digital rapport with her global fan base.
Ellen DeGeneres – ellentube.com ($23,226)
In 5th place, Ellen DeGeneres' domain mirrors her ability to create engaging digital content, transcending her television show to offer interactive experiences and connect with fans worldwide.
The Rest of the Top 10
Elton John's domain (6th) reflects the enduring legacy of music icons in the digital age, supported by the fact his domain ($20,937) is worth more than present day industry superstars Miley Cyrus (7th) and Beyoncé (8th) – both domains are valued around the $15k mark. Separately, actor Tom Cruise is the first in his space among the top 10, placing 9th with a domain value of $13,729.
Finally, closing out the celebrity top 10 as it began, political icon Barack Obama's high value domain ($13,047) allows the former president to maintain an active voice on important issues, interact with supporters, and contribute to ongoing political discussions.
Most Valuable Fashion Domains
Explore the top 10 most valuable fashion brand domains, unveiling their estimated value and digital prowess.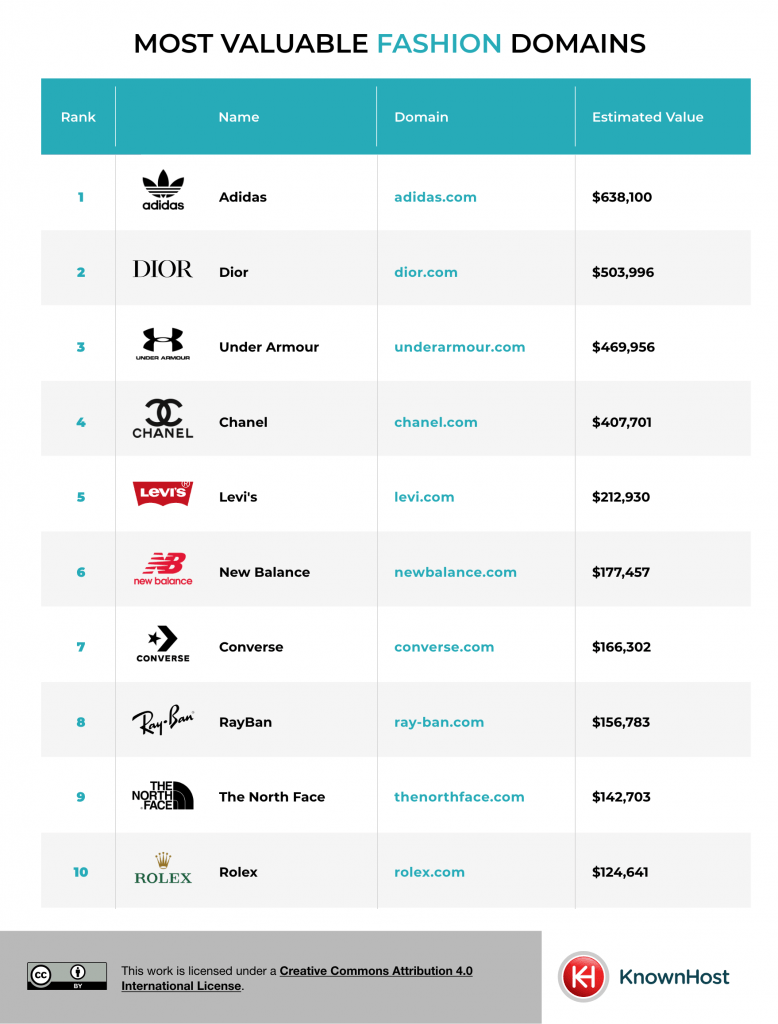 Adidas (1st), Dior (2nd) & Under Armour (3rd) take the top spots.
4. Chanel – chanel.com ($407,701)
Chanel's domain valuation pays homage to the brand's sophistication that defines their physical boutiques. chanel.com serves as a portal to explore Chanel's haute couture, fragrances, and accessories, appealing to a global audience of luxury enthusiasts.
5. Levi's – levi.com ($212,930)
Levi's domain bridges classic denim aesthetics with an ability to merge heritage and modernity, offering customers an online avenue to explore denim styles, fit guides, and the brand's cultural impact.
The Rest of the Top 10
New Balance's (6th) domain valuation of $177,457 aligns with the brand's dedication to quality athletic footwear and its ability to engage with a diverse customer base online, acting as a hub for runners, athletes, and style enthusiasts. Footwear Competitor Converse (7th) allows their domain to act as a virtual canvas for self-expression and style. The domain offers customers the chance to explore the brand's iconic sneakers and the stories they tell.
In 8th, the only eyewear brand, Ray-Ban's, evidently provides customers with a digital platform to discover the brand's diverse range of eyewear options, styles, and lens technologies.
Valued at $142,703, The North Face's domain (9th) underscores outdoor adventure and digital exploration, reflecting its outdoor wear heritage. In contrast, the top 10 is finalised by a global timepiece leader in Rolex, whose domain showcases the simplicity in craftsmanship and brand heritage.
Most Valuable Sport Franchise Domains
Within the realm of sports franchises, the digital landscape has evolved into a crucial battleground for brand presence and value.
Below are the top 10 most valuable domains among sports franchises, showcasing their estimated worth: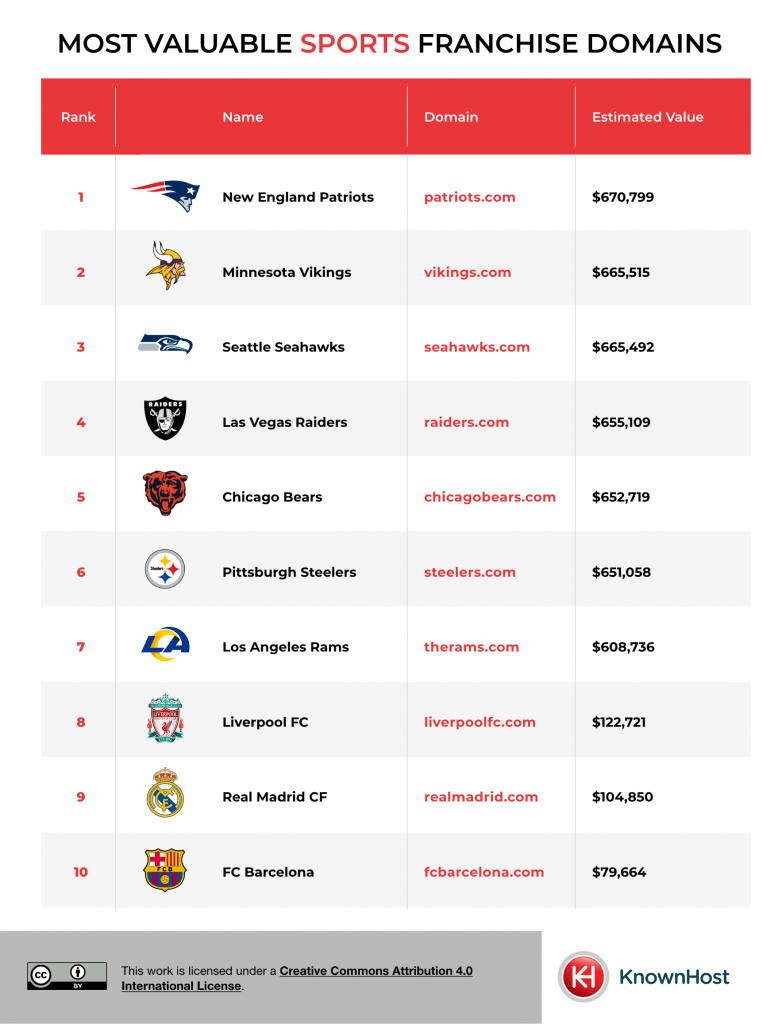 New England Patriots – patriots.com ($670,799)
The New England Patriots, one of the most successful and celebrated sports franchises, hold a remarkable online presence that extends beyond the field. patriots.com serves as a digital hub for fans, offering an experience including game updates, player profiles, merchandise, and exclusive content. The immense value of this domain reflects the Patriots' rich history, loyal fan base, and ability to engage with supporters in the digital age.
Minnesota Vikings – vikings.com ($665,515)
The Minnesota Viking's storied legacy and dedicated fan community has translated their on-field success into a captivating online experience. This domain serves as a virtual home for fans, providing access to news, highlights, ticketing, and interactive content, enhancing the Vikings' connection with their audience.
Seattle Seahawks – seahawks.com ($665,492)
Valued just $23 below 2nd place, seahawks.com was strategically leveraged to connect with fans across the globe. The Vikings and Seahawks are valued closely due to their strong followings. Additionally, both teams have passionate fan bases and have maintained consistent performance over the years, leading to high engagement on their websites. Separately, the domains' names, "vikings.com" and "seahawks.com," are also straightforward and memorable, enhancing their value.
Las Vegas Raiders – raiders.com ($655,109)
The Las Vegas Raiders' move to a new city symbolizes a fresh chapter in their history, reflected in their online presence. Raiders.com, which serves as a bridge between the franchise's rich heritage and its contemporary identity, offering both new and old fans a seamless way to access team news, tickets, and exclusive content.
Chicago Bears – chicagobears.com ($652,719)
Ending the top 5, the Chicago Bears' domain acts as a digital beacon for fans, featuring comprehensive team information, game coverage, and merchandise options.
The Rest of the Top 10
In 6th place, the Pittsburgh Steelers' domain is a dynamic platform, keeping fans connected with the team's storied history and current endeavors. The steelers are followed by the final NFL team in the top 10, the Los Angeles Rams (7th).
Alternatively, the first soccer team to place in this list, Liverpool FC (8th), evidently has a much lower domain worth in comparison to the top NFL teams, valued at $122,721. The club's widespread fandom bridges geographical boundaries through the digital medium. Spanish soccer duo and 'El Classico' rivals Real Madrid CF (9th) and FC Barcelona (10th) close out the top 10. The stature of these sporting giants showcases the ability to transcend cultural barriers and unite fans under a common digital banner. However, Barca fans will be disappointed to hear Real Madrid's domain has been valued at over $25,000 more than theirs.
Most Valuable Restaurant Chain Domains
The restaurant industry has embraced the digital era, with online domains acting as virtual entrances to their culinary experiences.
Here, we explore the top 10 most valuable restaurant chain domains: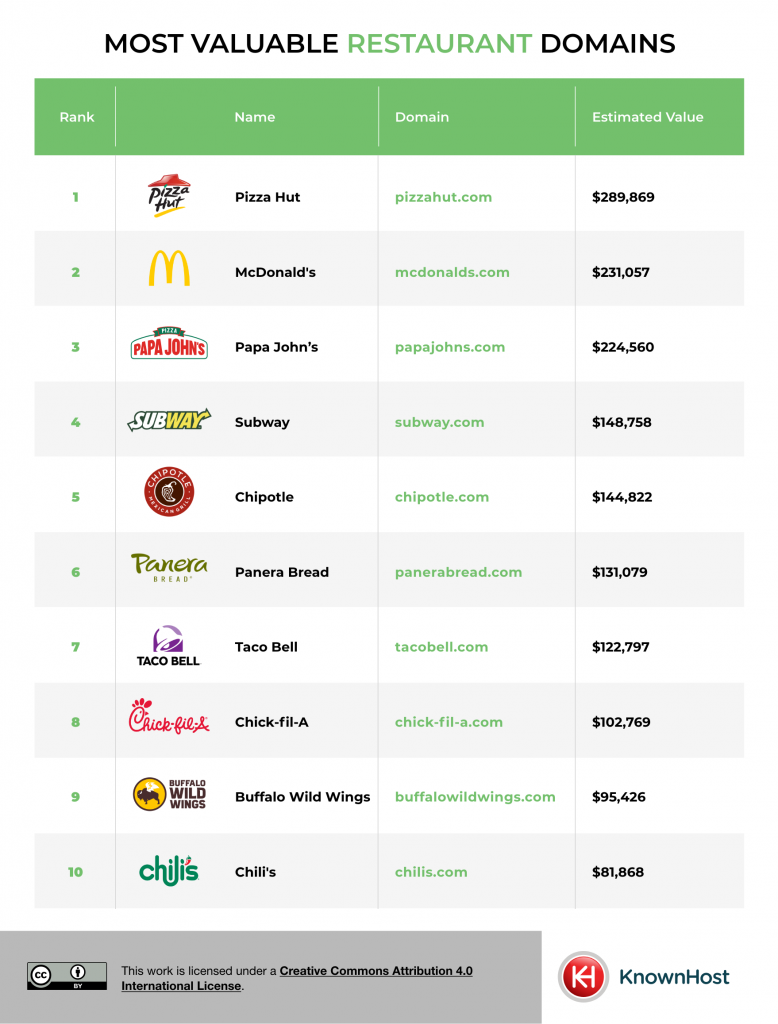 Pizza Hut – pizzahut.com ($289,869)
Serving as an appetizing gateway to its doughy offerings, Pizza Hut's domain valuation highlights how the brand effectively merges its offline reputation with the online world, offering customers a platform to explore menus, order online, and engage with promotions and events.
McDonald's – mcdonalds.com ($231,057)
Despite the inability to order anything online, the McDonald's domain seamlessly marries fast-food iconography with digital engagement, which is a testament to its global reach. The valuation underscores how mcdonalds.com serves as a digital hub for customers to access menus, find nearby locations, and explore promotions.
Papa John's – papajohns.com ($224,560)
Papa John's domain offers a convenient way to order pizza, explore menu options, and stay updated on company news. The domain embodies Papa John's commitment to digital accessibility and its aim to enhance the customer experience.
Subway – subway.com ($148,758)
Embodying their "eat fresh" philosophy Subway's domain reflects the digital narrative of a healthier dining choice with a digital representation of their commitment to fresh ingredients and customizable options.
Chipotle – chipotle.com ($144,822)
Chipotle's domain alternatively offers users the option to learn about sourcing practices capturing the brand's emphasis on transparency and culinary quality.
The Rest of the Top 10
Panera Bread's (6th) valuation ($131,079) reflects in how they offer customers a virtual bakery-café experience, showcasing menus, nutritional information, and online ordering options. The domain resonates with those seeking a fusion of high-quality food and convenience.
In 7th place you can find Taco Bell's domain, which encapsulates its bold flavors and innovative menu offerings in the vibrant digital realm. Taco Bell is followed closely by Chick-Fil-A, whose domain has been valued at $102,769.
Buffalo Wild Wings' domain (9th) mirrors its sporty atmosphere and digital engagement, catering to its target audience. The valuation ($95,426) resonates with patrons seeking a social and lively dining experience. Lastly, in 10th place you can find Chili's, valued at $81,868.
Methodology
A sample was compiled through top 25 lists across popular US categories such as sports franchises, celebrities, fashion, and restaurant chains using data from the following sources:

https://www.forbes.com/sites/mikeozanian/2022/09/08/the-worlds-50-most-valuable-sports-teams-2022/
https://today.yougov.com/ratings/entertainment/fame/people/all
https://today.yougov.com/ratings/consumer/popularity/clothing-footwear-brands/all
https://www.foodandwine.com/news/top-25-restaurant-chains-in-america-sales
Next, the team identified which of these examples owned websites that could be valued. Subsequently, each example was evaluated using the domain valuation tools listed below:

https://uk.godaddy.com/domain-value-appraisal/appraisal/
https://www.siteprice.org/
The estimated values were then averaged and listed in order of highest to lowest.
Disclaimer
The estimated values provided in this analysis are based on available data and should not be considered exact representations of the domains' market values. The actual value of a domain can be influenced by various market factors and may change over time.