10 Free WordPress eCommerce Themes to Boost Sales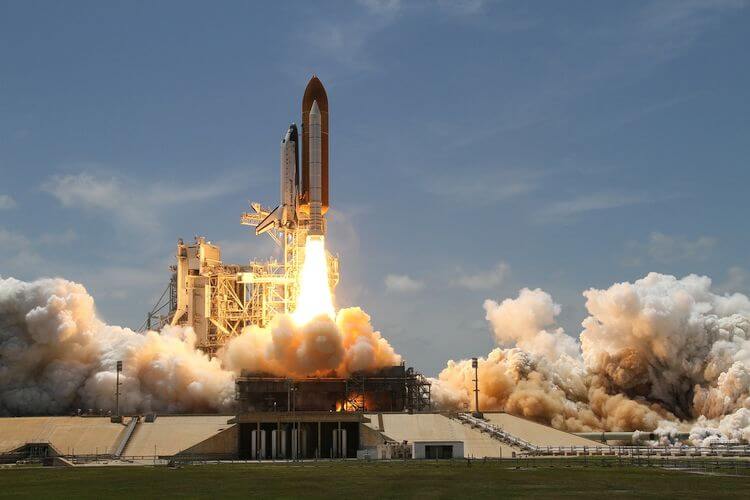 Updated August 22, 2018
Check out these 10 free WordPress ecommerce themes and use them to boost sales as you propel your business ahead of the competition.  Each is attractive, effective and FREE – so what are you waiting for?  Read on to check out these ecommerce gems 🙂
Creating a well-designed eCommerce website takes a lot of effort, time, research and knowledge. But the variety of free WordPress eCommerce themes available will make your job easier than ever before. WordPress powers over 25% of websites today and provides users with convenient designs and seamless integration with the powerful WooCommerce plugin.
This list has been thoroughly researched so that we can introduce you to the top free WordPress eCommerce themes which have been designed for a range of industries. All you need to do is choose a domain, arrange your hosting (such as with KnownHost.com) and instantly create your site with one of the best free WordPress ecommerce themes available today.
Free WordPress eCommerce Themes
1) Digi Store Lite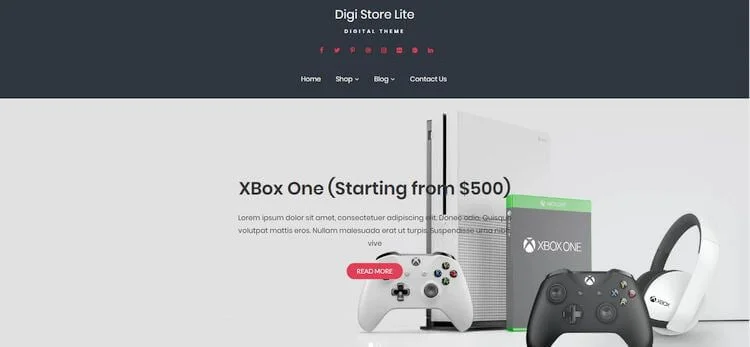 Digi Store Lite is an excellent free WordPress ecommerce theme which is designed to take your online store to the next level. The user-friendly theme is flexible and highly customizable, so you can tailor the design to your individual business style and requirements.
The responsive theme is designed to work faultlessly with any screen size and uses the BootStrap 3.0 Framework for stunning visual displays, making it perfect for businesses that want to show their products in the best light. Additional features include integrated social sharing functionality, so stores can stay connected with their followers.
2) Tyche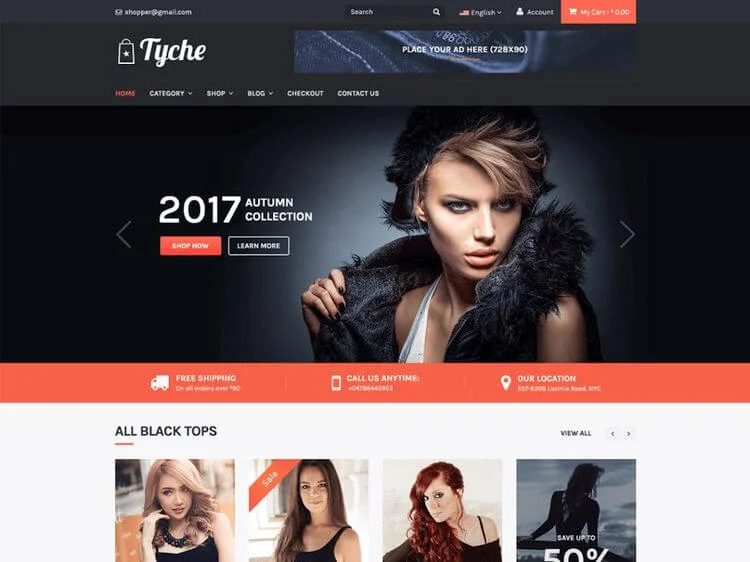 Tyche is the ideal theme for businesses in the fashion industry, with its minimalistic, clean and fresh design. The theme supports plenty of powerful eCommerce functionalities, so users can build an eCommerce site which easily attracts and converts customers.
The design will allow businesses to showcase a variety of products and individual categories within its stunning homepage slider. In addition to the useful homepage design, the theme also provides custom logo support, shopping carts and checkout pages, contact form integration and social media icons.
3) MaxStore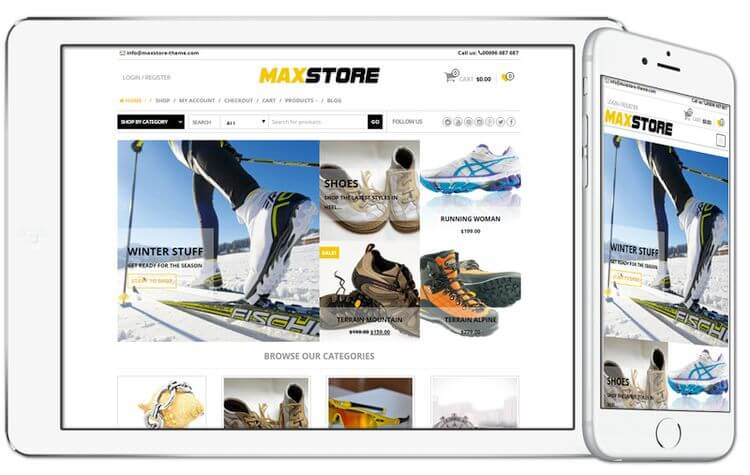 MaxStore is one of the most versatile WordPress eCommerce themes. The modern, responsive design is ideal for a multitude of businesses, from fashion and cosmetics through to sports equipment and food. For businesses which operate in multiple countries, MaxStore provides brilliant support and is ready for multilingual translation.
The theme is popular because of its elegant homepage galleries and effective checkout page, which is currently the fastest WooCommerce theme for WordPress, using CSS3 and Bootstrap. There are also a variety of useful design options such as a wishlist feature, customizable menus, a flexible header and an informational top bar.
4) EightStore Lite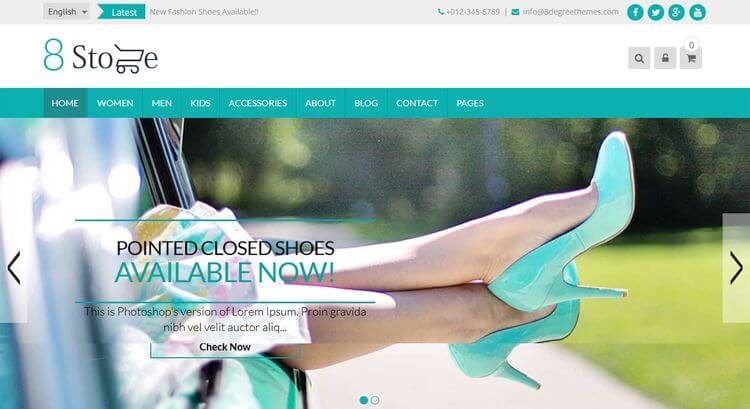 The EightStore Lite theme is known for its easy to manage design with customizable layouts, sliders and product display lists. EightStore Lite is possibly the most feature-rich free WordPress theme available, with major features including YouTube integration, popup banners, multiple category displays, a product search bar, home page blog posts and a promotional ticker.
The responsive theme is designed to work perfectly on every device from desktops and laptops to mobiles and tablets. The live WordPress Customizer will allow you to configure the site's design with real time live previews, so you can see exactly how your changes will look on all device screen sizes.
5) Virtue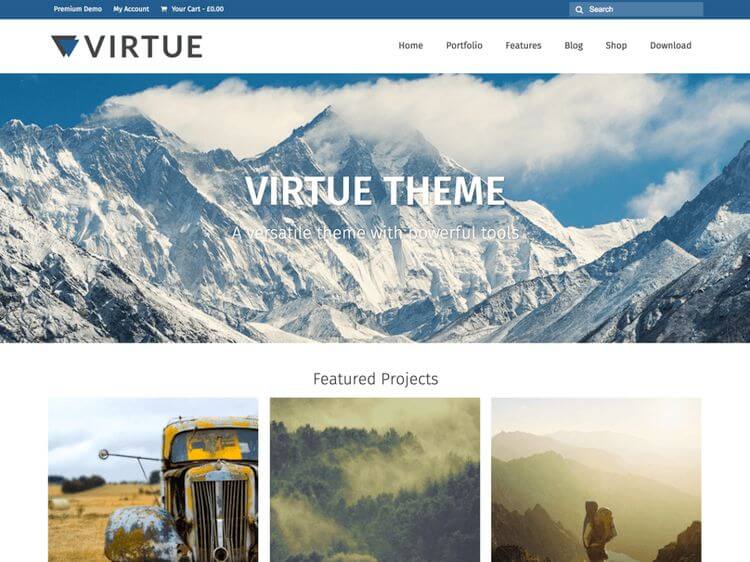 The Virtue theme is downloaded by many designers for use within a variety of websites, as its versatile design is suitable for both online stores and other types of businesses. The powerful, responsive design uses HTML5, CSS3 and the Bootstrap framework to provide this theme with amazing features.
The theme includes easily customizable homepage layouts, color options, image sliders, fonts, blogs and social media icons, which are designed to suit a multitude of businesses. For businesses which are looking to create a stunning design, Virtue provides users with the ability to easily set the font style for each area of the site. There are over 800 fonts available through Google which work beautifully with the Virtue theme.
6) Zerif Lite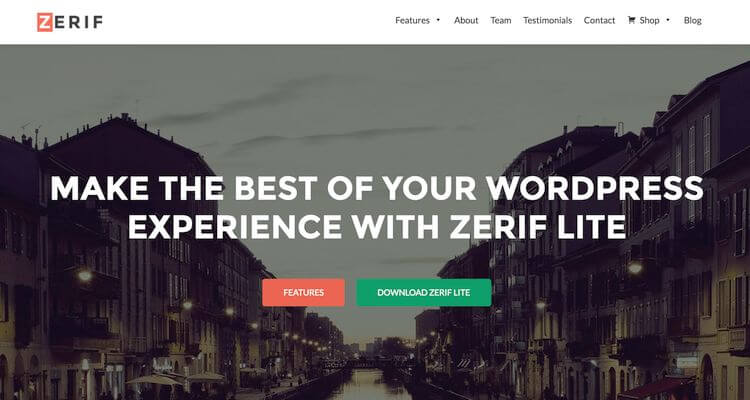 Zerif Lite is the ideal theme for businesses that only require a one-page layout. Although the design is simple, it is packed with brilliant features such as a responsive design, theme options panel, simple contact form, parallax scrolling effect and full-width image support.
For businesses looking for additional support with SEO, this theme features a validated, clean source code with an SEO-ready structure. The theme also features well designed blog post templates, which will allow designers to use the power of carefully crafted content to drive visitors to an eCommerce site.
7) Shopera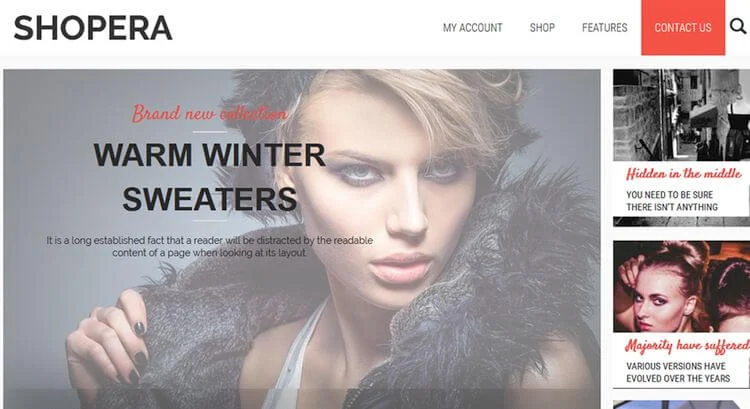 The Shopera theme is perfectly suited for businesses looking to build a fully functional eCommerce store. The elegant layout is fully responsive and looks stunning on all types of devices, with images scaling perfectly on high-definition screens.
Shopera includes some of the most powerful eCommerce features available for a truly interactive user experience, with animations, a blog section and slideshow ribbons. The homepage features an eye-catching magazine design with a highly-customizable template. The theme will allow designers to change everything from the background color to the font size and color, so that businesses can create the ideal design for their brand.
8) eCommerce Gem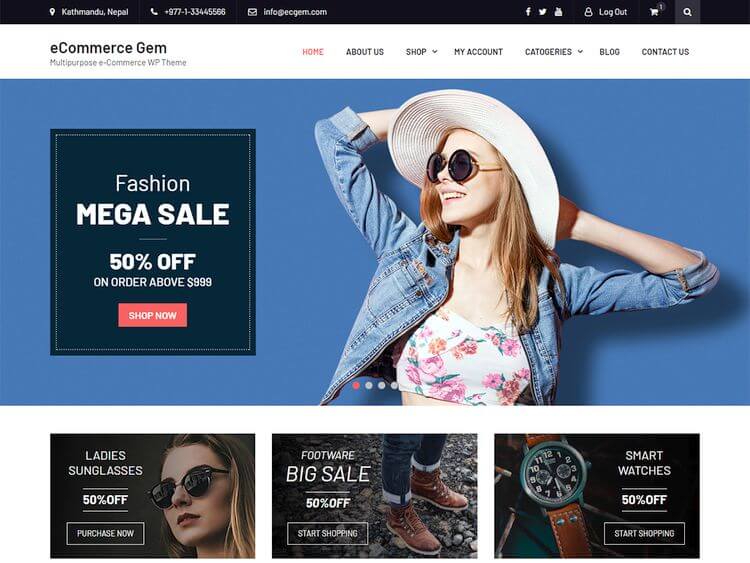 The eCommerce Gem theme, or eC-Gem as it is often known, is designed for businesses looking for a website which will perform well for many years. The theme features free technical support alongside lifetime updates, which will guarantee the design always looks fresh and modern.
The elegant design is easy to use and includes useful features such as an advertisement section, call-to-action section, full-width slider, product search function and a featured product carousel. The theme is known for its flexibility, with the help of a variety of available custom widgets to support advertisements and contact with website users.
9) Shop Isle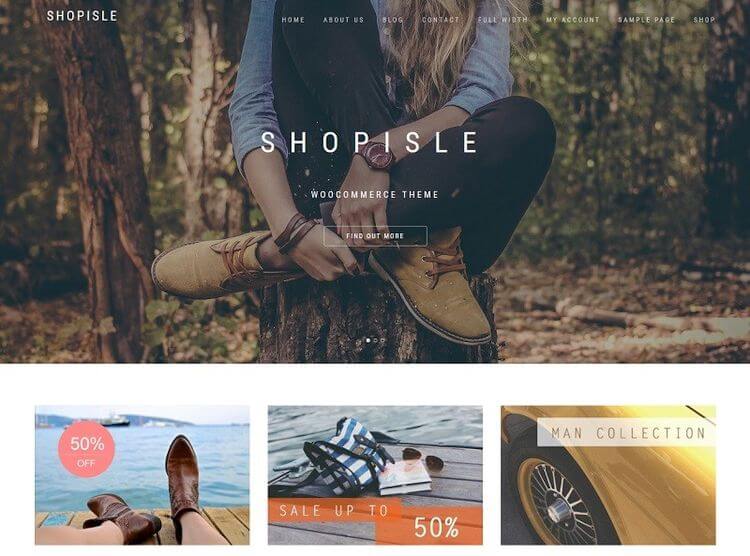 The Shop Isle theme is one of the best free eCommerce themes available for those in the fashion industry, although the versatile design would also support a variety of digital stores. The homepage itself is designed to grab the attention of visitors with a full-screen background and well-designed menu.
The responsive, simple design includes eye-catching details such as a meta slider and photo grid gallery. It also supports Site Origin Page Builder and Jetpack. The theme supports useful additions such as Contact Form 7, so that businesses can easily stay in touch with visitors to the website.
10) Kakina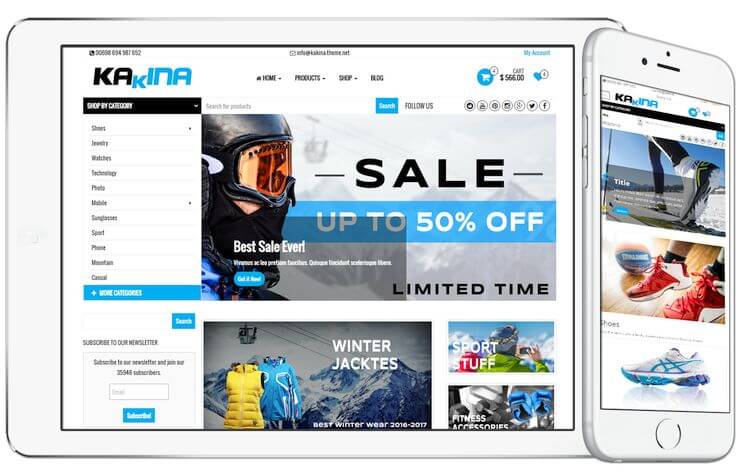 Kakina is a free WordPress theme which has been designed specifically for eCommerce businesses such as those in the fashion, sport, cosmetics and technology industries. The theme has been created to capture customers' attention with various animations, sliders and moving templates.
Kakina is supported by powerful features including customizable background images, colors, a sidebar, social media icons and product comparison tools. In addition to these useful options, the theme uses Bootstrap, CSS3 and HTML5, which will allow the website to adjust its display to suit all screen resolutions and sizes.
Conclusions
If you are looking for free WordPress ecommerce themes that are customizable and packed full of features to boost your sales, these themes could provide you with the perfect options. Once you have narrowed down your search and found the ideal theme, here at KnownHost we can provide you with reliable managed WordPress website hosting.
We are trusted by customers in over 150 countries, because our state-of-the-art technology allows us to provide the features our customers need at a highly-competitive price. To find out more about our hosting services for eCommerce businesses, please contact our experienced team who will be happy to discuss your requirements.