What Is Google Analytics and How Will It Change My Site?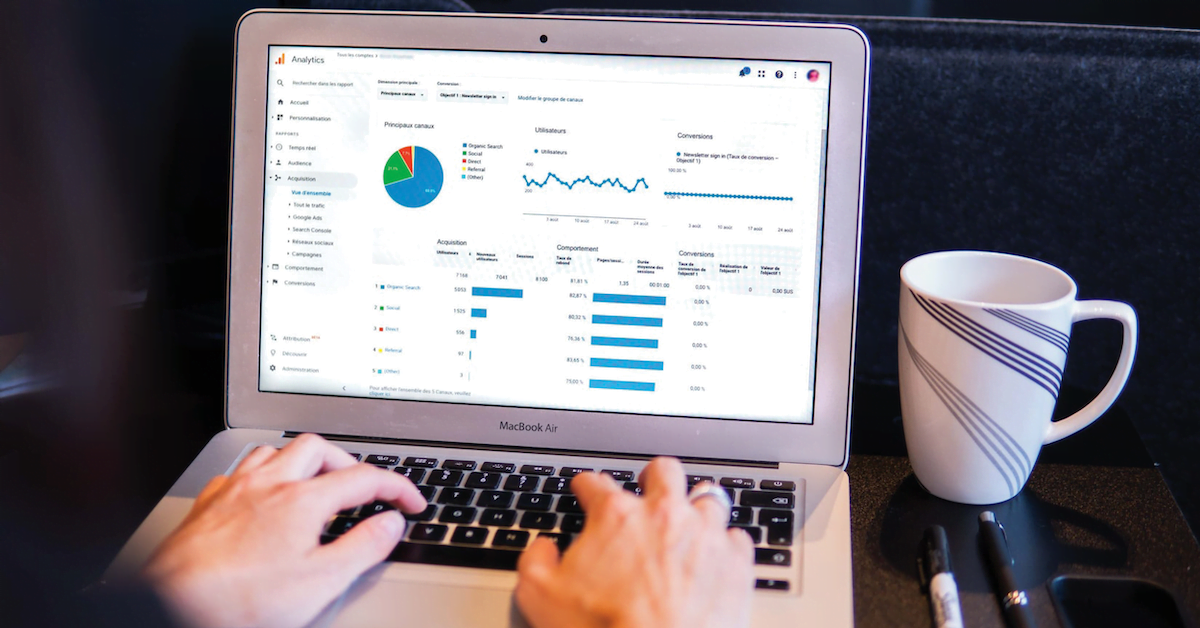 Updated September 15, 2020
Despite some exceptions and numerous would-be philosophers citing examples to the contrary, when it comes to understanding website performance, the Drucker adage still rings true, "What gets measured, gets managed".
Marketing efforts include time, wages, advertising expenses and a range of activities designed to drive more people to a website, get them to know, like and trust the brand, make purchases, sign up for newsletters, make more purchases and stick around for ages.
The way site owners know if marketing efforts are working is by looking at what happened in the past and comparing how well a site is doing in the present versus that past performance. The only way of comparing past to present is through the use of analytics data.
What is Website Analytics?
Analytics is the name given to measurement of website performance, particularly as it relates to people visiting a site, staying around awhile, viewing pages, watching videos, buying things, downloading brochures, signing up for email newsletters and coming back again.
Analytics is concerned with:
– Purchase Transactions Number and Dollar Total
– Visitor Numbers
– Clicks on Links Into and Within the Site
– Cost of Advertising
– How Many Visitors Leave After Viewing a Page
– What Pages Visitors Tend to Leave From
– What Pages Draw in the Most Visitors
– Contributions from Social Media, Pay Per Click, Email, Search Engine Traffic & Other Site Referrals
Each of the above include one or more metrics or measurements of something relating to site performance. Metrics can be counts, sums or average, like number of visitors, transaction count or average cost per click. Metrics can also be ratios by comparing two other values, like dividing the number of visitors who leave after viewing just one page versus the total number of visitors to the page (giving you the bounce rate – a percentage or ratio).
What's the Point of Website Analytics?
Analytics are a type of business intelligence or management decision making information – designed to provide the website owner or management team with the information needed to make decisions about how to market and manage the website.
The whole point of analytics is to help managers decide whether what they're doing is working and needs to be done more, or whether it's not and needs done less or differently.
How Analytics Data is Used in Managing Marketing Effectively
Below is an example that's pure fiction. The company doesn't exist and the numbers are conveniently round to make calculations easy to do without need for a calculator or pen and paper.
Read on to see what the managers at SnugglePear learned about pay per click advertising and the impact of "saving" money by cutting advertising:
Historically
The SnugglePear website (a fictitious entity) has previously spent $1000 a month on pay per click advertising at a cost of $1.00 per click (yielding 1,000 clicks a month) to receive 20 sales a month with revenue of $2000.00.
From this information, SnugglePear can determine that it takes 50 clicks to make a sale (20 sales over 1,000 clicks) and that each sale costs them $50 each (20 sales over $1,000).
They also know that each sale is worth $100.00 in profit ($2,000 in profit over 20 sales).
With that historical analytic benchmark data, they can examine their pay per click advertising program changes and assess whether their performance is improving or declining.
Recently
SnugglePear made some tweaks to their advertising, thinking that by lowering their cost per click, they'd be profiting more than before. In fact, over the past month, they've got the same 1,000 clicks in a month, but only spent $800, thus saving them $200 on advertising.
During the same month they calculated that those 1,000 clicks yielded 10 sales, thus costing them $80 each (10 sales over $800). Sales continue to be worth $100.00 each in profit, so their 10 sales generated $1,000 in profit.
Under the new system, they've generated $1,000 profit on $800 expense with a net of $200 as their marketing return on investment (MROI).
It wasn't until comparing with past performance that they realized the previous $1000 expense generating $2000 in profit meant they had a net of $1000 as their MROI.
Conclusion
It didn't take long for the management team to see that by saving $200 in advertising expense, it actually meant they lost $800 in net profit ($1000 in previous profit vs $200 in recent profit for a difference of $800).
By having the analytics data on hand the management team was able to steer the marketing efforts into increasing pay per click spending back to (and likely even above) historic levels in an effort to earn even more than before. They learned that slashing marketing budgets was a good way to strangle their top line sales (as well as bottom line profits).
How Do You Get Google Analytics Exactly?
Google Analytics is free of charge and depends on you following a few steps in order to get it installed and activated on your website:
1. Go to the Google Analytics site – www.google.com/analytics/
2. Sign up for a free account (or sign in if you've already registered)
3. Set up a property – support.google.com/analytics/answer/1042508
4. Set up a view – support.google.com/analytics/answer/1009714
5. Add the code to your website – support.google.com/analytics/answer/1008080
If you're using WordPress, step 5 above can be as easy as adding a Google Analytics plugin to your account. For super-fast WordPress performance, consider using the Flying Analytics plugin by WP Speed Matters. Install by following these steps:
– Login to WordPress Admin
– Click on Plugins -> Add New
– Search for Flying Analytics
– Click Install, then Activate
– Click Settings -> Flying Analytics and configure
To add Google Analytics to WordPress, you'll need your Google Analytics Tracking ID, which can be found by following this step by step guide:
1. Sign in to Google Analytics at google.com/analytics/
2. Click Admin
3. Select your Account from the Account column
4. Select your Property from the Property column
5. Under property, click Tracking Info -> Tracking Code
6. Look at the top of the page for your Tracking ID
How Does Web Analytics Software Work?
In order to monitor where visitors arrive from, what content they view (consume), links they click, time they spend, products they buy, and so on, web analytics software operates based on a tag and track system.
Most web analytics platforms rely on site owners adding a bit of JavaScript to each page of their website. This tracking code is a script that "fires" or executes whenever a page is loaded.
When the analytics script is executed, it sends information to a server that collects and stores the data in a central database. That server can be operated by a 3rd party, like Google, or it can run on the same server as the website being tracked and be totally under the control of the site owner, with no 3rd party involvement.
Analytics scripts, particularly those hosted by 3rd party companies, make use of unique IDs to separate one client from another. They also associate a domain with an ID so that someone can't use the wrong ID and make a mess of the analytics data of another site.
Why Consider Google Analytics Alternatives?
When you install Google Analytics tracking code on your website, by its very nature you are informing Google about nearly everything that occurs on your website. Google will know who does what and that includes tracking what you're selling, who's buying it, where they came from – just about everything other than what you had for breakfast.
Keep in mind that Google is a for-profit company. They aren't providing analytics services because of some altruistic motive.
Google uses information gleaned across a multitude of sites and products to understand user behavior so that they can sell more advertising space to more people for more money. Understanding user behavior is a critical part of the entire Google value proposition. That user behavior is your behavior, your friends behavior, family behavior and those multitudes of people visiting your website that you've never met and likely never will meet in person.
If you have any concerns about big brother, privacy and your website data being handed over to Google, then it's time to consider alternatives. Some are self-hosted, where you have total control. Others are much like Google, just operated by other companies.
What Companies Provide Website Analytics Other Than Google?
Although Google hasn't provided an update in years, anecdotal evidence suggests that there are anywhere from 30 million to 50 million websites using Google Analytics to track their website performance.
With more than 100 Google Analytics alternatives on the market, it's down to personal preference and feature mix to decide which analytics package is right for any given website.
Let's not lose sight of the fact that Google Analytics is free. If you're wanting comparisons with similar platforms, you're either going to need to pay for the software, pay a monthly subscription fee or sacrifice some features to keep your cost at zero.
Free Alternatives to Google Analytics
Matomo (formerly Piwik)
A somewhat geeky bit of open source software, Matomo lets you have web analytics tracking on your website without needing a monthly subscription service. You'll keep data locally, without sharing it with some 3rd party.
Matomo isn't the easiest to install and configure, but it's no more difficult than some of the more robust WordPress plugins on wordpress.org. It also doesn't come bundled with every feature imaginable. You'll need to install add-ons aka plugins to get functionality similar to which you're accustomed.
This open source contender is no slouch, providing site owners with a free, open source, option that requires no 3rd party data sharing.
Open Web Analytics looks and feels familiar to those who have used Google Analytics, making the transition relatively easy. It even includes heatmap functions so that site owners can figure out where people are looking on the page, where they're clicking, and where they're not – very handy for figuring out where to place call to action buttons and offers.
Freemium Alternatives to Google Analytics
There are free plans at Clicky for sites with under 3,000 page views per day. If you've got a busy site, you won't get Clicky for nothing unfortunately.
Not all functionality is available in the free version, though the core website analytics tracking is definitely present in the free version.
Paid plans start at $9.99/month (or $79.99 per year)
StatCounter is available freely for sites with under 500 page views per month. Yeah, if your site is established, growing, popular or big, you'll go over this limit insanely fast. However, small sites just getting started may find this limitation to no problem.
Pricing for paid plans starts at $9.00/month and goes up depending on your number of page views per month.
Conclusion
Google Analytics is an obvious choice for tracking website performance. You'll get tons of useful information, be able to generate reports with ease and have access to management information that can help your company outperform SnugglePear and other competitors.
Google Analytics isn't the only choice in the market. Whether you go freemium (free or paid plans) for a few dollars a month or choose a totally free, open source, alternative, getting website analytics tracking data is essential for understanding your website performance, including advertising and campaigning across social media, email, paid search and more.
Improving your profitability online means measuring website performance. Measure it. Better it. Get started with analytics today!
Read more about online marketing, website analytics and running a business website via the KnownHost blog, or check out the lively discussions on the KnownHost forums.