Shared Hosting vs. WordPress Hosting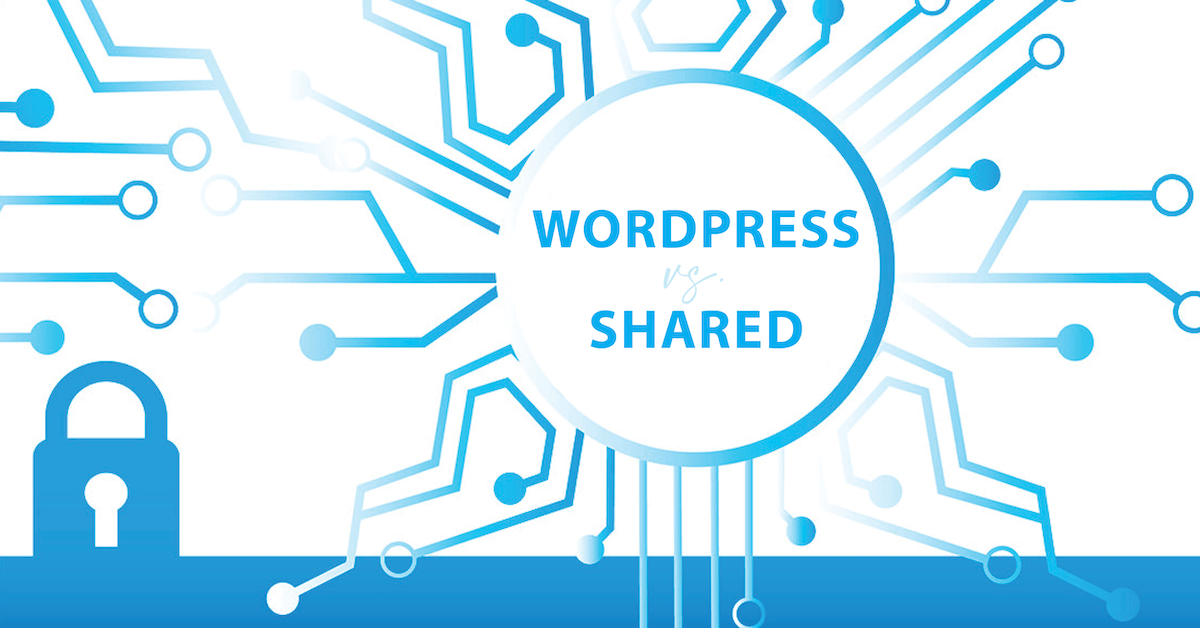 Updated August 25, 2020
Hosting decisions can be difficult, particularly when there are so many different choices available. For many site owners just starting out, making a hosting decision comes down to selecting between Web Hosting and WordPress Hosting.
There are many situations where either Web Hosting or WordPress hosting would get the job done just fine, but there are other situations where one or the other is clearly the preferred option..
Regardless of which hosting option you choose, there are certain things to look out for in any hosting plan.
What are the Essentials for Any Good Hosting Plan?
Essential #1 – Dependability
Being dependable is a lot more than just having great uptime. That is to say, uptime is very important, but not the only factor about dependability. Here's a look at the top factors in dependability:
Uptime
Your website needs to be available if it's to sell products and services, provide support to existing customers and rank well with search engines. KnownHost invests significantly in premium hardware, software and support staff. That's how uptimes can average over 99.99% across hundreds of servers over an extended period of time.
Server Performance
Premium hardware and software also translate into speedy performance. Combine high quality components with SSD technology and 1st rate optimization and you've got a recipe for blazing fast speeds across the entire platform.
Support Ticket Response
Put a support ticket into the KnownHost team and you'll enjoy the sub-5-minute average response times. That rapid response is one defining trait of quality hosting. You know that people are aware of the situation and acting quickly to sort any issue you may be confronting.
How to Easily Check Hosting Company Dependability?
Deciding on whether a hosting company is really dependable or not means more than just reading the claims on their site – it means checking what other people have to say about them.
For example, if you're considering KnownHost as your hosting provider, have a look on Google by doing a search for "KnownHost reviews". Don't rely on the reviews and scores from a single site. Instead look across several to see if the scoring and opinions are consistent. If customers are happy with the services they've received, odds are good that you'll be happy too!
Essential #2 – Managed Hosting
Great hosting is built around staying with you throughout your time as a customer, lending a hand when you need for everything from security to speed, from access to uptime. With managed hosting at KnownHost, you'll never be abandoned to figure things out on your own. There's always a team working around the clock to make sure that you're covered, no matter what is the situation.
When is a Shared Hosting Plan Better Than a WordPress Hosting Plan?
There are several situations in which Shared Hosting is the right decision for you. Whether or not it's the right situation for one or the other boils down to your particular circumstance.
Shared Reason #1 – Unlimited Storage
While entry level shared plans only come with 5GB of storage, midrange plans include 20GB and the $9.97 Professional Shared Hosting includes unlimited storage.
This compares with WordPress plans which have either 50GB or 100GB of storage space.
If your site has a lot of media files such as video or images, you may need more than 100GB of storage, which makes the Professional Shared Hosting an attractive option.
Shared Reasons #2 – Unlimited Visitors
With WordPress Hosting, you're limited to 100k or 200k visitors per month. Go over 100k and you'll need to up your plan. Go over 200k and you'll need a more robust plan type.
Shared Hosting doesn't include specific limits on the number of visitors per month. With the right caching and configuration, the sky's the limit.
Shared Reason #3 – More Than WordPress
It's one thing if you've only got a need for WordPress. But in situations where you'd like to have other applications installed too, then Shared Hosting plans become a better fit.
With Shared Hosting plans you can have WordPress or other apps (or even WordPress AND other apps) all on the same account.
If you only want or need WordPress, then you can choose either Shared or WordPress hosting and you'll be fine.
Shared Reason #4 – Multiple Domains
Have more than one site? In that case, WordPress hosting isn't a perfect fit – because it's built for single domains. With Shared Hosting, you can get plans built for 1 domain, up to 5 domains or up to unlimited domains. This is compared to WordPress plans that are just built for 1 domain only.
When is a WordPress Hosting Plan Better Than a Shared Hosting Plan?
It may seem like, from the above, that Shared Hosting is always a better choice than WordPress hosting, but that's not the case. In fact, WordPress Hosting has some very strong reasons why it's such a popular option among site owners.
WordPress Reason #1 – Simplicity
When you want an easy to manage WordPress site, look no further than WordPress hosting. You don't have to worry about cPanel or complicated panel configurations that you'll have to figure out in order to administer your site.
WordPress Hosting comes with a custom tailored WordPress control panel that makes admin tasks a breeze. You'll have time to get more done and spend less figuring out how to get regular tasks completed.
WordPress Reason #2 – Automated Everything
The beauty of WordPress Hosting is the preconfigured, pre-bundled automation. You'll enjoy automated backups, updates, maintenance tasks and a whole list of optimization and hardening steps that are done, by default, all as part of your WordPress Hosting plan.
WordPress Hosting is designed to be hands-free, enabling you to work on your site content, your business and your life, while KnownHost techs deal with the technical matters on your behalf.
WordPress Reason #3 – Tools Galore
Advanced tools mean even the most demanding users will appreciate the feature bundle that comes with WordPress Hosting. Your account will come with preconfigured WP-CLI, GIT, SSH, SFTP and LSCache. That means you'll have performance and control as you would if this was a high-end plan, but all at an affordable price.
WordPress Reason #4 – Budget Beater
Choose the WordPress Entry Level WP plan for just $5.98 and you'll get more storage and more email accounts than you would for the same money on Shared Hosting Plans.
With WordPress plans, you'll get more for less!
Conclusion
You can't go wrong with either the KnownHost Shared Hosting or WordPress Hosting plans. But if you need more than WordPress or have multiple domains, then it's time to look at Managed Shared Hosting solutions. With just 1 WordPress site, picking the optimized Managed WordPress Hosting makes the most sense.