Is Shared Hosting Safer Then Dedicated Hosting?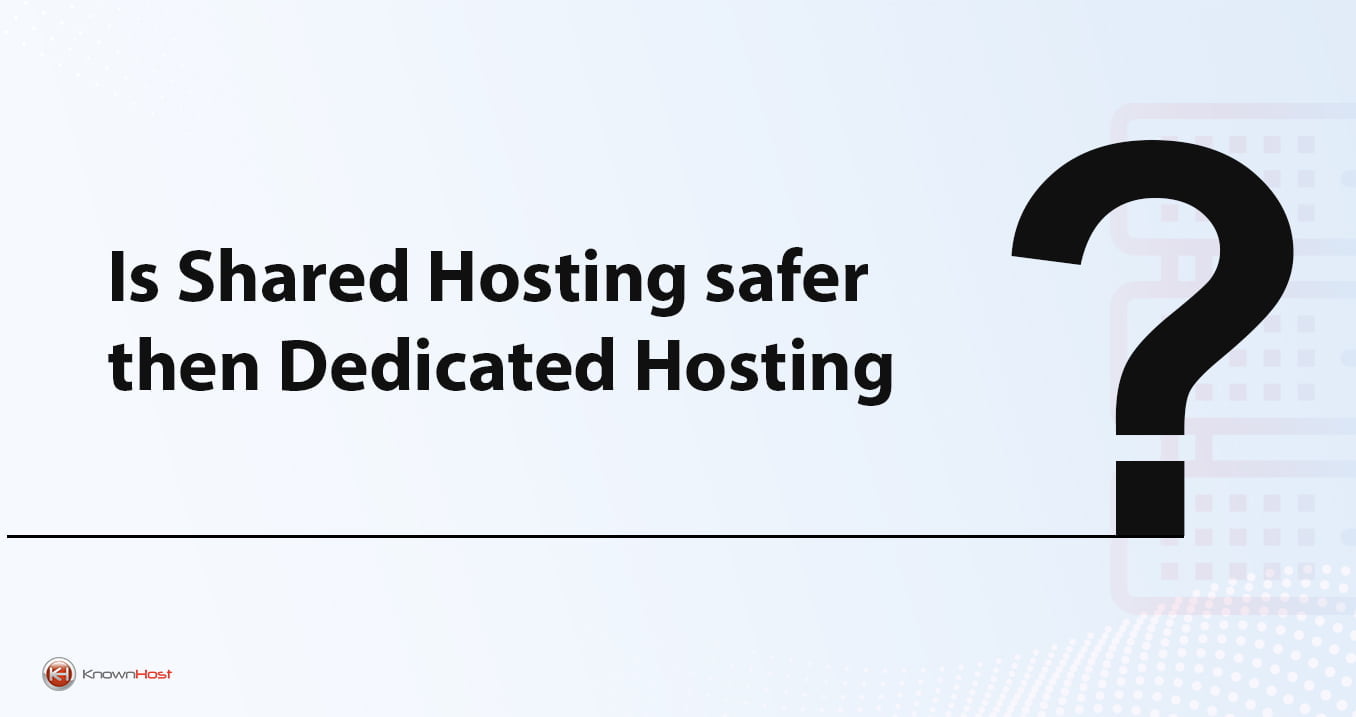 From hobbyists to multi-national e-commerce enterprises, every website owner cares about safety and security. Shared hosting and dedicated hosting are two ways to deploy a website. Among the two, which is the safer option? The answer rests with both the hosting provider and the customer.
Shared Hosting: Low-Cost Simplicity
Shared hosting is a popular way to put a website on the internet. With this method, many customers share the processing and memory resources of a web server. Shared hosting allows customers to deploy a website for a low monthly cost.
For sites with relatively low traffic, such as bloggers and local businesses, shared hosting works very well. The drawback to shared hosting occurs when traffic spikes for one member of a shared hosting group, triggering a resource drain for other sites. With shared hosting, the provider takes on much of the website management burden.
Dedicated Hosting: Fine-Tuned Control
In many ways, dedicated hosting is the polar opposite of shared hosting. With dedicated hosting, you gain exclusive use of a server's resources. Unsurprisingly, dedicated hosting costs more than shared hosting. While monthly costs are higher, dedicated hosting customers can deploy their budget for their unique needs.
Customers who need massive storage can take advantage of inexpensive high-capacity SATA drives. Users with a demand for rapid data access can opt for SSD storage or even faster NVMe drives. Some dedicated host providers even allow a choice between Intel and AMD processors for the server. Dedicated hosting customers can usually choose to run their site with a preferred flavor of Linux — Debian, Ubuntu and Fedora — or use Microsoft Server.
Website Safety and Security: The Tradeoffs
Datacenters used by hosting providers typically provide extraordinary physical security for your website's data. Cybersecurity — protection against online threats — differs according to hosting plans.
Provider-Level Security With Shared Hosting
With a shared hosting plan, your hosting service takes on much of the cybersecurity burden. Every website on the internet is a potential victim of a distributed denial of service attack. DDoS exploits occur when cyber predators flood a site with requests, choking off legitimate visitors. Website owners shopping for a shared hosting service should carefully evaluate their provider's DDoS protection measures.
Beyond selecting a capable provider, shared hosting customers need to attend to some cybersecurity basics:
Passwords: Make your passwords long and strong.
Updates: Most applications used by shared hosting customers update automatically. If you run an app that requires manual updates, perform this task promptly.
Backups: Your site needs multi-generation backups stored with your provider and at least one local backup downloaded to a disk you own. If your provider does not bundle backups into your plan, add this essential service immediately. Use a task manager app or your smartphone's calendar to schedule frequent local backups.
Tailored Security for Dedicated Servers
With a dedicated hosting plan, customers must assume nearly all of the security burden. These security threats can vary by customer. Any website that stores sensitive customer data is a target for ransomware. Conversely, a news site that covers controversial issues is a likely target for a DDoS attack.
Firewalls are the software suites used to fend off intrusions. While shared hosting customers rarely deal with this issue, dedicated hosting customers work in close coordination with their provider on firewall configuration. A dedicated hosting customer's cyber vigilance also extends well beyond the firewall.
Nearly every dedicated hosting user deploys intrusion detection measures for exploits that make it past the firewall. Applications such as Snort and Suricata can scan a website and detect processes such as ransomware encrypting software. Anti-intrusion software relies on an evolving set of rules, reflecting the arms race between predators and cybersecurity professionals.

Your Safest Choice
Between shared hosting and dedicated hosting, which method is safer? Dedicated hosting customers who stay on top of their unique cybersecurity needs likely enjoy slightly better security than shared hosting users. Conversely, dedicated customers who lower their guards are at far more risk than an ordinary shared hosting user.
Shared hosting and dedicated hosting plans serve different customers. Website owners on a budget should shop for a reliable shared hosting provider that provides backups and DDoS protection at a reasonable cost. Owners of high-traffic sites with a need for extreme security should look for a hosting service with technicians on-duty at all data centers.
KnownHost offers 365 days a year, 24 hours a day, all 7 days of the week best in class technical support with Un-managed and Managed Dedicated Hosting. A dedicated team is ready to help you with requests should you need our assistance. You're not using KnownHost for the best web hosting experience? Well, why not? Check with our Sales team to see what can KnownHost do for you in improving your web hosting experience.