B2B vs B2C Ecommerce Marketing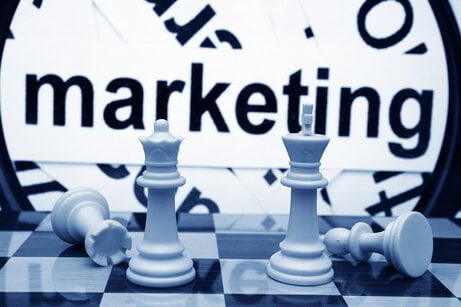 What should you do differently for B2B Business to Business and B2C Business to Consumer marketing to improve online sales? Let's look at how to target these two different branches of e-commerce.
Geraldine, a standup comedian, has been a professional joke-teller for 17 years. She credits her success, in part, to the audience – which has been fundamental in guiding her career at the level of the individual show. With so many hours of stage time logged in front of different groups of people, Geraldine now has a sharpened sense of how to tweak her approach for different viewers.
The story of Geraldine is fictitious, but it is a way to think about the extent to which your target market will define how you approach e-commerce. A special point of distinction is the categories of businesses and consumers since they are such different buyers. Who is your audience? What do they want or need? How can you drive response?
B2B will soon be twice the size of B2C
Ease-of-use especially critical for B2B
The individual buyer vs. the business unit
Small vs. bulk orders
Logic and features vs. emotion and benefits
Strong e-commerce backend to fuel your growth
B2B will soon be twice the size of B2C
When we think about our approach to e-commerce, it is easy to think from the natural perspective of the consumer. Considering online retail in that business-to-consumer or B2C model, we can sometimes overlook how important the business to business marketing aspect is, within the B2B e-commerce sector.
In fact, by 2020, B2B e-commerce revenue in the United States will be twice that of B2C e-commerce, according to a Forrester report (by Susan Wu, et al.). The analysis, published in 2015, noted that business to business sales accounted for $8 trillion of total retail revenue in 2014, which represented about half of the nation's gross domestic product. Just a portion of that commerce takes place on the Internet. However, the amount of business to business online sales that are currently taking place suggests the trend toward this transaction model is increasing. The B2B market is transforming quickly as networking technology evolves and as more people in various roles are making online business purchases.  Given how many business leaders and organizations have adopted e-commerce as part of their buying process, Forrester suggests that B2B e-commerce will hit $1 trillion by 2020, which will make it twice the size of B2C e-commerce.
Given these findings from such a highly trusted source, you may find that serving business-to-business needs makes sense for you as an e-commerce strategy.
Ease-of-use especially critical for B2B
To understand the perspective of a B2B buyer vs. a B2C one, the former is often on the clock – buying the product or service as a task for their job. Generally, the person is also using money from a budget rather than their own personal account.
Because of the different context to the purchase, the business interaction is more functional and straightforward. When there are delays, the B2B purchaser will tend to have less patience, explained a report from Bryan Robinson on Business.com. They want to be able to get something off their to-do list efficiently and without any hassles.
Since the buyer journey in a B2B scenario is much more pragmatic and utilitarian, the conversion rate is significantly better – triple, actually. While 1 in 10 shoppers convert in a B2B setting, that figure is only 1 out of 33 for B2C.
"The B2B shopping experience needs to be straightforward, intuitive, and quick," noted Robinson.
To be clear, the focus on ease-of-use should not be seen, in any way, as specific to B2B. Simplicity is a huge point of focus for anyone buying through e-commerce systems – with fully three-quarters of consumers saying that the #1 key factor of design was its intuitive navigability, or the ways in which it helped facilitate their ability to access the site's services.
The individual buyer vs. the business unit
When you go out to get a product for your home or other personal use, you simply find a product that meets your needs and place the order. The business-to-business needs will be different because the people doing the buying will be in a variety of roles, such as salespeople, brokers, or resellers. In your store, they will need to have an account that is aligned with typical needs for their role.
For instance, the account could be set up so that the buyer can select items they want to order, and those items then show up within a manager account that makes approvals. A staff member within finance will need an account that just gives them access to the invoices. Since there are numerous people involved in decision-making for B2B e-commerce, you want to make sure that your site is prepared to properly manage and service these types of accounts.
Small vs. bulk orders
The B2B order will have a higher average order value. Often a consumer will just be buying one product or service. Within the context of B2B, you more commonly see larger quantities of items purchased by a single buyer.  Why is this the case? Beyond the fact that businesses simply often have higher demand, using more products and services than an individual household, you will also often see volume discounts that businesses use to get their prices as low as possible. One of the most extreme examples of these volume discounts is when businesses get discounts on delivery for receiving entire truckloads of a given product.
As noted by EcommerceWiki, understanding this difference in order scope is critical to knowing how to approach B2C and B2B differently. A consumer is usually looking for a specific item. A business is more often geared toward being able to get a large amount of the item with discounts, built into an agreement with you.
Logic and features vs. emotion and benefits
As described above, the issue of utilitarian simplicity is especially critical for business-to-business settings (although important for all e-commerce). The decision can be more of a process with B2B and may benefit from you building different structural possibilities through which companies can control and manage the ordering process. Also, the nature of the relationship will require volume discounts more than a path to a single item if you want to excel at B2B sales.
Those are all differences between B2B and B2C settings. However, they don't really describe how these two types of buyers are thinking differently. Understanding how these two groups are thinking differently (and tied to the notion of a functional, straightforward need described above), you will be better able to market to them.
For B2B, zero in on the features of the product when you want to sell it to a business. That means you are pushing aside emotion as a factor in the decision. To help move the buyer toward a purchase, you simply want to get a sense for what the buyer needs and how the company operates procedurally related to buying. You want to understand the role of the specific individual that is ordering from you as well.
For B2C, you want to change focus, switching from the features over to the benefits. Understand that emotion will play a stronger role in these interactions. Plus, it is more likely that the buyer will need more distribution channels. Consumers also will respond better, generally, to a shorter marketing message – whereas a business will have more patience with a longer statement that might help their decision-making process.
Strong e-commerce backend to fuel your growth
There are many aspects to consider when you are deciding to sell to consumers or businesses online.
Whether you focus on B2B or B2C sales with your e-commerce effort, though, you need to have a strong backend to fuel your growth. At KnownHost, we have fast servers, great support, and a 99.9% uptime guarantee. See our fully managed VPS plans.