What To Look For When Comparing Different Web Hosting Services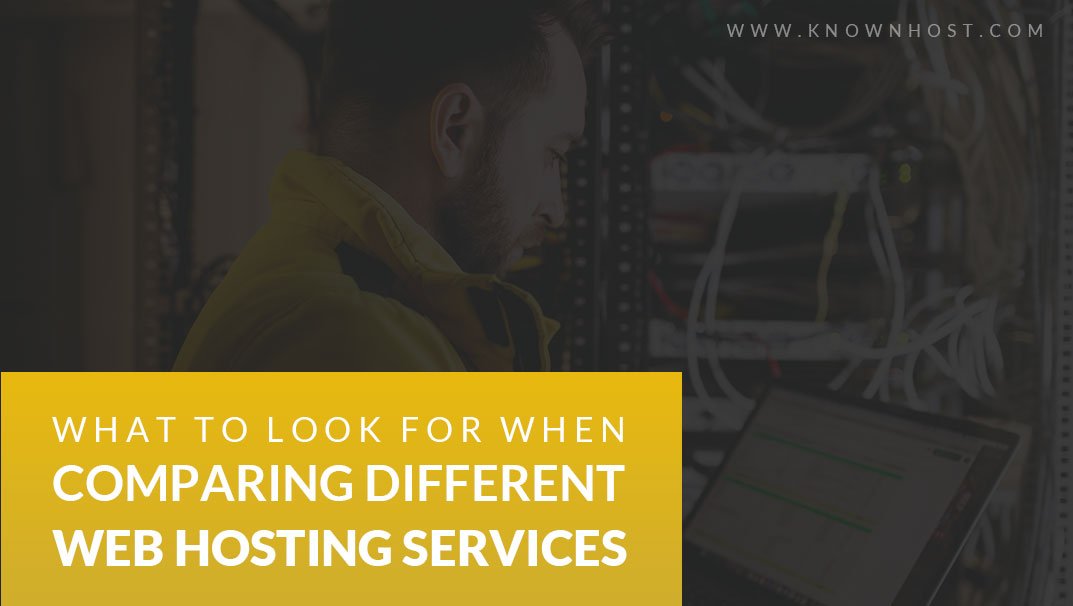 Once you decide to create a website, the first thing you should look for is the reliable and stable web hosting service. When it comes to determining business success, web hosting is a major factor. The right web hosting services will boost your website performance and improve user experience. On the other hand, choosing inadequate web hosting services will increase unnecessary expenses that can give you a headache in the long run. In this article, we will discuss some factors that you should never neglect while web hosting comparison.
---
Your Needs and Requirements
If you look up web hosting service providers on Google, you will come across numerous options. But, before you make a decision, you should consider your needs. If a web hosting service does not meet your requirements, you won't find it helpful. Therefore, list down the reasons for creating a website in the first place. Answer questions about the type of website you have in mind and how much traffic you are expecting. These questions may seem basic, but they play a crucial part in choosing correct web hosting service.
The first tip would be to create a list of detailed questions as it gives you a clear picture of your requirements forweb hosting comparison. Not to mention, it makes your job easier. For instance, if you want to create a website on WordPress, choose a web hosting company that provides managed WordPress. That way, you can narrow down your search and identify the best option available. Secondly, decide if you'll be opening an online store. If you want an online store, then you should select a web hosting provider that offers eCommerce tools and features along with enough server-end resources.
If you are creating a website for the first time, opt for a service provider offering a shared hosting plan. However, you need to ensure that the hosting service provider is reliable. The reason we recommend shared hosting is that these hosting plans are easy to maintain and are budget-friendly too. Shared hosting is suitable for creating small and new websites. A shared hosting plan will keep you away from backend issues involving security and maintenance. That way, you can focus on the main task at hand: building your website.
Uptime Scores and Server Reliability
When your website unexpectedly goes down, it has the potential to cost you a fortune. You may end up losing sales, and your customers might leave the site after a bad experience. Along with losing sales and potential customers, you could lose the ranking on Search Engines. No search engine wants to send the users to a website that is down, right? To avoid runtime issues, you need to choose a web hosting provider that guarantees stable services. If you don't want to go that deep, you can check their uptime scores. An uptime score will be enough to identify if a web host is stable or not. The standard uptime is 99.95%. If you find any web hosting service provider with a lower uptime than 99%, take them off your list. All of this makes it even more important for yourweb hosting comparison.
Advanced Features
In the current industry, it's a standard for web hosting service providers to be offering the basic features with their web hosting packages. When searching for a provider you'll want essential features to make your experience easier. As such, it would be best if you researched a bit more about the features of hosting providers. To manage websites, you might need more advanced features such as a One-Click app installer, File Manager, DNS Management, Anti Malware, Proactive Defense, etc.
One-Click Installer
If you are not good with the creative and technical sides of the web development process, you should choose a web host offering a one-click installer. The one-click tool enables you to install applications such as Joomla, Drupal, and WordPress. These applications help you design a professional website without getting into technical aspects
Free SSL Certificates
An SSL Certificate is important in ensuring the secure transaction between the browser and the server. It protects your user or customers information as it's processed. In present day, most webhosts should provide this and it's an important feature to have.
SSH/Terminal Access
SSH/Terminal access is necessary when performing a specific command line operation under the account. Also, for many deployment projects like NodeJS, Java, etc., you might need direct SSH access, whether jail shell access or the normal root level access.
FTP/SFTP Access
Many web hosting services offer file managers, so there is nothing really special about getting this service. What you need to look for are the storage options they offer. Many service providers provide limited access to file managers, which may limit your managerial tasks. On the other hand, if a web host offers FTP/SFTP access, you can easily move and manage a large number of files.
Additional Notes
Many service providers promote their services by highlighting Data Transfer Capacity and Disk Space. If you are new to web development, do not fall for that marketing strategy. Keep in mind that you don't need these features in the initial phase. Go with a shared hosting plan for sufficient server resources such as processing power and RAM.

If needed, you can extend your bandwidth and storage by choosing third-party platforms. There are numerous platforms available to solve storage problems. CDN services such as Quic.cloud and Cloudflare help with this when it comes to static content. However, you need to see if the service provider enables you to integrate these platforms into your website. These tools can help you manage documents, images, and videos without purchasing expensive storage capacity.
Upgradable Services
A variety of hosting services are available based on businesses' needs. Even if you choose the best shared hosting plan, you're going to experience limitations. While researching your web hosting comparison, make sure that your preferred hosting service offers the ability to scale your service. You don't want to be limited forever. As your business grows, you need to expand beyond the limited features of your hosting plan.
You want to choose a hosting service that can grow as you expand. If you don't find a web service provider who offers an upgrade, it's time to change your web host. The process of shifting your entire website to a new host can be painstakingly long. That's why it's recommend to start a little higher, not just buying for cost, but buying quality hosting for what your website needs 6+ months from now as it grows.
For example, as you grow beyond the limits of a shared hosting plan, you'll want to look into diverse scaling options such as Virtual Privates Servers, Cloud Servers and Dedicated Servers. Virtual Private Servers provide a higher level of resources. Cloud Servers provide the resources and robust redundancy in the event of any issues. Dedicated Servers provide hardware for performance and stability such as:
CPU or RAM Upgrades
Hotswap capable chassis
Increased Network Capability (1 Gbps)
Secure, stable facilities.
If you're new to web hosting or have very limited knowledge in webhosting, it's best to opt for the shared hosting packages. Shared hosting is great for the starting phase; as the website grows, you have full freedom to upgrade the resources of the allocated hosting package as per future requirements.
Besides, shared hosting there is Managed Hosting Service providers available in the market. Industry-leading managed hosting provider KnownHost aggressively worked on their system, customer support, management since 2006 to make the managed web as it should be. You can check out the Managed VPS product line, which comes with a free DirectAdmin control panel, and most importantly, you don't have to work on the server-end part. KnownHost has a United States based best in class support team who will be there to manage your services for you. Let KnownHost be your full partner in your web hosting experience and we will stand with you every step of the way.
Conclusion
We get it. Trying to find a webhost or a new webhost can be a daunting task. You want to find a webhost that will be there for you when you need them. As such there are a lot of variables that need to be considered when looking at a webhost for your webhosting needs.
That's why web hosting comparison is a vital task, you need to take some time and evaluate your options. The best thing to do is identify your needs, create a list based on your requirements, narrow down your list with a reliable service provider with advanced features, and check their upgrade options. Also, make sure to check if the prices and plans align with your budget. Follow the above factors to find the best web hosting service for your website.
We're Here To Help!
Feeling a little lost? Got questions? Or are you simply looking for advice on finding the right solution? Contact our Sales Team at KnownHost for your web hosting solutions. Shared, VPS, or Custom Dedicated servers, we can do it! Helping users find the right server for any scenario.