What is WordPress? | A Beginner's Guide

WordPress has dramatically disrupted the digital marketing scene in the last decade. According to Hosting Tribunal, WordPress powers 39.6% of the Internet in 2021. It's significant growth of nearly 5% from 35% in 2020 and a 4% rise from the year before.
Now, even if you are a beginner in the niche, you have undoubtedly heard of WordPress. But do you know all that it can do for you? At the end of this article on WordPress Beginner's Guide you will get complete idea about WordPress CMS.
First things first, what is WordPress? Furthermore, what makes the platform special? At last, is WordPress the right choice for your site? In continuance, you can find all the answers you might need.
---
What is WordPress?
WordPress is a Content Management System (CMS) established in 2003. The software is released under the GNU Public License, meaning it's free to download and use. Due to this, WordPress has grown to become the most popular website building platform worldwide.
In the simplest terms, it's an application that allows you to build your website and publish content online, without any coding skills, for free. All you need is to choose the correct website (Theme, Plugins, Widgets) and perform drag-and-drop and customization. The emerging community is ready to help with their experiences and ready available WordPress Beginner's Guides on the internet.
Now, if you are new to WordPress, you might be confused on why there are two different domain. So, let's clear that up first!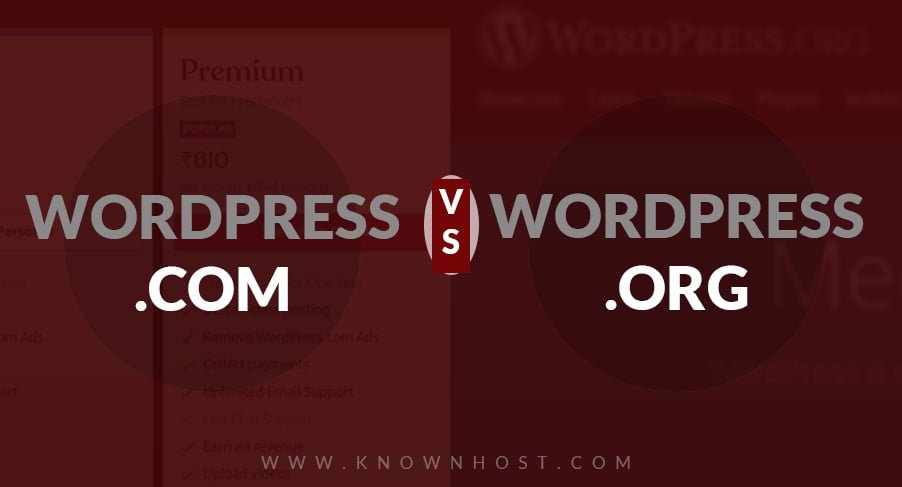 WordPress.com is the hosted version of WordPress. It's a free website builder that allows you to create and host a site. However, it implies costs to unlock features that are free to use in the self-hosted version of WordPress. The premium features include many things such as domain registration, custom domain management, email support from WordPress.com staff, automated backups, payment gateways and a lot more.
WordPress.org is the self-hosted version of WordPress. It takes things such as flexibility and customization to another level. However, as the website owner, you'll need to handle administrative tasks, install and update WordPress, themes, plugins, backups, and so on.
What's the Best Alternative?
See, both WordPress.com and WordPress.org have their pros and cons. One great way to take advantage of both is using Managed WordPress Hosting. It allows you to get your site up and running in no time without any of the technical hassles of traditional shared hosting accounts.
Even as a beginner, you will be able to use the full potential of WordPress. The provider will install the platform and manage the environment with WordPress, Server, and PHP updates. In turn, you will benefit from one-click staging, restores, and ultra-fast website speeds.
In other words, you will get the flexibility and customization options from WordPress.org without handling technical or administrative tasks, and ultimately self-hosted WordPress has more benefits and liberty of administrative tasks.
What Can WordPress Do for You?
According to conservative estimates, approximately 64 million websites use WordPress out of 200 million active websites worldwide. So, there must be something that makes the platform unique!
First, you can use WordPress to build any type of website. Contrary to public opinion, WordPress is not only for blogging, as WooCommerce powers 28% of all e-commerce websites worldwide.
Next, WordPress allows anyone to create professional-looking websites using a user-friendly administration area quickly. More precisely, web hosting companies handle the more technical aspects of WordPress, while the end-users usually get the customization part.
WordPress also comes with a helpful editor or a drag and drop builder. You can choose from a variety of themes and plugins to further expand what you do with WordPress.
So, with the choice of proper WordPress themes or plugins, you can create a variety of websites:
Directories
Discussion Forums
News Sites
Portfolios And Galleries
Blogs And Magazines
eCommerce Stores
Business Websites
Membership Websites
Affiliate Websites
Online Courses
Hotel Bookings
Dating Websites
Question And Answers
Knowledge Bases
Simple CV Websites & many more.
In other words, there's not much that WordPress cannot do for you. With it, the sky is the limit!
WordPress Themes and Plugins
As noted, your whole WordPress experience depends on your choice of themes and plugins.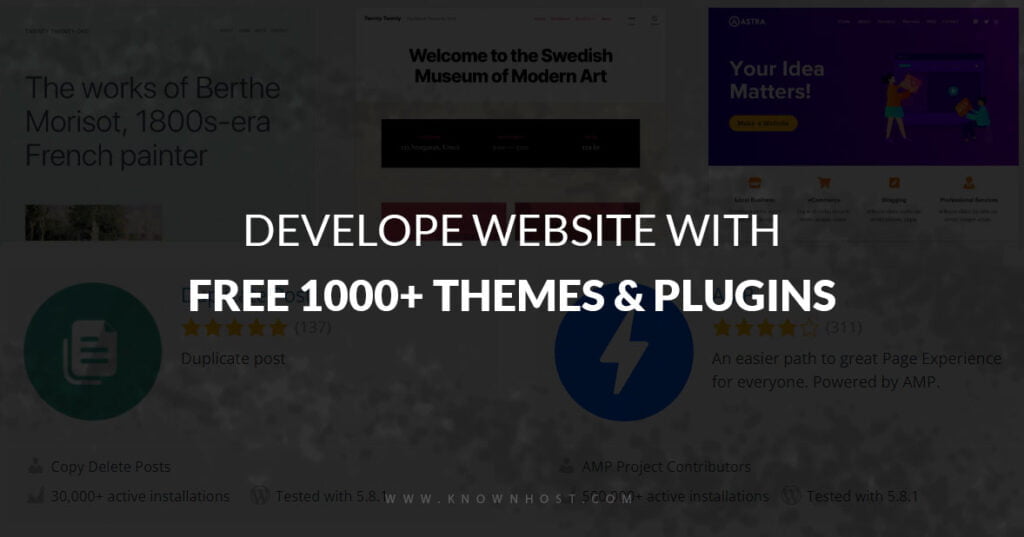 WordPress offers 8,722 free themes to help you launch the perfect website. However, you can also choose to upgrade to a premium one. In general, the premiums provide more options and features, thus a more refined user experience.
Still, what accounts for limitless opportunities with WordPress are the plugins. The platform offers 58,874 free plugins to choose from. See, the core WordPress version is pretty light. However, you can activate the additional functionality you need by installing plugins on the WordPress barebones version at any time.
For instance, you can add a more advanced Drag And Drop Page Builder, such as Visual Page Builder, Divi or Elementor and many more options are coming up in the market with free-to-use access.
Furthermore, you can use the WordPress plugins to add significant functionality to your website, such as build an eCommerce store or add a discussion forum. At last, the plugins can help you enhance SEO, automate backups, improve website security, integrate social media, add contact forms, insert pricing tables, and so on.
Final Thought – Is WordPress The Right Choice for Your Site?
Now that you get the overall idea of WordPress, the only question left is, is WordPress the right choice for your site?
As mentioned, WordPress can serve anyone, regardless of their knowledge, experience, or skills. If you are a computing beginner, you can always start with the WordPress.com version. Then, with time, you can effortlessly transfer to WordPress.org to explore more opportunities.
If you have at least few techical skills, you should start with the latter. All you need to do to host WordPress yourself is:
Step 1: Purchase a domain name
Step 2: Purchase a hosting package
Step 3: Install WordPress
However, WordPress is not limited to beginners. As a CMS, it can scale with you as the user. Once you learn all there is to know regarding the platform and acquire new technical knowledge and skills, you will do much more with it. With time, you can design a large or complex website for your business or online store.
At last, there is the Managed WordPress hosting solution as the comprehensive alternative. A quality-guaranteed hosting provider can keep your site fully optimized for WordPress, handling all technical aspects. In turn, you will be able to upload content, sit back and relax within your hassle-free WordPress environment. We believe you found the WordPress beginner's guide very useful, and the tips we shared will help you while setting up WordPress based website.
Customization has never been easier! So, hop on, and start working on your WordPress site today!