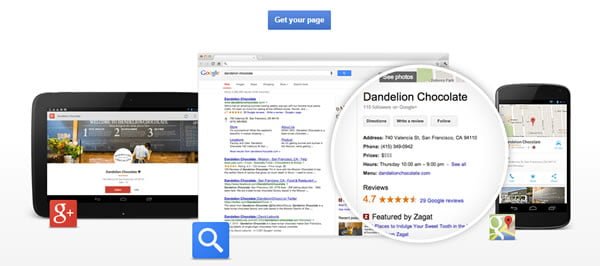 There is a lot of discussion lately about Google+ and whether it's a social network that is worth spending your time and despite the fact that some people name it as a 'ghost network' there are still many ways to take advantage of Google+ for the promotion of your business. For starters, it gives you the opportunity to provide the correct information about your business to Google which is useful in many situations.
Why businesses should use Google+
#1 – Show correct information about your business in Google – Whether you are running a local business or brand, when you register with Google+ you have the opportunity to provide accurate information about your business in the various Google products. You can add things like:
Address – important for local SEO and other Google products (i.e. maps)
Business hours, Photos of your business or products
Reviews – Your customers can review your business /brand and share their experience
Companies or brands that don't have a Google+ page may show incomplete or wrong information about their businesses in Google.
Search for your company name in Google and if your address is wrong, the way to change it is by registering for google+ for business and correct it.
#2 – Connect with your customers / followers – You can use Google+ as another medium to share useful information about your business/brand/products/industry with your followers. If you do this correctly and with a content marketing plan in mind, you can raise brand awareness, increase the people following your page and gain advantage of the benefits of having more than 1,000 Google+ followers.
#3 – Maybe it's not a ghost town after all – According to a recent article by Forbes, Google+ is statistically good for brands, as it generates more interactions per post than twitter or linkedin.
#4 – Take advantage of Google+ hangouts – Hangouts is a great collaboration tool which you can use to either promote your brand or enhance the communication between your customers and employees.
#5 – Gain advantage over your competitors when it comes to mobile users – If you have a local business and a properly setup Google+ Business page, people searching from their mobile phones can see your business on Google Maps and call you by clicking your number while browsing Google. You will also have an advantage for people searching with a specific location in the query or for people searching for products and services and are close to your business area.
How to use Google+ for Business
I wrote a detailed post about Google+ for business but the most important points are outlined below:
#1 – Make sure you have a profile image, appropriate background image and correct contact information.
#2 – Verify your website url so that Google knows about your website as well.
#3 – Claim your custom url (it's more user friendly and easier for people to remember).
#4 – Don't over promote your business- While this is your business page don't over promote your products or services. Nobody wants to follow a page that tries to sell them something.
#5 – Create a content marketing plan – In addition to the above, you need to make sure that what you share on your Google+ page is useful and interesting for your current but also potential followers. To achieve this level of interaction, you may need to do your research and see what topics/posts your customers like to read. For example if you are running an online fashion store, you can share posts about your products but also posts related to fashion and social life.
#6 – Promote your page – Don't expect that by adding good content, you will also start having a lot of followers. You need to promote your page by:
Adding the Google+ buttons on your blog and website
Promote your posts/page using your personal google+ account
Follow other people/pages that may be interested in what you have to say
Does Google for business works?
If you have a local business, you will notice that any changes you make to your contact information, opening hours or profile is soon available to all Google products. So, if your objective is to keep your information up-to date and correct, then the answer is that Google+ for business is your solution.
If on the other hand your objective is to get more followers, traffic and sales from Google plus then you need to be patient because for all the above to happen, you need to have a lot of followers and this usually takes time to grow. This is not true for Google plus alone but for all social media networks.
Social media works for business but it takes effort, time and sometimes cost to get to the point you want. As mentioned above, statistics show that Google + can generate more interactions than twitter or LinkedIn so it's up to you to make it work for your business too.