Top Business Planning Tips For 2021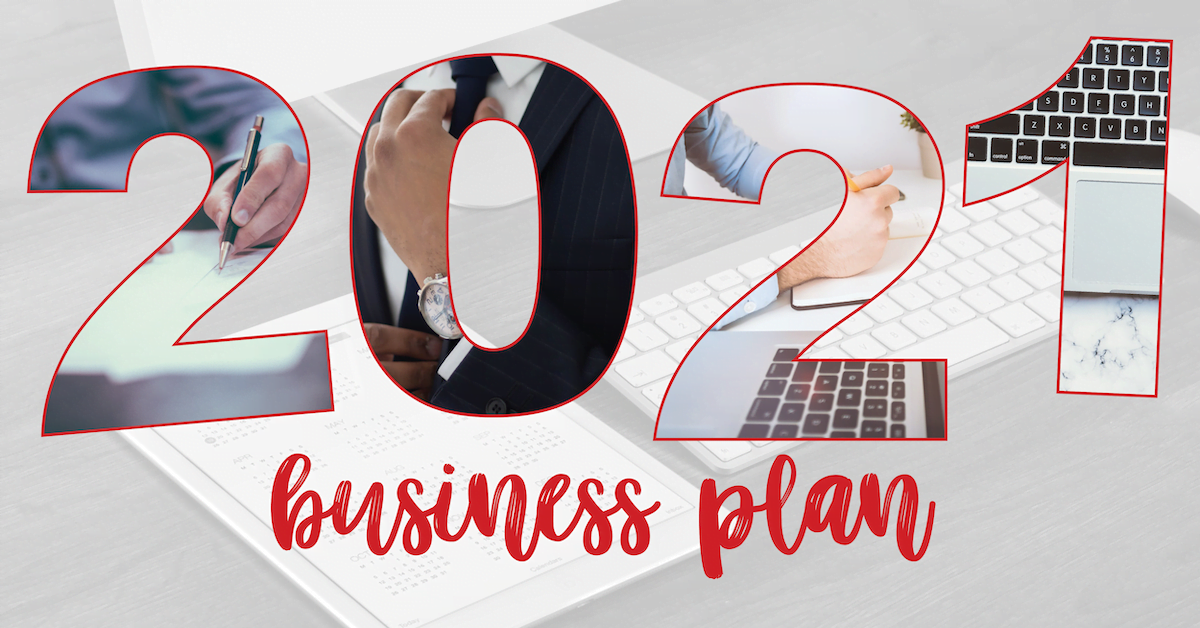 Updated December 21, 2020
Business success in 2021 means effectively planning on how you might deal with setbacks, improve the effectiveness of your existing resources (like staff, website and reputation), plus looking at what can be done to acquire new clients.
Keep reading to see our top tips for business planning in the year ahead.
Reserves are Critical
The biggest lesson learned from 2020 has been to expect the unexpected. No one forecasted the global pandemic. Few saw the banking crisis of 2007-2008 coming. Few saw the dotcom market crash of 2001 coming. Large scale events, beyond our control, are a fact of life. It's unfortunate, but it is reality.
The takeaway on this point is simple: create reserves.
Many experts advocate setting aside 3 to 6 months worth of operating expenses so that a business could survive that long, even with no further revenue. If a key employee, like a business owner, gets ill or injured, that's one thing. When it's a global pandemic, it's quite another.
No one can say for sure how much is enough, but do what you can to prepare, setting aside reserves so that you can weather the storm(s) ahead.
Invest in Your Staff
A great team makes a great company. By investing in your employees, you, as a business owner, will reap the rewards in the form of:
– higher employee satisfaction (less turnover, less sick days)
– higher performance (more skills mean a better job done)
– higher public opinion (more likelihood of prospects becoming customers)
Things you can do to invest in staff include:
– improve communication channels – solicit feedback and act on it
– fund their development – additional training and career development
– share success stories – thank them publicly and brag about their positives
– flexibility in working – home working and flexible hours make life easier to manage
As you invest in your team, you'll find the benefits greatly outweigh the expense.
Focus Your Efforts
If you listen to the advice of 1000 experts, you'll try to do 1000 things, dividing your time into ever-increasingly small slices until you do many things poorly rather than a few things well.
Dilution of effort is rampant in small businesses because owners are used to trying to do everything themselves, can see many great ideas could be beneficial and are optimistic forecasters in thinking each idea can be completed in short order.
Rather than trying to participate on a dozen social networks, pick one and focus efforts there.
Rather than trying to plaster ads across a dozen sites or ad networks, pick one or two and focus efforts there.
No one remembers the waves from tossing a pebble into the ocean, but make a big splash in your local pool – people will take note! Focus.
Free Up More Time
Leveraging the effort and knowledge of others is a great way to gain some hours in your day so that you can focus on growing the business.
Don't try to do everything yourself. If you've got staff, delegate. If not, grab a contractor for some task-specific activities.
Invest in managed hosting. By leaving the technical matters to the experts, you'll avoid the steep learning curve needed to solve such issues and save some time along the way.
Mentor. Be a mentor. Be mentored. Give and take. By sharing knowledge, you'll learn and give back. Be acquiring knowledge, you'll be better armed to deal with running a business profitably.
Freshen Your Web Presence / Infrastructure
Review your web hosting and its ability to meet your expected load. Saving a few dollars on hosting is great, unless it means your website can't cope with the load of an increased number of visitors. Talk to the KnownHost technical sales team. They can help you find the right solution to your needs, without breaking the bank.
As a part of reviewing your hosting, if you're not already with KnownHost, consider our high-uptime hosting to avoid downtime and interruptions (and the loss of reputation and revenue that accompany downtime).
Backups – now, while your site is up and running, is the time to make sure you've got multiple redundant backups in place for disaster recovery and peace of mind.
Page Speed – a handful of changes can often make the difference between a slow site and one that's a pleasure to use. Page speed impacts user satisfaction and search engine rankings – speed matters.
Style – great designs don't endure forever, so plan on your next design refresh, budget it and have it on the calendar. Customers appreciate fresh websites.
Get to Know Your Audience Better
The more you know about, and understand, your target market, the better you'll be equipped to provide products and services that meet their needs.
Don't just rely on your own inklings about what is your ideal customer, but also look at who your actual customers are currently. Sometimes, there are huge chasms between the two.
If you're not already collecting customer email addresses, then get started. Make sure you let them know that you're doing so and get permission to contact them using email.
As you build your list, consider the use of brief surveys to find out about their preferences. No one likes 20 minute surveys, so keep them short.
Check your analytics demographic and conversion flow data to see who is coming to the site, who is converting, what path they're taking to get from landing page to checkout and also find out who is coming but not buying.
The better you understand the buying process, the more you'll be able to reduce friction in the buying steps and improve your conversion rates.
Refine Your Ads and Site Messaging
This is the perfect time to revisit your ads and site messaging to realign them with your target audience preferences and intent.
Go for multichannel touches. Getting people to your website once is good. Getting them to return via another channel is great. A classic combination is ads from Google and Facebook, but that's not the only winning recipe. You can also use email as a channel and don't overlook free traffic via organic search and regular social posting. By regularly sharing blog content via social media excerpts, you'll tap into "free" traffic you might otherwise miss.
Messaging has to focus on "What's In It For Me," in the mind of the prospect. Know your benefits and you'll be able to convey them, and your USPs easier. You really must know what you uniquely do better, cheaper, and/or faster than the competition so that you can customize your messages accordingly. Be sure the shape messages so that visitors can picture themselves enjoying your product or service. Visualization using emotional words is a powerful one-two combination.
Call To Action (CTA) prompts should be examined to determine if they are placed where users can see them. Heatmap data will reveal where user eyes travel on key pages. CTAs should be clearly visible as signposts guiding users from where they are to where you want them to be (the conversion flow). Tracking conversion paths and analyzing that data will help you identify where the most critical CTA placement should be and thus help your flow through rates.
Check out tools like Hotjar for creating heatmaps. There's even a free version.
Tap into the Audiences of Others
When publishing content on your site, such as on the blog, look at including mentions of noteworthy contributions made by other sites and authors. As you publish, and put out excerpts using your social media accounts, mention those contributions so that they can share with their audiences, thus increasing your reach as they spread the word.
Storytelling
Storytelling is an essential part of engaging readers, so work on framing your accomplishments using storytelling. Engaging readers is important in building brand pundits who will go out of their way to repeat your stories, acting as messengers in spreading the word.
Great stories often follow a recipe of sorts. One such approach is the simple:
       –  background or setting the situation / scene
       –  describing the pain point of the particular problem
       –  revealing the ease in overcoming the problem thanks to your particular solution – including           visualizing the enjoyment of no more problem
Know Your Goals and Financials
As a basketball player what they're trying to achieve in taking a shot and they'll probably point to the hoop and say they're aiming to get the ball to go in, right? With a business, the goals are a bit more variable. Would you like to bring in more new customers than last year? Want to make each sale more profitable? How about reducing attrition?
Having specific goals is the first step in achieving them.
Knowing what it's going to take to make those happen is the next big step. Budgeting the activities required to drive 10% more conversions or 20% more traffic from Facebook or 30% more organic visitors from Google all necessitate planning the tasks and specifying the cost for each task along the way.
Do you know what it costs to acquire a new customer using Facebook or Google ads? Know what the average lifetime value is for a customer?
It is absolutely, positively, critical that you have a grasp on costs to grow your business. Otherwise, it's impossible to create a realistic budget for the year ahead.
Know Your Goals and Finances
If your revenue is largely from online sources, then you should be using website analytics to track the value of each type of traffic, and to an extent from each source.
Looking at analytics, you should be able to see clearly how many visitors are needed to make a purchase, on average. For example, you can see that for every 1000 emails you send, 50 visitors come to your website and that results in 3 conversions worth an average of $100 each ($300 total).
With a bit of math you can determine that 1000 emails sent generates $300, we can establish a baseline value of $0.30 for every email sent. We can also see that 50 email visitors are worth $300, so each of them is worth $6 each.
If we grow the email list, so that we send more emails, we should get more revenue at a rate of $0.30 for each one, times each send we put out to them (not just a fire once and forget). Twice a month, over the course of a year and we'd have 24x that revenue (or value each) annually.
If we don't grow the list but instead improve our clickthrough rate by creating more compelling content and subject lines, we could get more than 50 visitors per each 1000 emails sent, thus improving our number of conversions and increasing the email visitor value average worth.
The same types of revenue calculations should be happening across other channels such as Facebook Ads, Google Ads, organic traffic from search engines and referrals from other sites on the web.
Once you know the real value of each visitor from a particular channel, or source, you can then assess how much you can comfortably spend in acquiring visitors from each.
Fix Your Reputation
Trust is something that takes time to build but which can be wrecked quickly. As a business owner, you need to be attuned to what is being said about you, your company, products and services. The entire realm is known as Online Reputation Management (ORM). Keeping an eye on it is online reputation monitoring or social media monitoring (if you're only watching social media channels).
Be aware that negative reviews or mentions can be published on personal websites, news stories, social media channels, blogs and a wide range of other sites.
Rather than trying to watch all the web and review sites manually, one can either regularly search on Google and Facebook or set up a Google Alert to get notified whenever the company name, staff or products and services get mentioned online.
Monitoring mentions is done so that you can respond to them. The goal is to be transparent. Acknowledge and fix issues, don't attempt to suppress or deny problems. Being trustworthy means being honest about customer reported opinions, responding to them and fixing whatever genuine issues that might exist.
The most popular review sites are where many people are likely to find out about your company, either intentionally or unintentionally. These include sites like Google My Business, Amazon, Facebook, as well as review sites like Yelp and Trustpilot. If you search for your company name followed by the word reviews, you're likely to see several of these in the search results. This is something many prospective customers will do before making the commitment to place an order.
Conclusion
Planning for the year ahead means knowing more about your marketing, sales, customers and using that data to do more of what works and do less of what doesn't.
Set aside reserves for difficult times, clearly define your objectives, budget the activities that will lead to goal achievement and you'll be lightyears ahead of the competition.