THIS is Why Your Website NEEDS a Wiki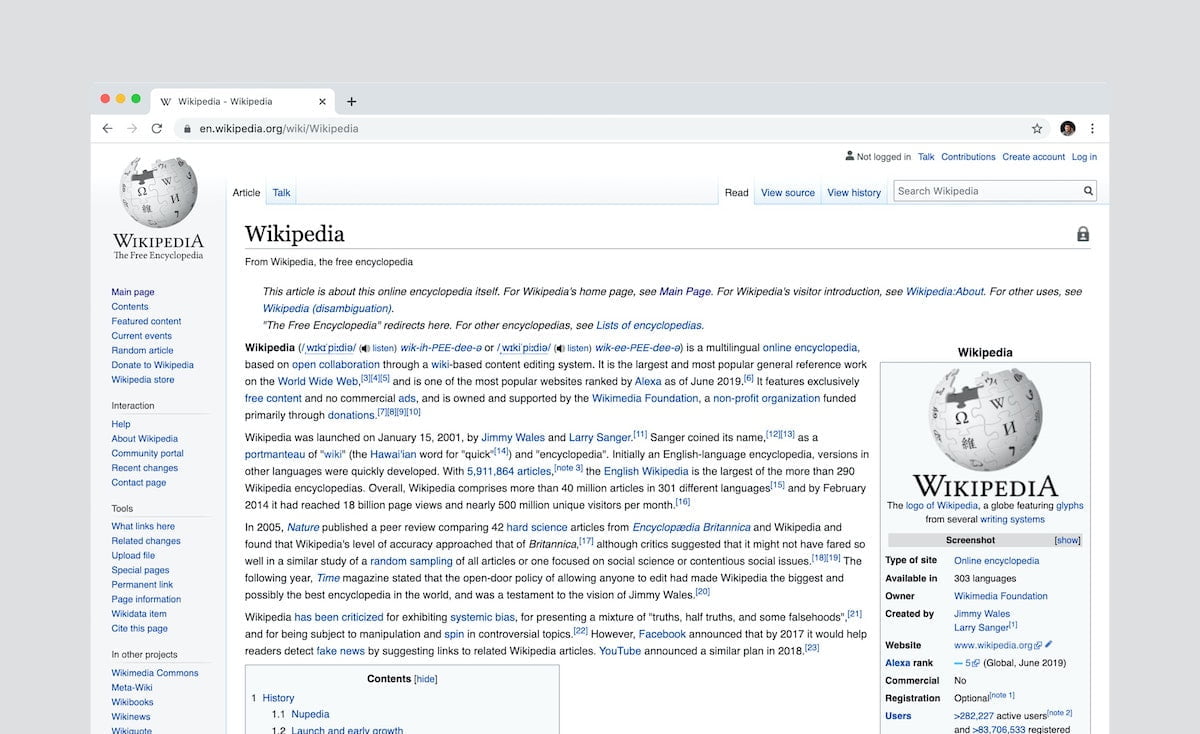 Updated August 9, 2021
Every corporate solution needs a systematic platform to introduce, educate their customers and internal team. As we have seen so far, learning or resolving things through Videos may provide an instant solution for the problem. Still, we have seen that wikis always offered a proper step-by-step resolution of the issue for a more extended period.
Having a well-maintained wiki for your company can not only be beneficial, but can be used for multiple purposes. This article will cover all the basics of wikis and their importance, along with wiki's real-time benefits for your company.
What is a Wiki?
'Wiki' is the public platform on which users can create, edit, delete or publish information by creating pages or articles. (Permission of publication and modification for your wiki website is subject to privileges assigned for the user levels.) Wiki has content-based web pages, which offers it blazing fast loading speed to the web pages; as a result, visitors having network problems might get access to its desired information.
Wikipedia is the world's most renowned wiki website, and it offers editing functions for the content to every user/visitor (moderator approval is a must). Including Wikipedia, there are many public wikis on the internet, including,
ArchWiki: Arch Linux is a Linux distribution meant for computers with x86-64 processors. Arch Linux adheres to the KISS principle and is focused on simplicity, modernity, pragmatism, user centrality, and versatility.
Citizendium: Citizendium is an English-language wiki-based free online encyclopedia launched by Larry Sanger, co-founder of Nupedia and Wikipedia.
Everipedia: Everipedia is a wiki-based online encyclopedia. Founded in December 2014, the site was launched in January 2015 as a fork of Wikipedia. It is owned by Everipedia, Inc., a for-profit company headquartered in Westwood, Los Angeles, California.
Benefits of Having a Company Wiki:
Performance:
Keeping your Wiki separately and content-based drives significant loading speed for the web pages. As a result, the user experience could increase. In the online world, Speed Is Everything!
Customizable:
Through Wiki, you can customize the level of privileges for the users, and you can also categorize the wiki pages by the topic's parent category and subcategory.
Search Engine Visibility:
Keeping your Wiki up-to-date with problem resolution and real-time updates about your company may drastically improve website search engine presence. As a result, ranked pages can drive a targeted audience to the company's website. Furthermore, you can re-target previously visited users through advertising.
Easy Integration:
Suppose your company is looking for a pre-made WIKI solution. In that case, KnownHost offers DokuWiki, Js Wiki, and MediaWiki with many free and commercial extensions through which you can easily integrate it with any platform.
Documentation:
In this 21st century keeping materialistic documentation in hard copies may be hectic, or you might lose it somewhere; rather than that having a proper, systematically designed, well-written WIKI for companies documentation can solve numerous problems. Having a wiki online saves paperwork, and anyone can conveniently access it remotely from phones, laptops, and tablets.
In a real-time scenario, suppose you hired an employee and want to make them understand company regulation. The standard procedure would be, providing the company handbook, and making sure it is understood. This traditional process for the companies that are digitally evolved is no more to be followed. Nowadays, a straightforward email including links of wikis on which everything related to the company is documented will be sent to the employee.
Effective Learning Tool:
Well-organized companies have their level of authority and jobs for their employees. You can use the Wiki as a practical learning tool for your employees. Suppose if your company introduced a new process and wants to educate all concerned employees through training. Providing them notes doesn't sound like a great idea. Instead, you can create an organized wiki on How the process works? And Objectives of their job for that particular process. Using Wiki as a practical learning tool can provide your employees a handy guide that they can refer to anytime while learning through the process.
Knowledgebase:
Nowadays, every customer seeks proper resolution for their problems. The more content you produce to help your customer will surely help your company's customer satisfaction grow. Providing customer resolution via Wiki, also known as Knowledge Base, is continuously increasing day-by-day. As you publish more content focused on problems, updates, bugs, troubleshooting will help surely decrease the workload on employees.
Knowledgebase not only provides self-learning to the customer but also increases the productivity of your employees, proactive resolution by providing direct knowledgebase link and nothing but last you save a lot of human resources!
Big Giants like Microsoft, Amazon AWS curated an elaborative Knowledge Base for their customers, mostly resolutions of every issue related to their products and services.
Want an example? Check out ours!
Now, here is the simple process of installing a personal wiki website for your company-
Things to Consider Before Having a Wiki Website:
Setting up your company's wiki website is relatively easy as it seems. Many user-friendly tools are available for your convenience or a manageable initial setup. Quick research, easy editing, clear navigation, and data security are key features of an adaptable wiki website.
With some permissible activities, this wiki website helps to manage user content and data smartly.
Software integration: Choosing suitable software per your company's requirements and services is crucial for easy integration and further management. The integration of existing tools and software is easy and provides the best value to the employees. To create a professional private wiki site, selecting themes and useful tools according to your business is mandatory.
Importing existing information: After having a company's wiki website challenge is importing existing data correctly. Your software should support the integration of old documents and access their editing or formatting accordingly. A suitable software makes your old content more appealing and helps new employees to understand the work culture.
Create internal links: Your software should support the creation of internal links for better content reach. Internal links in the document take you to the proof of that information and clarify it for puzzled employees. Creating frequent internal links is a more understandable and user-friendly process for better knowledge.
Secure company's data with limited access: when it comes to a business website, data security is an initial concern. Whenever data is edited or inserted in your Wiki, it should be correct and from reliable sources. To maintain its accuracy and privacy, your software should have some permissions before data access or limit the content reach for suspects. Every editing or change in your company's Wiki data can directly affect your management system or even the company's reputation. So allow some permissions before any new upgradation or change in existing content. Limit access to secured data.
An appealing home page with proper instructions: An engaging wiki page with appealing homepage design with every information on how to start? Editing permissions? Reachable data? And other functionality. A home page should be attractive and informative to give every necessary information about the company.
A user-friendly experience makes your employees or customers use it and make timely edits while maintaining its reliability and accuracy. Some extra perks can be given to the most active employees or customers for encouragement.
Although having a wiki site sounds 100% beneficial, there are some other crucial points to know before creating a wiki website for your company. Managing the entire content of a large organization on a single website is more difficult than launching a wiki website. There are many softwares in the market for launching a wiki website, but continuous management is the most tedious part of having a wiki site.
Cons of Having a Wiki Website:
Verification of existing data and edited content: Verifying all data is mandatory to maintain reliability and provide accurate information to your employees and customers. The company's Wiki is the knowledge platform that is used to remind or update information. Frequent edits and old information sometimes make it doubtful regarding correctness. You have to maintain its accuracy by cross-checking all the edits timely and updating the old information for the convenience of employees.
Update the format or structure of Wiki: Structure of content or the format plays a vital role in giving the user-friendly experience. The company's Wiki is the website for gaining knowledge and information about the company's projects and mechanisms. Launching the new website is easy but maintaining its accuracy with time is difficult.
As your organization grows, your company's wiki website is also updated. Maintaining it becomes difficult as new information is updated and internal links are added to understand the whole concept. Sometimes, all the information and internal links smudge up and make it difficult to find the updated or older links.
You have to create a content editors team for timely review of the whole website and update all the information evenly. New employees are mostly affected because they don't know the processes and want to understand the work culture.
Integration of other company software: Sometimes, it is required to collaborate with other software like Microsoft Teams or others for better knowledge sharing. Although every software does not provide this integration, some provide permissible reach, or others need frequent login for every visit. It isn't easy in an ongoing meeting or explaining something important. So, choose your software with full access to wiki information with one-time integration.
Conclusion:
A wiki website for your company helps maintain organized data like client information, transaction details, requirements, and processor of projects—your company's management information like employees details, and companies history and work culture.
This is a kind of data management software from which company employees and customers get the utmost benefit. A user-friendly platform with well-organized management of content works as a unique knowledge platform.
Company's wiki websites increase employee and customer engagement and help to establish a special bond. You can grant specific access to your Employees and Customers where they can visit for every query and update the old information accordingly.
This article works as a small guide for every query about the company's wiki website. If you plan to start a new wiki or just want to update your current one, this article condenses everything you will need.
Some wiki software like PBworks, Wetpaint, or Wikispace has hosted software that needs a proper hosting domain to make your company's Wiki. Having a hosted software website is more secure and reliable than downloadable ones. Large companies or MNCs always consider a hosted domain for their wiki website. This provides cloud data management service in case of any institutional loss.
Some software provides both options- download or hosted form—Confluence, Mediawiki, XWiki, etc. Now, if your company is in its initial stage with less revenue, you can go with a downloadable wiki website to manage initial data. But as your organization grows, a cloud-hosted wiki website is crucial for easy and long-lasting maintenance.
Switching from a download website to a hosted domain website is difficult and sometimes causes data loss. So, if you will have a new wiki website, opt for a hosted domain wiki website for your company. It is convenient for both your company and the users (employees).
So, consider all these crucial points and have a safe, user-friendly, and up-to-date wiki website for your company. It helps to grow your employees and organization too!
Before starting your wiki, you'll need a solid web host! Check out KnownHost and all we have to offer for your site!