What Are the Disadvantages of Shared Hosting?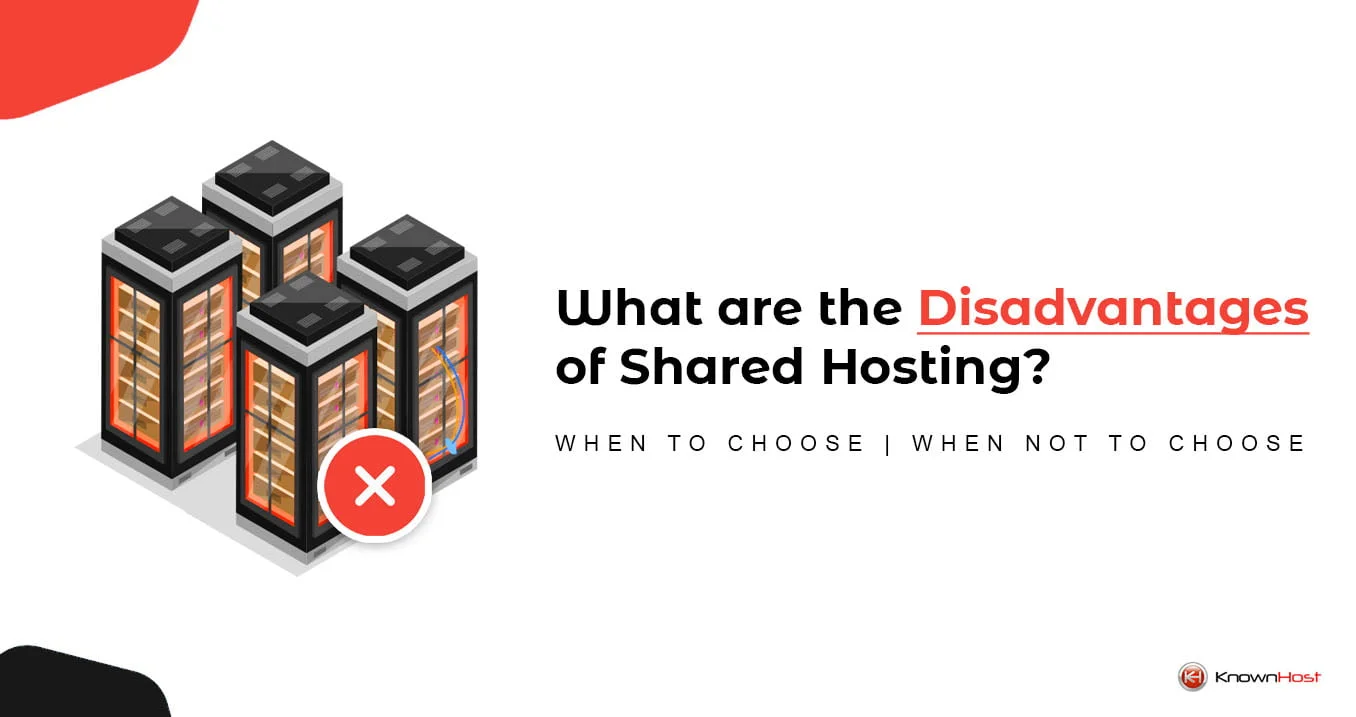 When you have just started your own business, soon comes the daunting task of creating a web presence. You hear words like "shared web hosting" and "dedicated hosting" – perhaps even acronyms like "VPS." Then you hear prices ranging from $1 to hundreds.
While you may be tempted to think that the cheaper option is probably better, there are some drawbacks to consider. Let's take a look at the downside of shared hosting, which is much more affordable than VPS or dedicated hosting.
When to Choose Shared Hosting
Website hosting solutions range from simple to complex, depending on the type of website, amount of traffic, and size of business that the website represents. There are generally 3 options available: shared hosting, VPS, and dedicated hosting. If looking at the price point only, the winner in that category is shared hosting by quite a large margin. However, there is more to consider than just the price.
Shared hosting is often the simplest choice for beginners or single-owner businesses. Shared hosting gives you the bare-bones storage, processing, and bandwidth you need to get a website started. However, it is common for websites to outgrow shared hosting packages quickly.
When (Perhaps) Not to Choose Shared Hosting
Whichever way you decide to go with your website host, there are a few disadvantages of shared hosting to be aware of, especially for the more tech-savvy or larger business owners:
The load time of your website can be a lot slower than with other host options. Loading delays or issues when website traffic increases might mean that your website would benefit from upgrading to a VPS (Virtual Private Server).
Shared hosting means that your website shares a server and resources with multiple other websites. You will likely have no idea how many other sites or with what kind of sites you are sharing. There are some rare security risks posed by this, as well as the risk of overburdening the single server.
With shared hosting, you have little to no customization options for your website. While this may appeal to the less tech-savvy website owner, there are limitations that come with using a one-size-fits-all control panel.
Interactive websites with heavy traffic will likely experience some performance issues and instability due to the limits of shared hosting. Performance problems, in many cases, lead to lost sales or at the very least frustrated website viewers.
There are resource allocation limits to a shared server which a fast-growing business may find troublesome as internet traffic increases. If your business grows quickly, the limitations of shared hosting can become problematic sooner rather than later.
The good news is, though, that not all shared hosting services are created equal. By choosing fully managed shared hosting, such as that offered by KnownHost, you can reduce your exposure to risk and get helpful advice as to when it's time to move on to the next stage.
We always let our clients know when it's time to upgrade to a Virtual Private Server or dedicated server. We offer 24/7/365 support to all of our clients, including our shared hosting clients.

How KnownHost Stands Out Among Shared Hosting Services
While some of the cheaper shared hosting services are unmanaged, with a risk of CPU or bandwidth getting used up by the other websites sharing your server, KnownHost shared hosting websites are fully managed and isolated from other sites.
In other words, you will always get the processing speed and storage KnownHost promises you. In addition, we offer a user-friendly control panel platform, as well as software and security solutions automatically included.
With KnownHost, you get a web host that will let you know when it's time to upgrade and will monitor and protect your site in the meantime. Our expert technicians perform all necessary updates to the server, leaving you to simply focus on your website. We can help you set a growth plan as your business and website traffic increase – considering your business, not just today, but six months to a year in the future.
At KnownHost, we offer website hosting experiences from the very basic to the extremely advanced. Shared, VPS, and dedicated hosting are all available so your needs can be met. We would be happy to discuss with you the right match for your website.
The time may come when you require more customization, storage, and processing power to continue growing as a business. Until then, KnownHost shared hosting can be your solution. KnownHost offers feature-rich, fully isolated shared hosting with great resources and full management for as low as $3.47 per month.