Do I Need A SSL Certificate?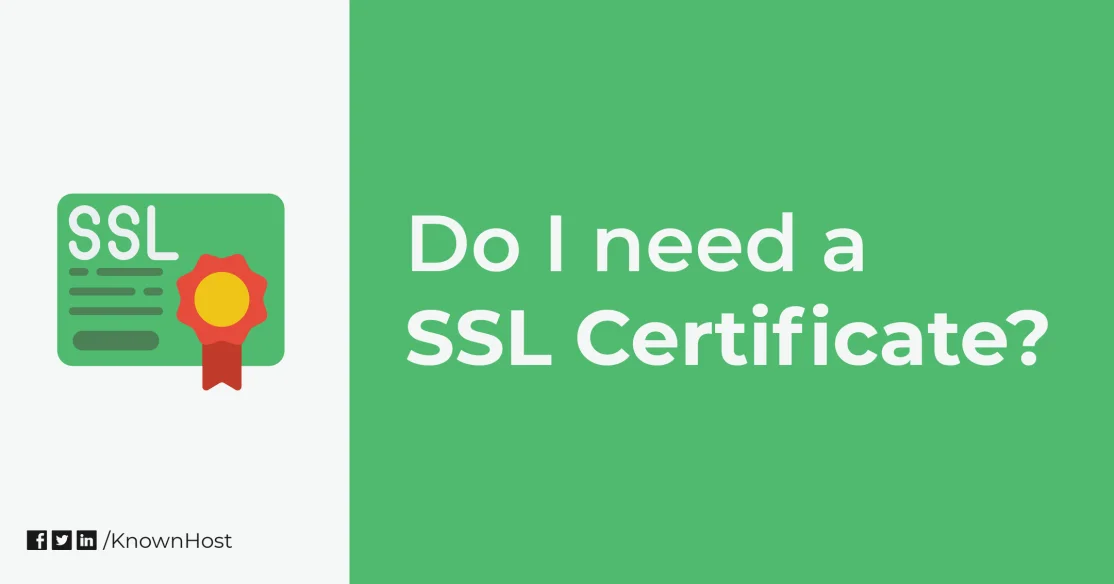 As a website owner, you want a lot of traffic funneled to your sight, where you can then provide the best experience possible for your visitors. In order to do that, it is important that you have a website that is safe for browsing, buying and sharing information, such as email addresses etc. An SSL Certificate is how you communicate to visitors that your site is secure and safe to use.
Most internet browsers, such as Google Chrome, and others, automatically label all "HTTP" websites as potentially dangerous and insecure. This dedication to security, while admirable, may severely limit access to your site. So how do you ensure internet browsers don't flag your website as potentially harmful, while at the same time ensuring the best security technology has to offer? The answer is an SSL Certificate.
What Is SSL?
SSL is an acronym for Secure Sockets Layer. Secure Sockets Layer technology protects information that is passed between whatever internet browsers is used, and the server. This implements an encrypted layer between the user and the server to ensure that whatever traffic occurring cannot be read from a middle-man.
SSL Certificates Offer Real Advantages
The digital file that identifies your business or organization is called an SSL Certificate. A Certificate is used not only as website authentication, but as a means to install safety technology onto your website. In addition, an SSL Certification confirms to the internet browser, server, and visitor to your website that the HTML site is legitimate and protected.
SSL Certification provides:
Encrypted traffic between end-user and server.
Increased legitimacy and customer confidence, which leads to higher traffic
Higher ranking by search engine algorithms, which means your site is easier to find and recognize
Understanding SSL Certificate Classifications
You may already be convinced that having a SSL Certificate is good business, but don't know how to choose a product that is right for you. It is important to understand the types of Certificates available so you can access the one that will benefit your site the most. The Certificate you choose will depend on the level of security you want and need for your site, as well as your budget and any future plans for your site that may impact your security needs.
Domain Validated Certificates
Commonly referred to as DV Certificates, Domain Validated Certificates are incredibly easy to get, provide the most basic but trusted security, and can be up and running in minutes. In order to qualify for a DV Certificate you simply have to verify that you own a domain and the DV Certificate vendor of your choice will issue you a Certificate.
DV SSL's are used to protect small websites or blogs that have no personal detail exchanges or visitor sensitive information. DV Certificates are one of the cheapest ways to protect a small, basic personal blog or website.
Organization Validated Certificates
OV Certificates are the next tier of security. To qualify for an OV certificate, you must be able to meet the DV certificate requirements AND prove that your organization exists as a legal entity. Basically, you must show that not only do you own the domain, but that your business is operating legally in the country of origin. OV Certificates are fairly easy to get but usually cost a bit more and take more time to set up.
Extended Validated Certificates
EV SSL Certificates are the gold standard for website safety, and are also the most difficult to qualify for. In addition to all requirements for a DV and OV certificate, EV certification requires proof of the purchaser's legal identity. This in-depth vetting process involves scrutiny of the website, business owner, and business, but once accomplished websites with EV Certification reap the benefits of the "green bar" in the browser, indicating your site is trustworthy. For visitors, the "green bar" means they are safe to do business, complete transactions and communicate with confidence.
Steps To Purchasing An SSL Certificate
You've decided you want to provide the safest experience for visitors to your website, as well as benefit from the increased credibility an SSL Certificate provides, but aren't sure what the next move is? The following information will guide you through the process of securing an appropriate SSL Certificate for your website.
Step One: Secure a domain name for your website and have proper documentation
Step Two: Compile documents to verify your business and personal identity
Step Three: Make sure the WHOIS record of your domain name is updated and accurate
Step Four: Generate a Certificate Signing Request (CSR) on the server your SSL Certificate will be installed on
SSL Certificate Vendors
Congratulations! Your ducks are now all in a row and you are ready to purchase your SSL Certificate, but from who? There are many different SSL Certificate vendors to choose from. Often, a website hosting service, such as KnownHost and others, offer SSL Certificates for purchase as part of a service bundle or as an individual product. For instance, KnownHost offers a free basic SSL Certificate with some of their hosting plans, along with a full menu of premium SSL Certificate options ranging from a single DV domain certificate to an EV Multiple Domain Green Bar max security.
The type of Certificate you need will depend on the type of website you have and your plans for growth in the future. It is important to take into account how your business and needs may change over time and choose a vendor with the capabilities to adapt their services to fit your needs.
Some examples of highly-ranked vendors include:
KnownHost
KnownHost is a top-ranked web hosting company with certificates for every website size and security need. While some basic certificates are included for free with their hosting packages, KnownHost also offers single domain, multi domain and wildcard options at a very reasonable price. KnownHost Certificates are fully authorized by Sectigo with up to 2048-bit encryption with their top-tier package guaranteed at $1,500.000.
SSL.com
Known for offering basic protection that is reliable and affordable, SSL.com is a good fit for small websites that need minimal protection on a budget without delay. A basic DV SSL can be issued in mere minutes and the purchase won't bust your budget.
Sectigo
This domain registration giant also offers other website services which include SSL Certificates. With Sectigo you can choose from plans with full site encryption, malware scanning, and site backups. Sectigo is one of the bigger vendors for SSL Certificates.
What It's All About
Having a successful website comes down to consumer trust. You can build the most beautiful, intuitive, informative site in the world, but without the proper security credentials, your traffic will be very limited. Having an SSL Certificate is the first and most important step in building a reputable, trusted and, most importantly, frequently visited site.
With multiple companies offering a wide range of services and prices, there is bound to be a vendor with just the right security product for you. When choosing a vendor and SSL Certificate, be sure to consider the future growth of your business and the potential for additional sites and domain names.