99.9% Uptime What Is It and What Does It Mean?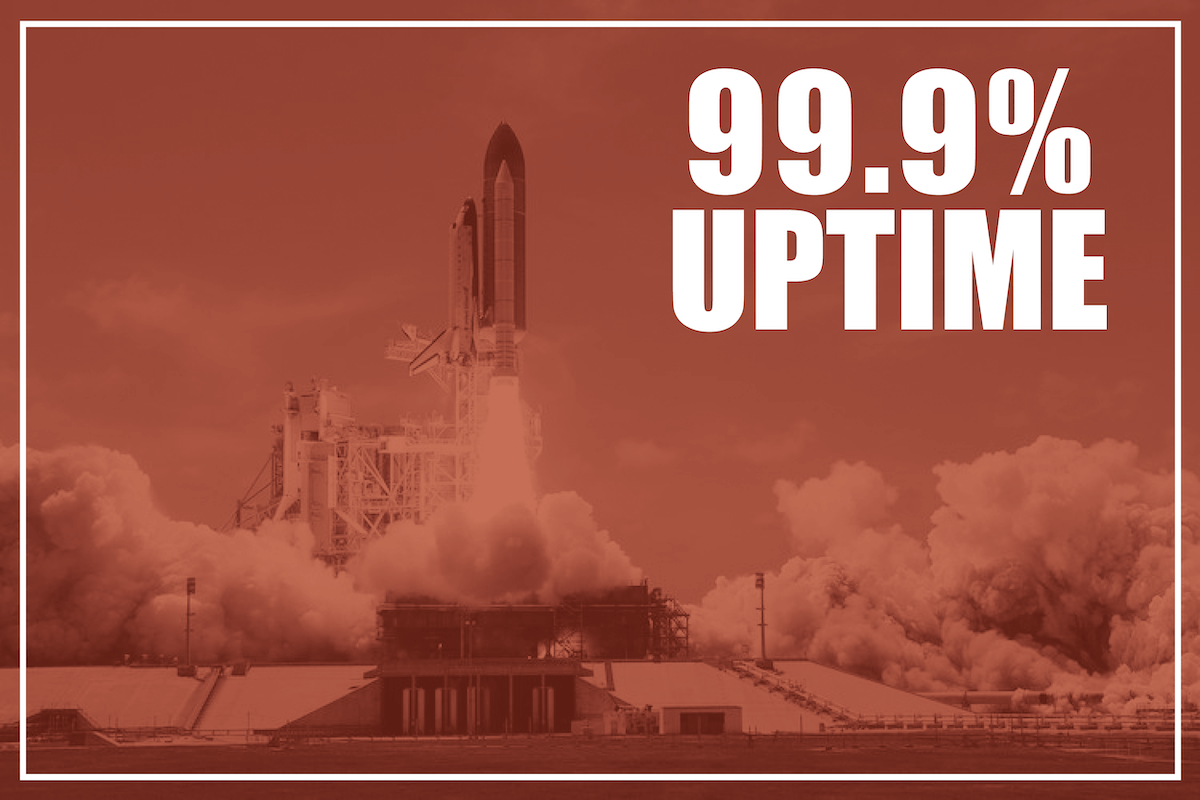 Updated January 28, 2020
You sometimes hear the term "99.9% uptime guaranteed" but what does this mean and why is it important for your business? How can you minimize downtime and what tools can you use to measure your website's uptime?
What is uptime?
Uptime is a term used to describe the period a service (or a website in our case) is available online. This is usually expressed as a percentage of the total available time which is 365 days per year. So a website that is up all year long 24×7, it is said to have 100% uptime. If uptime is 90% then that means that the website is down for 36.5 days (out of the total 365).
From the above examples, it is clear that uptime is a very important for websites and online businesses. Imagine having your online store down for days…How would that impact the performance and reputation of your business? A scenario that most businesses owners don't even want to hear.
Why is uptime important?
We have already mentioned how uptime or better how downtime can affect your business reputation but there are more reasons that go beyond that.
1)      You will lose customers – Chances are that people who visit a website and it is not available at that time, they won't visit again. Don't forget that you are not alone on the web so you cannot afford to lose customers because your website is down.
2)      It will negatively impact your rankings – Downtime it's bad for SEO. Google wants to keep searchers happy and they won't sent them to a website that has a low uptime.
See also: Webpage downtime is an SEO killer
3)      You lose customer trust – Visitors who notice that your website is down frequently will be less willing to proceed with a purchase because they will think that their payment details are at risk.
Does your website get 99.9 uptime availability?
Obviously you cannot sit in front of a computer all the time checking your website so the best way to measure uptime is to use a service. There are many services available (some of them are free as well) that make automatic checks in predefined internals and may even notify the webmaster that a website is down. At the end of the month you also get a report with the uptime percentage.
For the more technically oriented people another way to calculate uptime is by going through the web server logs but in general the best way is to use a service that does periodic checks.
A word of caution, uptime does not equal to good performance. A website may be available 100% but the performance may be slow. In such cases website monitoring tools will not be able to understand this so if performance is also of great concern you may need to go with more sophisticated tools like catch point or solar winds.
Similarly if your service depends on a number of providers then you need to ensure that you monitor each provider separately. For example if you are accepting paypal payments and that service is down, the downtime may be wrongly assigned to your website although in reality your website was up but paypal was unable to process payments.
Is it possible to have 100% uptime?
The answer is yes, it is possible to achieve 100% uptime but this depends on a number of factors:
1)      Reliability of hosting provider: This is the most important factor because if your hosting service cannot provide you with 100% uptime then obviously it is impossible to achieve it. 
When choosing a hosting provider make sure that they are committed to uptime by offering an SLA and don't just take their word that they do. Also it is a good idea to check their uptime history using services like hyperspin or pingdom. 
It is always recommended to read reviews about their uptime history from existing customers. 
2)      Reliability of software: Even if your provider has an excellent service, you still need to have well written software in order not to create any downtime. If your website is based on old platforms and tools then the chances of errors in software are greater so it recommended that you always upgrade the software you are using to the latest version or if this is not possible to migrate to modern platforms like wordpress.
3)      Correct configuration: In some cases a website can go down because of wrong configuration settings. If you are running on a managed VPS then most probably your hosting provider will make sure that your configuration settings are correct, either way having an engineer review them is not a bad idea at all.
Don't forget that the closest to 100% uptime is 99.9% and not 99%. A 99% uptime is equivalent to 3.65 days downtime, a period that is too long for today's competitive market.
Opt for Known Host's lightning-fast, SSD-powered VPS hosting to virtually eliminate donwtime and avoid lost revenue.
Conclusion-
In conclusion, it IS possible to get the best uptime in the industry and it's closer to your finger tips than you think! For the past decade, KnownHost regularly improves our software, configuration, hardware and training to eliminate downtime. That's how we have the industry best uptime – proven daily. Need more proof? Check out this article from Hosting Review, KnownHost Services.