WordCamp US – Nashville 2018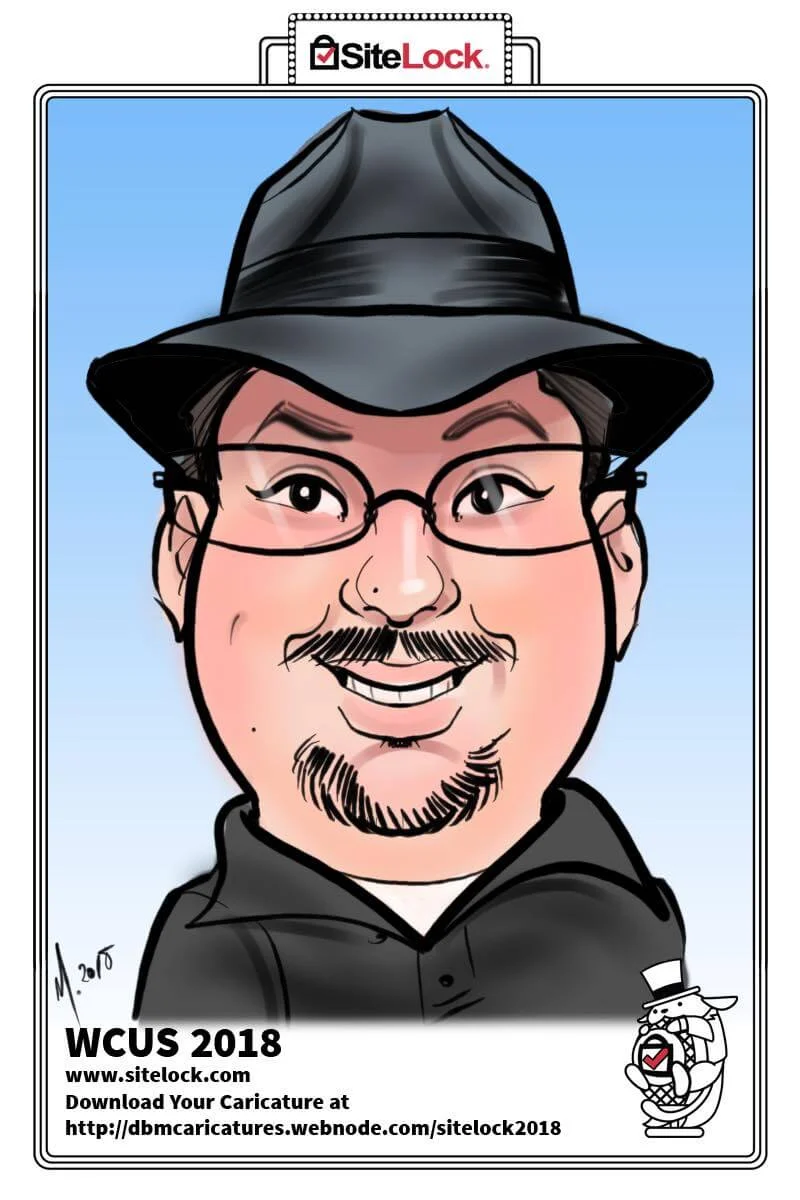 Updated December 26, 2018
I arrived in Nashville, TN aka Music City on December 6th, Thursday around 2pm CST. After arrival I was meted by Jonathan Wright who is the Director of Managed Services at KnownHost .  We had to get ready and attend the speaker/sponsor dinner held at the Music City Center after we settled in at our hotel.
The hotel was absolutely stunning that we were staying in. It was right smack dab in the middle of Downtown Nashville and the history behind it was incredible. It was called Union Station and was originally built as a train station in 1900 then converted into a Historic Hotel today.  When you walk in to it you just have that old school feeling about how things use to be and are greeted by this amazing lobby with original wood work intact.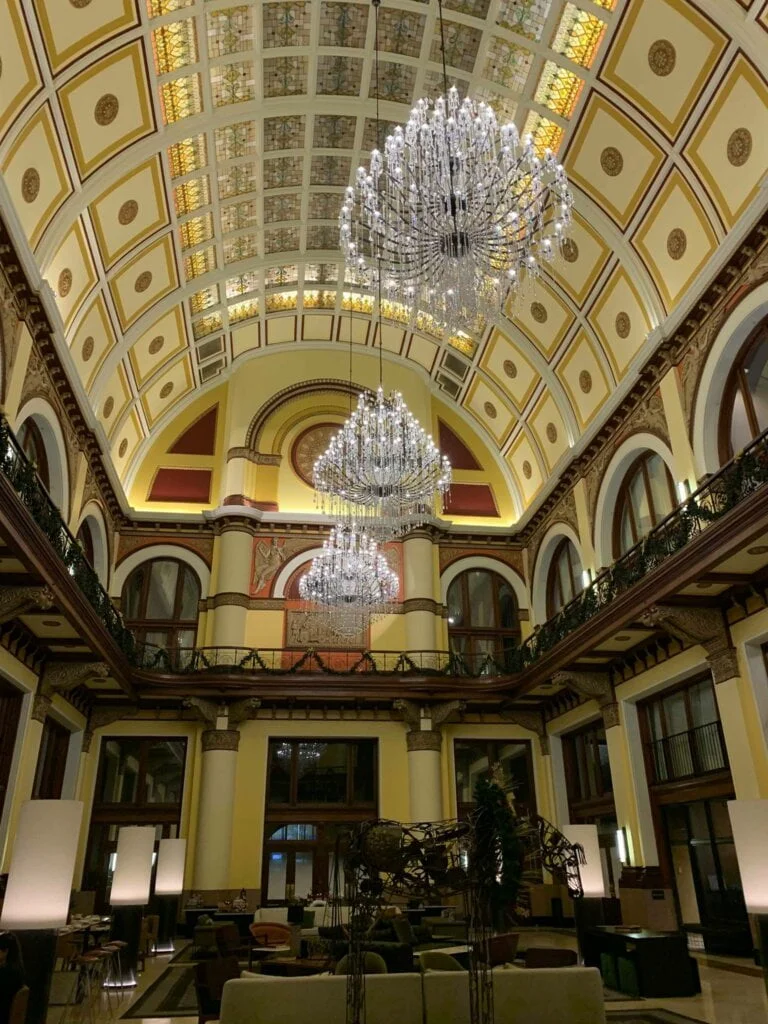 Ok, enough about the hotel! We went to the Music City Center for the speaker/sponsor dinner later Thursday night. This building was mega huge and is over 2.1 million square foot of facilities. It blew my mind and just to thank WordCamp US only has a small portion of this building using.  We got our badges and networked with old friends and made new ones and then we decided we wanted to go out and experience Downtown Nashville on Broadway St. WOW!!! It almost felt like it was a miniature New York City Times Square crowd. There were honkey tonks (bars) and people everywhere. This place was a mad house but I loved it.
We decided to eat with a bunch of our friends at Jacks Bar-B-Que and it was delicious. The restaurant itself was laid out similar to that of a Subway and you ordered and paid for your food as you went thru the line. I ordered some original southern bbq and the fixins', It was GREAT! To the left  is a picture of all of us in the small dining room eating and having a blast.
After a long night out, we went back to talk with two of our friends in their hotel. My friend Steve told me he had a gift for me and wanted to go ahead and give it to me before WordCamp started the next day.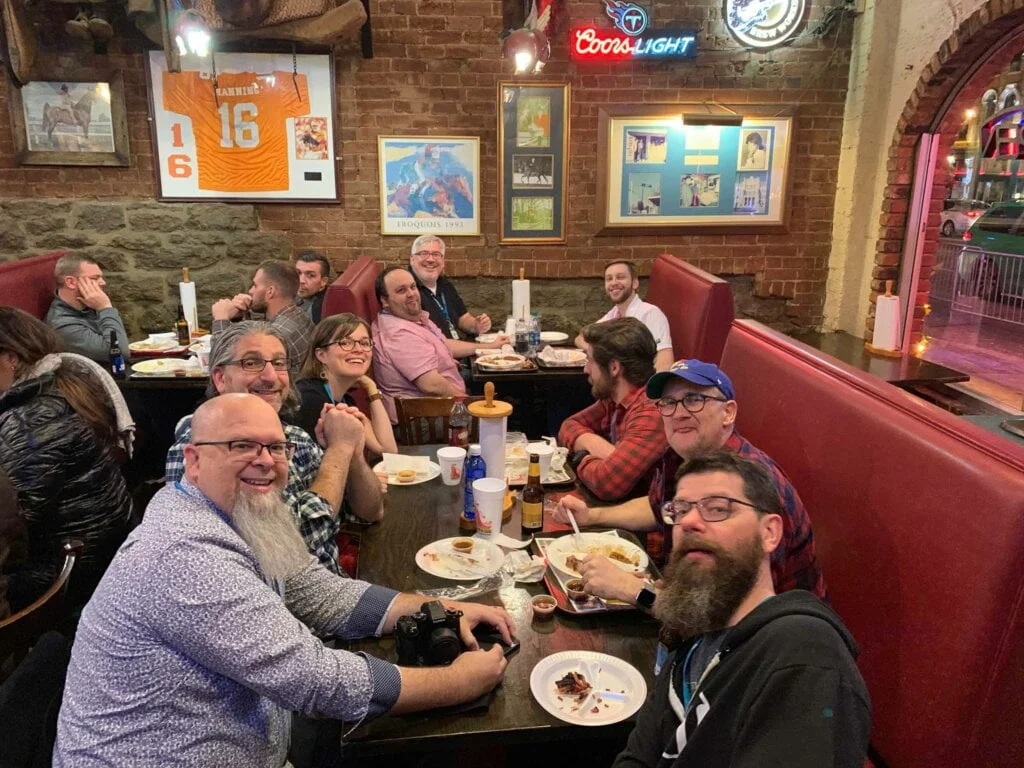 So we walked in the extremely cold weather, it was probably in the high 20's nonetheless it was cold all the way back to Steve and David's hotel. We get there and Steve gives me a Vintage Fedora from the 70's and I am in LOVE! If you know me, you know that I am a FEDORA guy, I love my Fedora's and almost always have one on. It's just what I do and who I am. Here is a sneak peak of it. I love this Fedora!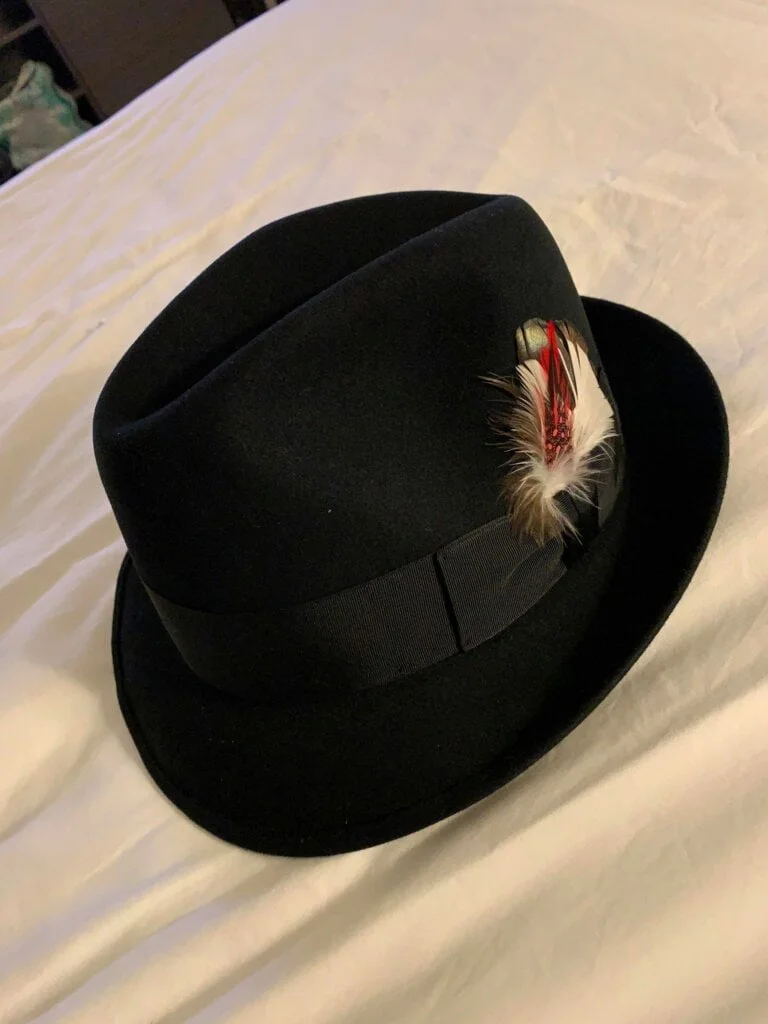 So now it's getting late and Jonathan and I decide to head back to our hotel which is a few blocks away and we get there and call it a night so we can be rested for the next day. If you know anything about WordCamp US, you will know that you will be walking a lot and on your feet a lot. That is just part of it.
Here it is Friday morning and the sessions have started. We get all of our swag out in the Sponsors room and then walk around and see what all is going on.  The talk of the day was Gutenberg and its new release. I think almost every conversation that morning, someone said something about it. When I attend WordCamp US, my favorite track is always the HALLWAY TRACK. I love to just meet new people and see where they are from and what they do. I can't help it, I am a people person! It is safe to say I do not know a stranger!
I stumbled upon the SiteLock booth and they were doing caricatures for everyone, well you know I just have to have one. I waited for almost an hour and line while talking with those in front and behind me and listening to what they did and why they attended this conference. Getting to know people is one of the best ways to build rapport and a solid relationship in my opinion. I enjoyed talking with this gentleman who was from out of town and he came just to see how WordPress could help his business.
It is always interesting listening to others stories.
After walking over this venue what felt like 100's of times the day was wrapping up and we went out with about 24 friends to a steakhouse off of Broadway Street. It was freezing outside and here we all are setting out on the patio of the restaurant with heaters in the air blasting heat at us. It was definitely a memorable experience to say the least.
Saturday morning comes around and I am solo now.  Jonathan had to get back to Alabama and it was just me today. I left the hotel to head the venue a few blocks away and it was so cold, not to mention it was raining/sleeting. I get there and get warmed up while replenishing our swag on the table. Then I head out to walk around and meet more people throughout the whole day. I met people from Germany, Romania, Russia, China, USA, and other places. It is amazing that a single thing like WordPress can bring people together from all over the world and help connect one another. That just amazes me each and every time that I attend a WordCamp. In total at this camp, I walked over 15 miles in three days and let me tell you, my body could tell it. Heck, I set on my butt behind a keyboard most days working.
In closing, WordCamp US was amazing and we got to meet people from all areas of life, parts of the world and build relationships with them. I do not know anything that could be any better than that. I am looking forward to WordCamp US that will be held next year in St. Louis, MO on November 1 – 3rd, 2019.
Until next time, Have an amazing day!
Mickey E. Trivett – Chief Happiness Officer at KnownHost, LLC.