How to Check KnownHost Reviews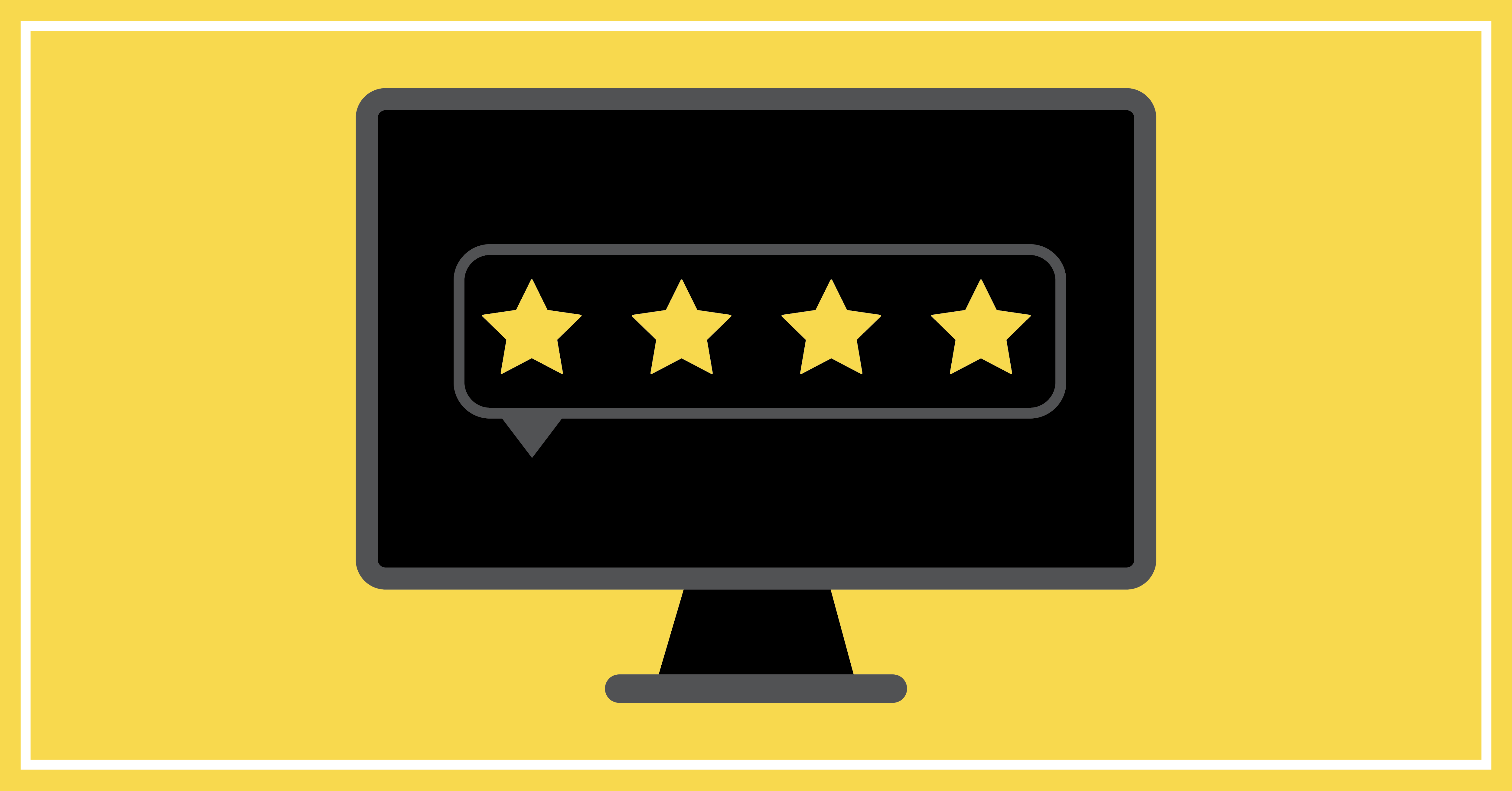 Updated October 13, 2020
The time to check web hosting reviews, such as KnownHost reviews, is before you make a purchase decision – not after. KnownHost reviews are abundant, positive, consistent and with a long history. Learn how to check reviews so you can have well-placed faith that your choice of web host KnownHost is a good one.
The internet has dozens of popular web hosting services to select from, each offering a different price point, ranging from cheap to expensive. But if security and performance matter more to your business than prices, you may want to dig a little deeper to know what each company is truly made of. This means doing a background check on the company in question to establish their experience, professionalism, offerings, customer service, reference and so on.
If you value quality more than cost, you may want to check out reviews of KnownHost, a company you can depend on – all day, every day.

KnownHost
Since its launch in 2005, KnownHost, a US-based hosting company, has been offering high-quality solutions to its diverse clients across 150 countries. With four data centers on the US West Coast, US East Coast, Central (Texas) and Amsterdam, NL, it is one of the most sought after hosts, period.
The company provides fully managed high-performance VPS and dedicated server hosting, guaranteeing high availability, fast connection speed and plenty of storage space. These are the kinds of resources you should be looking at if you heavily depend on your website for sales or communications – for your peace of mind. If you are getting all these from a hosting company, you can shift your focus to what matters most, which is running your business and taking care of clients. Otherwise, you'll always have worries about your site's availability whenever your clients want to use it.
Boasting
KnownHost has a lot to boast about. We'll stop now and leave you to read through the website server specs, check our blog, wiki and forums for helpful information and read the reviews of others to see how we've done.
Boasting is just that – you cannot just take our word for it and run with that… You need to do a bit of due diligence with any important decision. We suggest reading reviews from different platforms to see what the industry experts think of KnownHost (or other prospective host). This will give you greater insight into the company.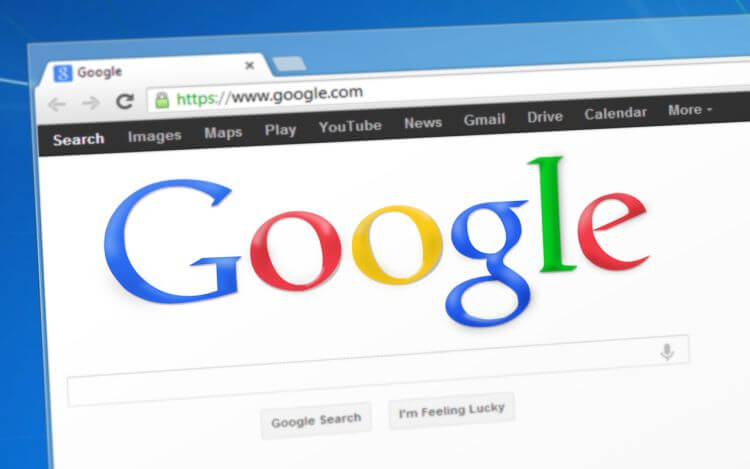 Simple How-To
Go to Google. In the search box type: KnownHost reviews
You will find dozens of sites with reviews. You may find some company owned and operated web properties, including the company Facebook account where reviews can be found.
A simple search will reveal dozens of results of the same – you can choose to sample a few review sites, or go through the whole thing. But if you don't want to go through all that hustle, then here is a summary of the results (below).
Note: If you only see 5* out of 5*, or a rating of 10 out of 10, you may want to take them with a grain of salt. If they're too good to be true, maybe they aren't.
Example Reviews and Sources

Review Site #1: Hostadvice.com
Rating: 8.8/10
A majority of Hostadvice.com reviewers love KnownHost – One user praises the company for an A++ support/service. According to the user, the support team at KnownHost made it simple and assisted him in choosing the best WordPress hosting for his business. Another reviewer says that the company has all the essential elements for offering an exceptional hosting experience for clients. One user who has been with the company for 12 years says that nothing does it better than KnownHost, because he hosts more than 50 of his sites on the company's server. But there are also a few users who think that the company's customer support is a little bit off. You can click here to view these and more reviews from Host Advice.

Review Site #2: Whoishostingthis.com
Rating: 9/10
Whoishostingthis.com gives an overview of KnownHost through the eye of experts and customers. It also compares the best KnownHost hosting plans and their prices, as well as provides answers to the most frequently asked questions about the company. Check out KnownHost's user and expert reviews here.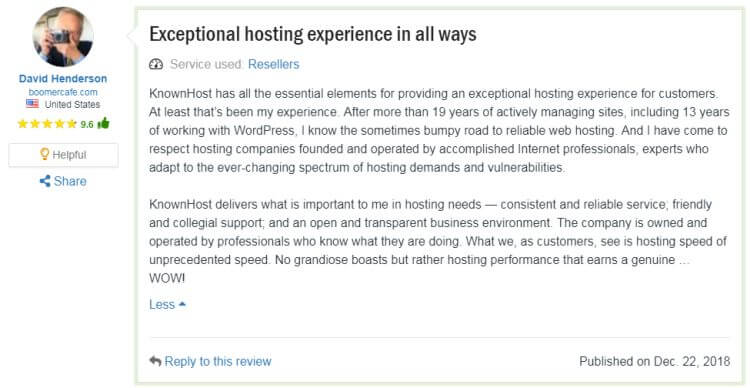 Review Site #3: G2.com
Rating: 9.8/10
G2.com highlights the user experiences working with KnownHost. There are few places you can learn more about a company than from its previous clients. Often, these people have the firsthand account of the company because they once worked with them. G2.com reviewers also love KnownHost, and they have poured it all out on the platform. On great thing about G2.com is that it prompts the clients to say what they liked best about the company, what they didn't like about the company, whether or not they can recommend the company to others and the kind of business problem the client is solving with the services (along with the benefits). So you are sure to find excellent information here.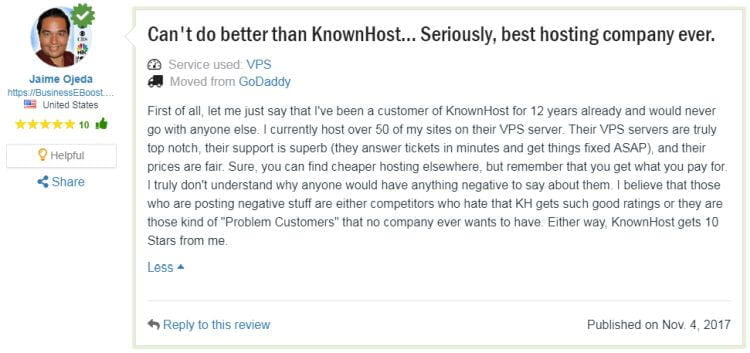 Review Site #4: Trustpilot.com
Ratings 8.6/10
From excellent responsive help desk to better than excellent solution reviews, users at Trust Pilot pour their hearts out in favor of KnownHost. Find out more about what these reviewers are saying about the company here.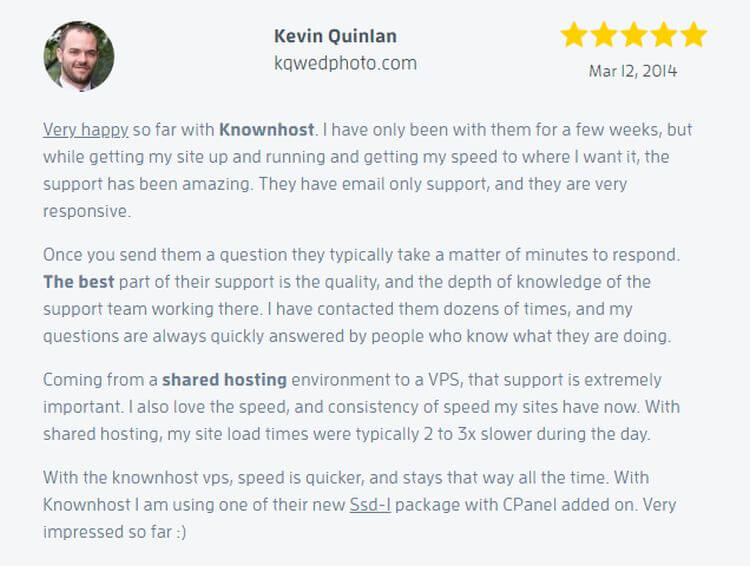 AdditionalReview Sites: (MANY)
Not only does KnownHost get reviewed and talked about by customers, but by review companies that look into what KnownHost is all about. Just check out this one from webhostingsercretsrevealed.com!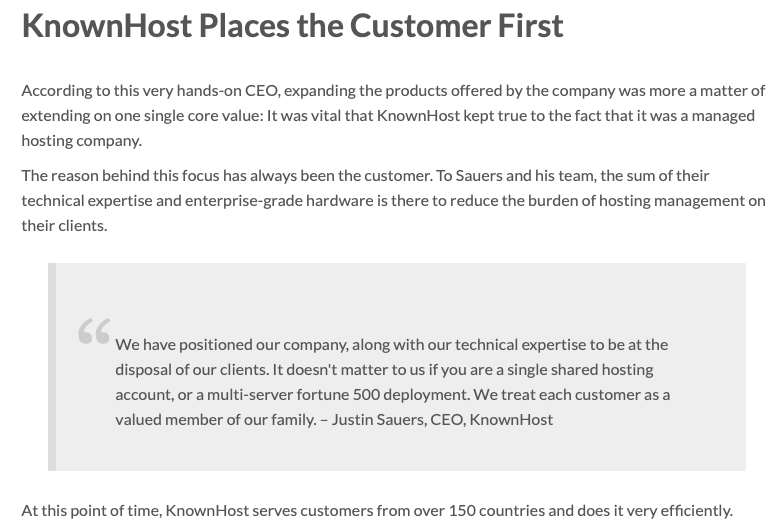 Conclusion
Know the facts before you take action, like choosing a hosting company. Don't rely on reviews from a single source – instead check several. KnownHost has a great history of massively positive reviews. Knowing this, you can rest easy before signing up for a hosting account.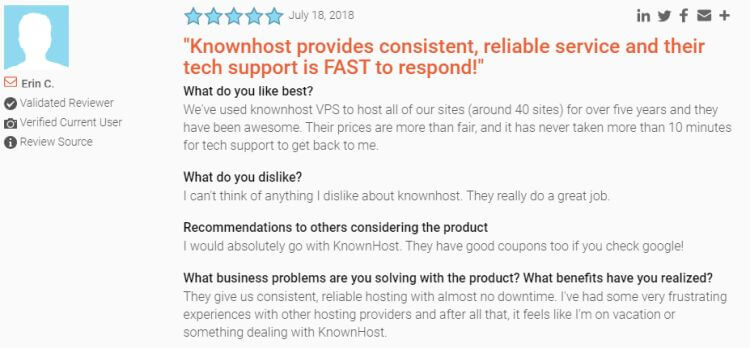 Looking for more? Check out THIS ARTICLE on hostingadvice.com!