VPS Management Portal Overview
With all managed and unmanaged VPS servers, KnownHost provides the ability to manage that portal from within your My KnownHost. This interface allows the customer to have more precise control over what they can do with their virtual private server. We provide so that customers can make adjustments on their own and review their server configurations.
To access this panel, you'll want to do the first two steps:
First, login to your account at https://my.knownhost.com
Once logged in, select the "Manage" button beside the VPS you want to manage.
This will bring you to the management interface for that virtual server, where you will proceed to click "Control Panel" like the following image shows.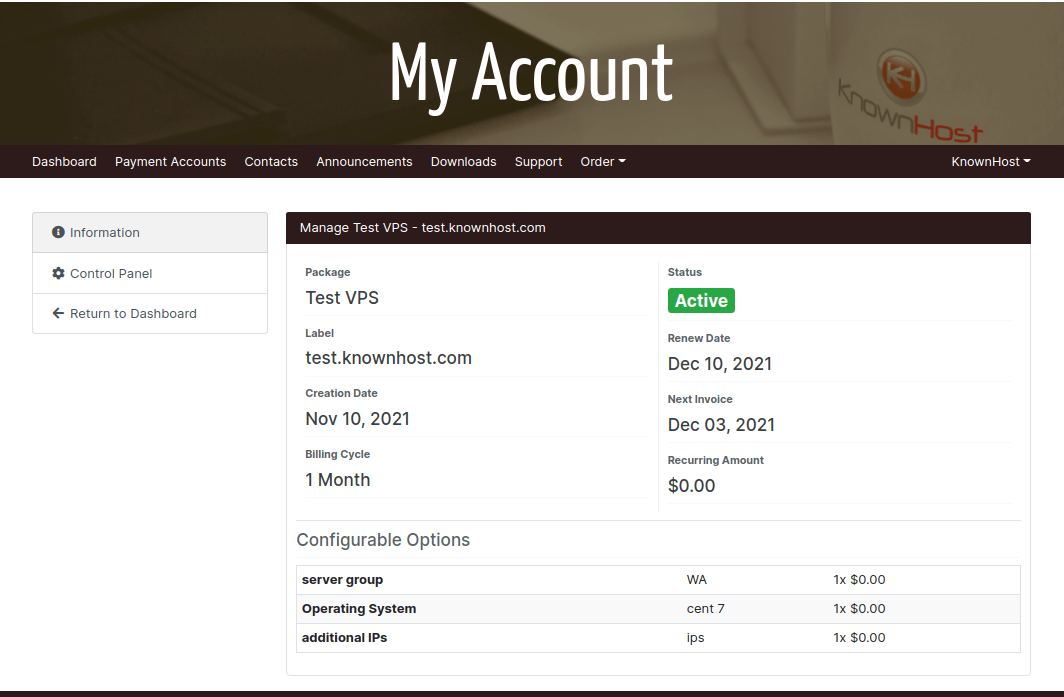 Clicking the "Control Panel" will bring up the virtual server management portal for the VPS you're currently managing.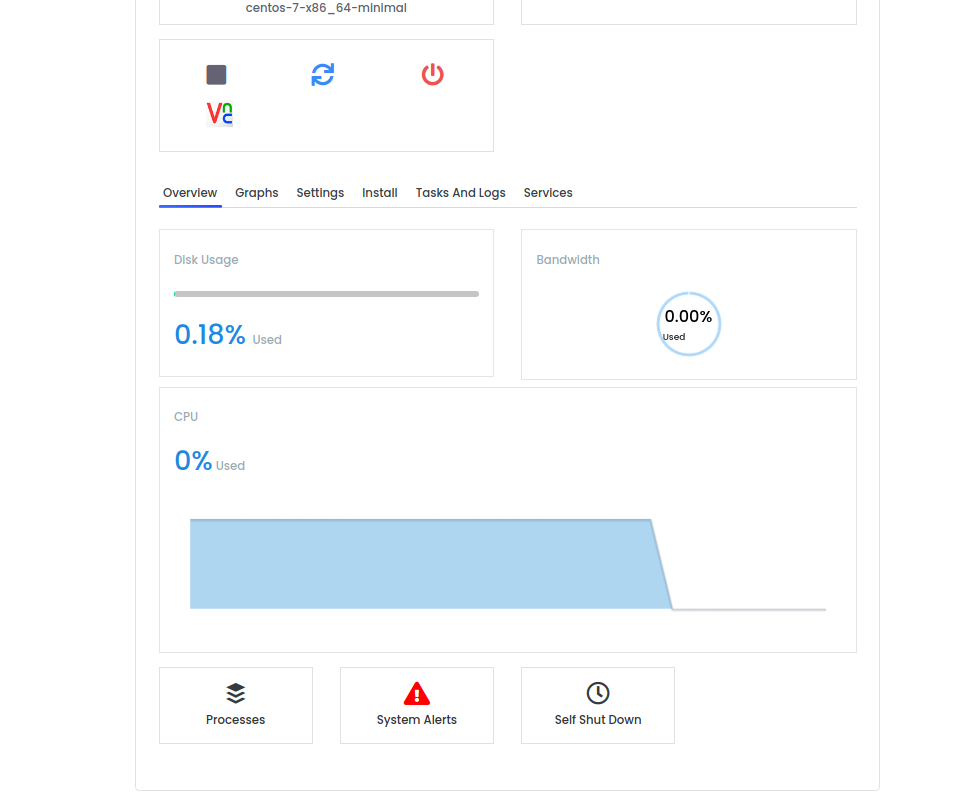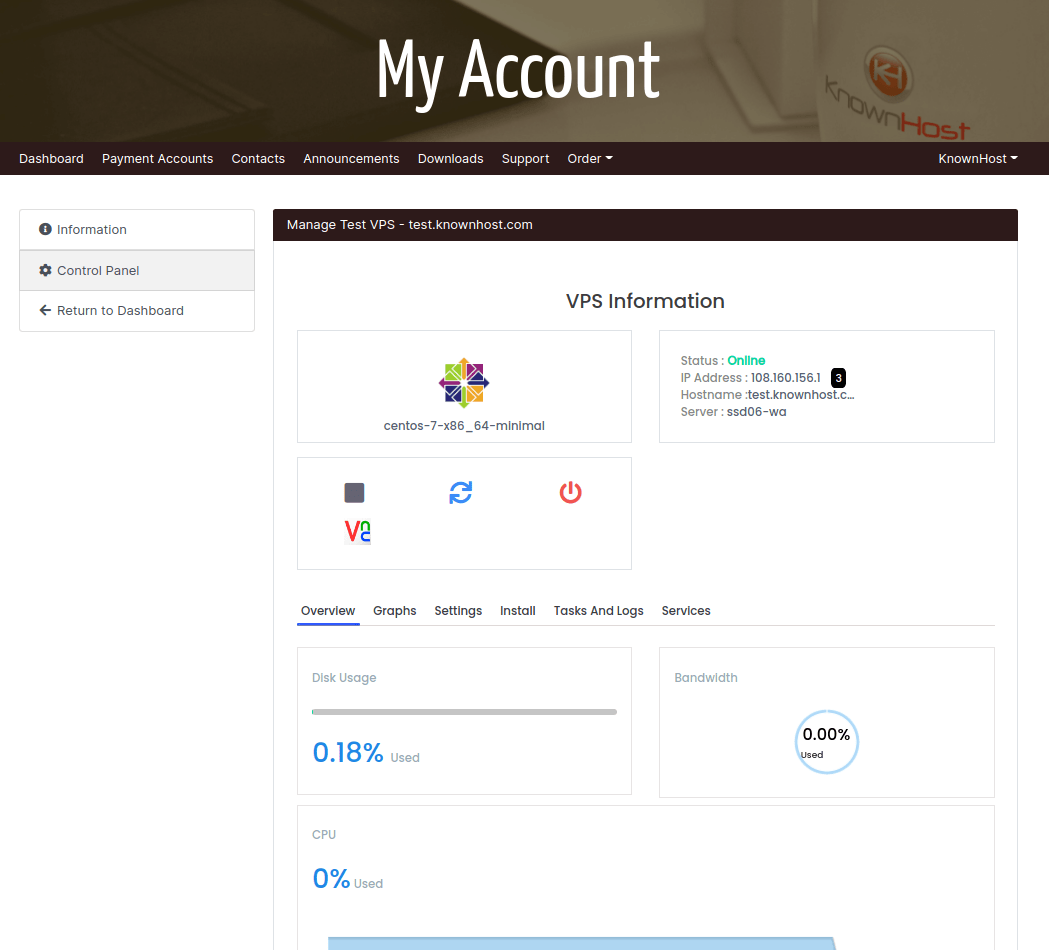 The initial information you'll see related to the VPS will be the current operating system installed, it's IP Address, Hostname, operational status and what node that server resides on.
Quick Actions available:
Start/Stop Server
Restart Server
Shutdown Server
Access server VNC Console
Overview
The overview section provides the general information regarding your VPS. This information is provided as a "glance" at the current metrics of your VPS.
Disk Usage: Current percentage of disk space being used
Bandwidth: Current percentage of bandwidth that has been used.
CPU: Current percentage of available CPU being used.
Additional sections of this Overview is providing you with
Processes: Allows you to see a list of current running processes on the server.

Provides the ability to kill specific processes

System Alerts: Provides a glance into system stats at periodic checks. Can show critical system alerts, if any
Self Shut Down: Allows the user to set a timer to schedule a shutdown
Graphs
This section of the virtual server management interface provides you with two sets of statistics.
Bandwidth Statistics
System Statistics
The Bandwidth Statistics section provides you with a graph of the bandwidth used for the current period, a per-month usage and your current network speed being utilized.
System statistics provides you with graphs for CPU, RAM, Disk, Inodes, I/O and Network information.
You can check out our "Reviewing VPS Statistics" article for more information
Settings
The settings section allows you to perform tasks in relation to the virtual server itself, tasks such as:
Changing the Hostname
Changing the root password
Adding SSH Keys
Accessing VNC Console
Accessing Serial Console
See our "How to manage VPS Settings" article for more information.
Install
The install section allows you to "Reinstall" your virtual server with an operating system of your choice. This section is more intended for our unmanaged customers to utilize so that it gives them additional flexibility
See our "How to Reinstall VPS operating system" article for more information.
Tasks and Logs
The last section here provides a detailed logging of actions performed by you within this VPS server portal.
Tasks: Actions performed such as starting/stopping server, changing password, changing hostname, reinstalling.
Logs: Provides timestamps and IP's and the status of the options that were performed.
Status Logs: Provides an incremental check against the server to determine whether or not the system was running, allowing you to see if at anytime the VPS had stopped.
Reverse DNS
This section allows for you to manage your Reverse DNS entries for the IP addresses assigned to your server.