How to Choose a Hostname?
Your server's hostname (host.domain.com) is the name of your server. Since all of your clients will be able to see it, you will want to be careful to choose the one you like. It is also worth noting that you can always change the hostname later. But there are a few things you need to make sure to check when doing so.
There are a few things to consider when choosing your server's hostname.
---
Have a Domain
The first thing to keep in mind is that the hostname will need to resolve. In order for this to happen, the first thing that must be true is that the domain it is based on must exist and be under your control. If you do not yet have a domain you would like to use for your server's hostname, you can still order your server with a temporary name and register a domain later, but it is strongly recommended to have a suitable domain as soon as possible.
You can visit KnownHost's domain registration and register yourself a domain name as per choice.
---
Use a Fully Qualified Domain Name
A FQDN is necessary for hostname. Once you have a domain, you would like to use for the server's hostname, you will need to choose a FQDN within that domain that is not used for anything else. Often, people will choose to use 'host' or 'server'. For example, if the domain being used is domain.tld then the hostname would be something like a host.domain.tld or server.domain.tld.
Part of this is to make sure the hostname will resolve to this server rather than to another server you might have with the same domain.
---
If you are using cPanel/WHM when changing hostname from Networking Setup → Change Hostname, you'll get pretty decent information regarding choosing hostname for your cPanelWHM server.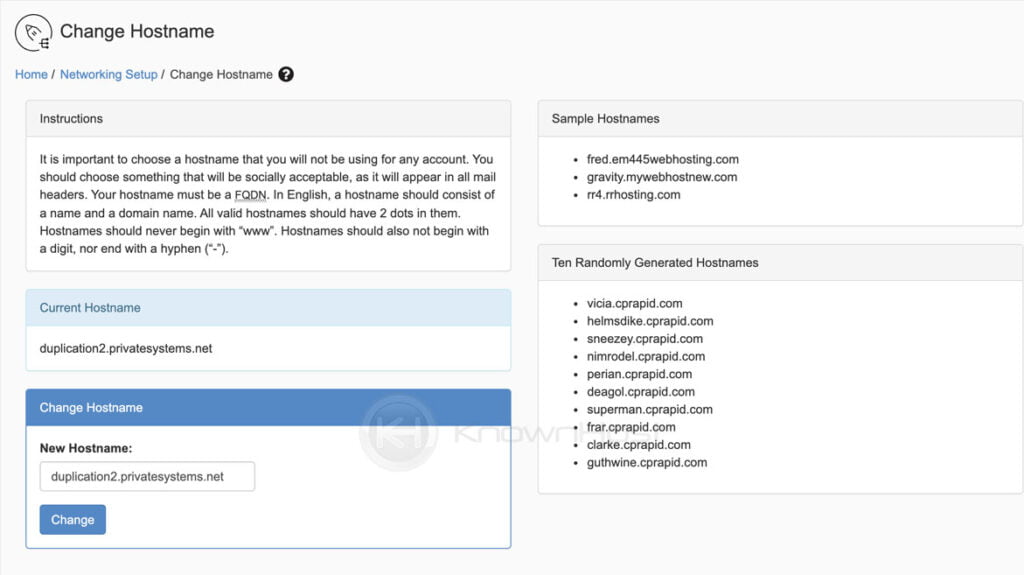 ---
Conclusion
Now that we've gone over how to choose a hostname for your server. We have covered informative guidance on selecting a perfect hostname for your server, along with pre-steps to consider before selecting a hostname for your web server.
KnownHost offers 365 days a year, 24 hours a day, all 7 days of the week best in class technical support. A dedicated team ready to help you with requests such as adding new password protected directories; should you need our assistance. You're not using KnownHost for the best webhosting experience? Well, why not? Check with our Sales team to see what can KnownHost do for you in improving your webhosting experience.