JetBackup is a pioneer backup solution in the hosting industry for cPanel & DirectAdmin. Providing the ability to perform local and remote backups to various destinations quickly and efficiently. When it comes to data retention, you want to have a solution that gives the most configuration options possible. Don't find yourself in a position without backups for critical data.
How does JetBackup work?
JetBackup works by providing the tools necessary to generate backups for your accounts whether you use a panel or not. Providing options such as full or incremental backups with varying options on whether you want all files or specifics such as:
Files
Emails
DNS Zones
CronJobs
Databases and database users
SSL Certificates
FTP Accounts
You can pick and choose what you want to backup, when you want and how. JetBackup provides extensive features to create a robust backup system.
Extensive Scheduling with various retentions
File/folder exclusion filters
Account filters
Hybrid Backups
Custom Hook support
Provides end-user interface on cPanel/DirectAdmin
All in all, if you're looking for a backup system that's robust, JetBackup is it.
Should I use local or remote backups?
When it comes to ensuring that your data is safe, never rely simply on local storage. You'll want to take advantage of remote backups. You should always have an off-site/remote backup location that your backups can be stored too. In the event of a local system failure, the remote backups will still be available.
An example situation being that if a server using JetBackup failed then JetBackup can be installed on the new server. It can then be re-connected to your remote storage service allowing you to restore directly from your remote destination. Getting you back into production quickly.
JetBackup has multiple destination options to perform remote backups directly to the destination. You could choose one or many remote destinations for a diverse retention. With proper retention settings, you can ensure that you have days, weeks or months worth of backups.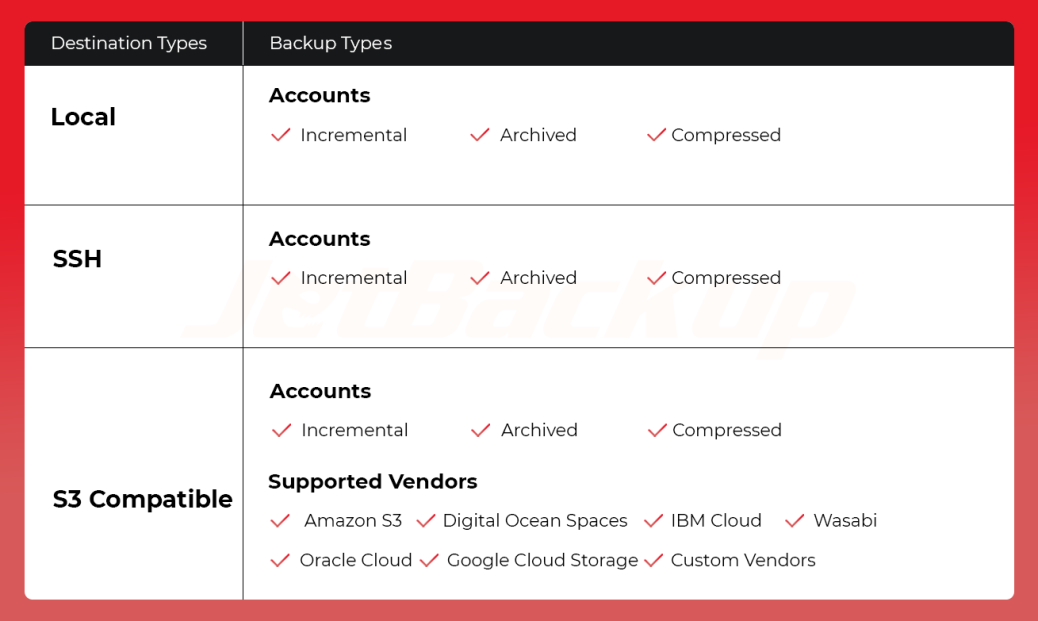 Conclusion
As websites grow and expand, it only makes sense to ensure a proper backup solution is in place. JetBackup makes this easy by providing you everything you need to create that retention needed. Priced competitively, allowing you to put in place your backup solution for your needs. Interested? Get with our Billing & Sales department for your Managed VPS, Cloud Server or Dedicated Server!