With the new system, the support portal is integrated into your https://my.knownhost.com account. There's no longer a need for two separate URLs or interfaces for KnownHost services – everything is now in one convenient location. This streamlines your experience, reducing confusion and eliminating the need for multiple logins.
Accessing your Tickets
To access your tickets, you'll want to login to your dashboard and access "Helpdesk" on the left hand side.

From here, you'll see your open tickets and the status that they're currently in. In addition to this, there's now a search feature that can be used to search for previous tickets in the event it's not easily locatable on the main ticket page.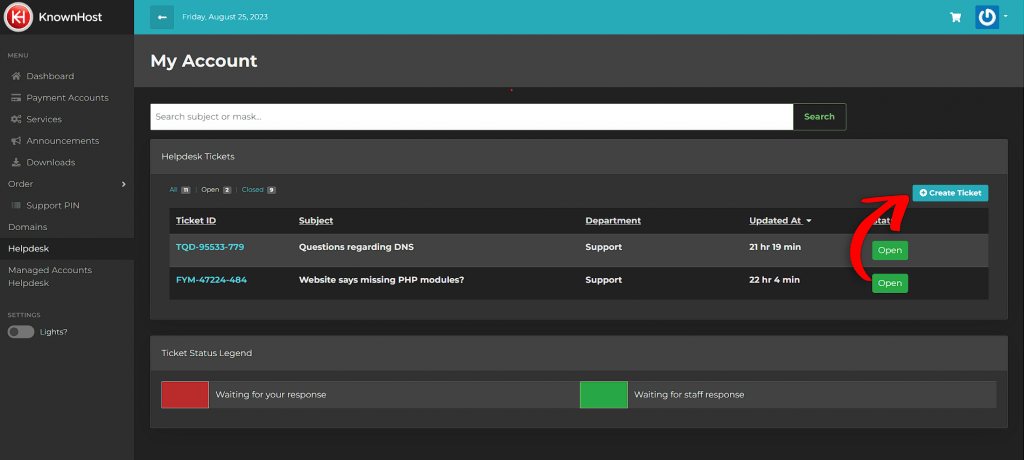 Submitting a ticket
To submit a ticket in the new system, simply click 'Create Ticket' and you'll be asked to specify a department

You'll then be asked to fill out information regarding your server to ensure accuracy on the service that you need support with.
Your name
Your email
Secure Form details (more on this below)
Services (A drop down to select the service you need assistance with)
Subject
Priority
Ticket body message.
Once you have your information filled out, submit the ticket and wait for one of our technicians to be assigned. You'll receive a response in little to no time at all.
Secure Forms
In an effort to ensure more consistency in securing user information, we developed a 'Secure Forms' system for our helpdesk that allows you to pass along sensitive information regarding your service with us without it being passed in the open.
This allows for information such as:
Description of the contents provided
Usernames
Passwords
Server IP's or Hostnames
SSH Ports
Data along important fields such as usernames and passwords is passed encrypted to the support technicians. Information submitted within our Secure Forms will be automatically purged after a set amount of time.
Filling out said information during the ticket process will allow the technician to assist you quickly in the event that such information is required.