How to Manage Organization on Accounts
Once a user has added you to their account as a 'Manager' — you'll be allowed to manage their account as well as their helpdesk depending on whatever permissions were set when they sent you an invite to their account.
The new system allows for easier managing of customer accounts and/or accounts that you may operate as a third party individual (developer, for example).
Accessing Managed Accounts
In order to access one of the accounts you've been invited to manage, you need to access the 'Managed Accounts' dashboard.
At the top right, click "Managers" from your dashboard

From here, you'll have a left-hand sidebar with the following options:
Invited Managers
Managed Accounts
<- Return to Dashboard
We'll want to click "Managed Accounts" which will bring you to a list of accounts you've been invited to manage.

Choose which account you want to access and it'll drop you into their My KnownHost account. Within here, you can manage their account as they've assigned you permissions to do so. When you're done managing their account, you'll have the following message at the bottom:

"You are currently managing an account that has invited you to manage it. Switch back to my account"
Clicking "Switch back to my account" will return you to your My KnownHost account.
Accessing Managed Accounts Helpdesk
In order to access your managed accounts support tickets, you'll need to access their helpdesk. When you're on your dashboard there will be a right hand side bar that has several options, the two helpdesk ones are:
Helpdesk
Managed Accounts Helpdesk

You'll want to click the "Managed Accounts Helpdesk" on the right hand side in order to access your managed accounts tickets. When you do so, you'll see the following page with your managed accounts listed.

You can then view their tickets by clicking "View" on the user you wish to manage. From here you can perform the following:
Read open tickets
Read closed tickets
Reply to open tickets
Submit new tickets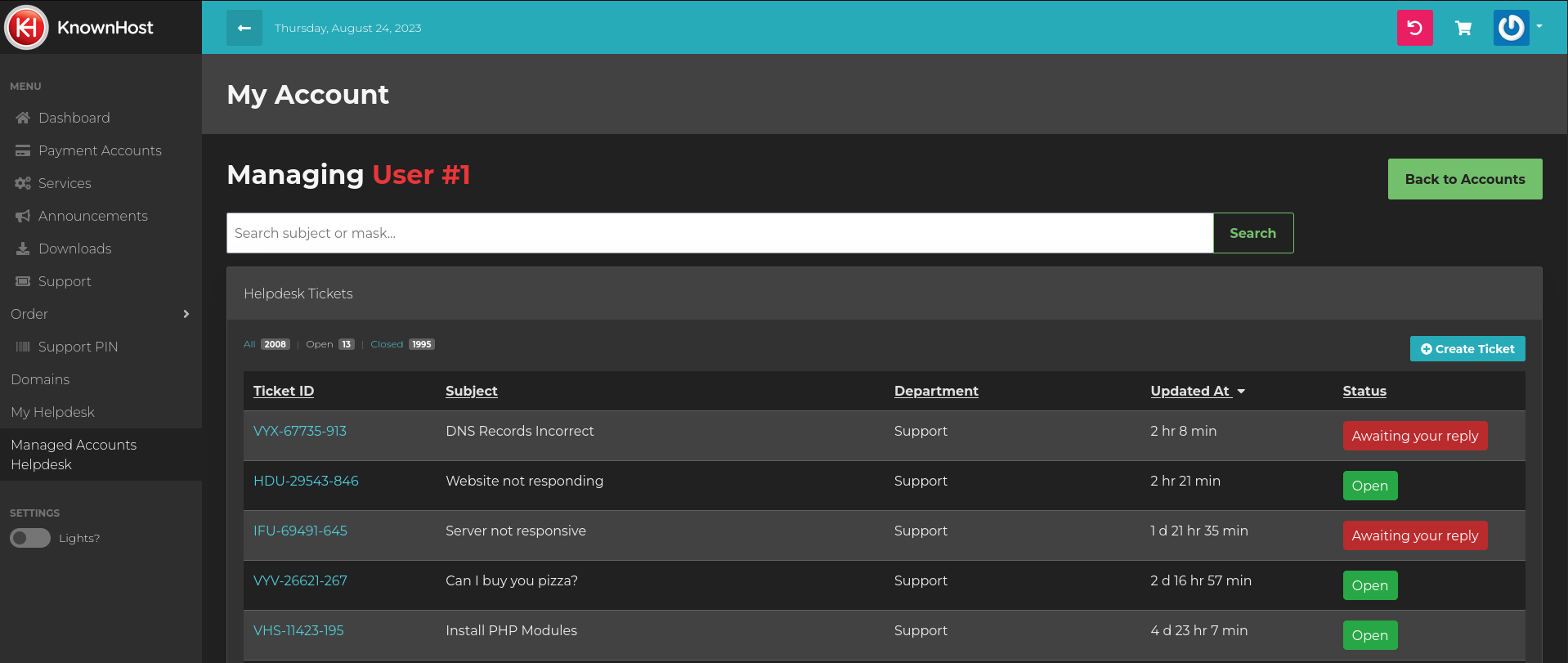 When done managing this users helpdesk, you can click "Back to Accounts" to return to your managed accounts helpdesk listing to either manage another accounts helpdesk that you have access too or return to the dashboard.