How To Start/Stop/Restart VPS
Client Portal VPS Control
From the KnownHost Client Portal, you have control over many core VPS actions. This article will cover all of the controllable actions.
From your Client Portal Dashboard click the "MANAGE" button for the corresponding VPS package.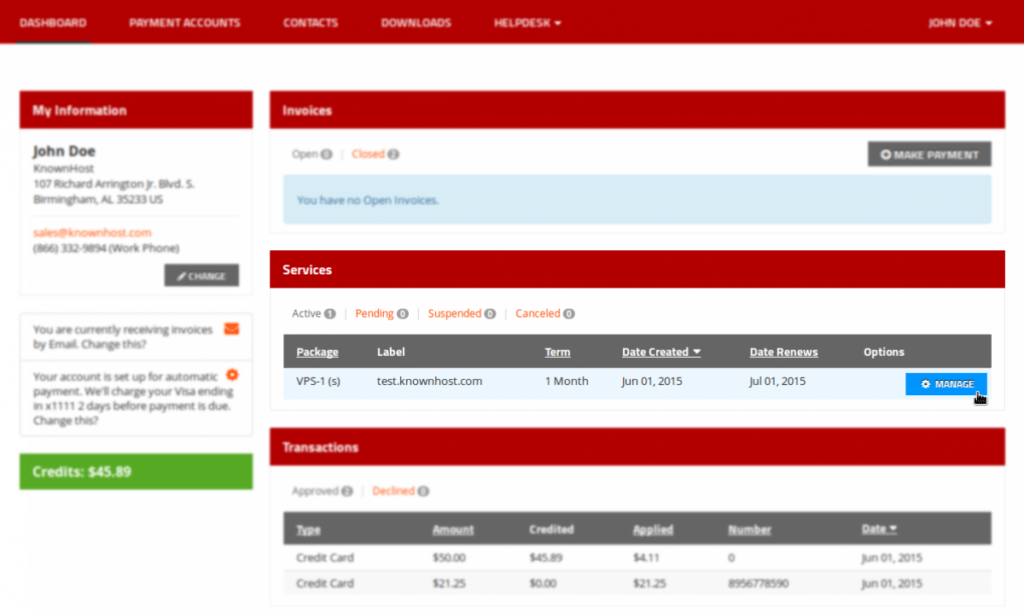 From the VPS Management portion of the Client Portal. On the left side, select the Server Actions option.

Proceed to the controllable action(s) that you wish.
Start/Stop/Restart VPS
You are able to easily Start, Stop, or Restart your KnownHost VPS from the Client Portal.
Note that it is not recommended to restart the VPS as a troubleshooting measure. Many issues can be made harder to find if the server is rebooted, and some of them can even be worse or cause data loss in combination with a server reboot. If you do have reason to reboot the server, you should do so only once. If the server does not come back after the reboot, please open a Support Ticket. That being said, it would be better to open the ticket before (or, more precisely, instead of) restarting the VPS. It is always important not to do work in the server while a ticket is open that might interfere with the work being done in the ticket, but it is especially important not to reboot the server during the ticket.
If you do have reason to reboot, stop, or start the VPS, you can do so by following these steps:
From the Server Actions page of the Client Portal you have the options of Starting, Stopping, or Restarting the server.

Simply click the "REBOOT", "SHUTDOWN", or "BOOT" button from this page to initiate the corresponding action.
If the server is already running, the "BOOT" or "Start" option will be disabled. This is also the case when the server is "Stopped", with the "SHUTDOWN" option.