How to Take Full Backup using Backup Wizard in cPanel?
Keeping a copy of the backup is a healthy habit, at least for your data. Also, while performing a migration from the current hosting service, you must know How to take a complete backup of your cPanel account, which includes everything: Files, Emails, Databases, Filters, Blacklist IPs, FTP accounts, etc.
cPanel offers Backup Wizard utility through which you can take complete cPanel account backup with just a few clicks. Through the same interface, you can quickly restore cPanel account backup.
---
1. Log in to cPanel using Username & Password. i.e; (https://yourdomain.com:2083 or https://yourdomain.com/cpanel)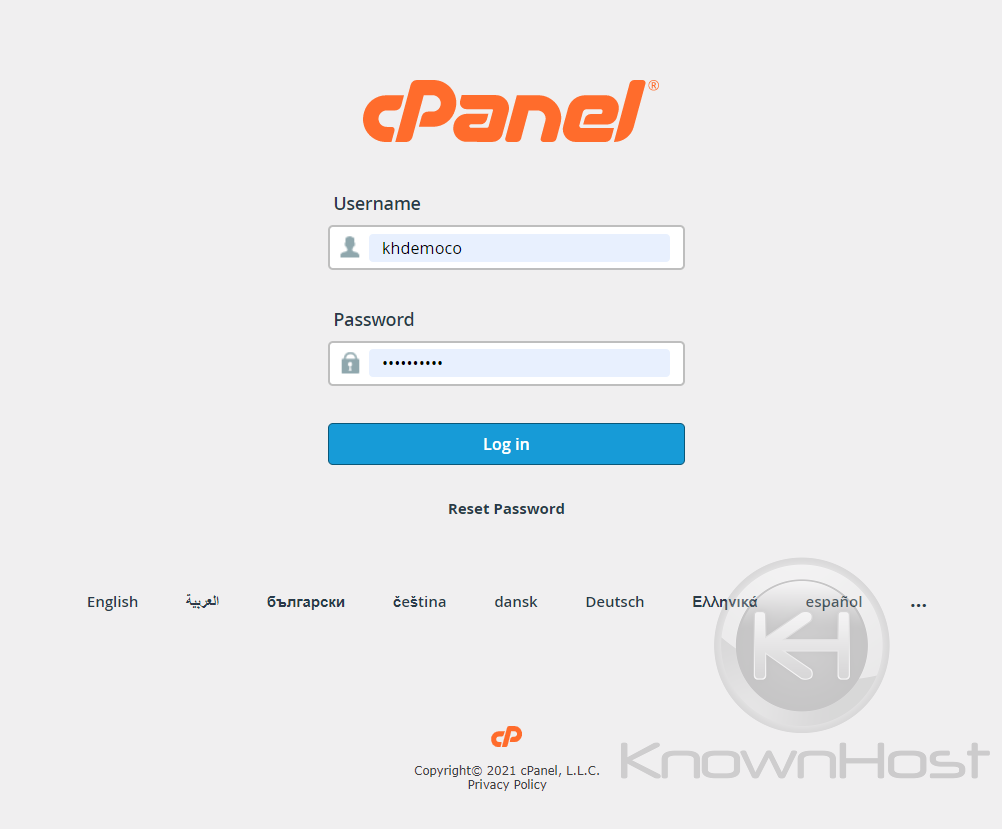 2. Navigate to Files → Backup Wizard.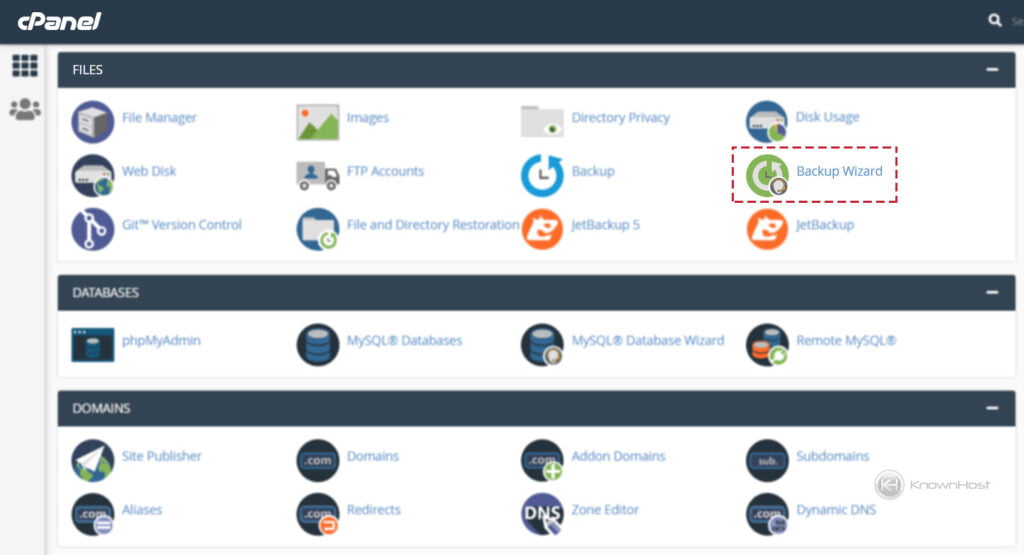 3. Now click on "Back Up" to get started with the backup process.

4. cPanel will ask you whether you want "Full Account Backup" or "Individual Backup" of Home Directory, MySQL Databases, Email Forwarders & Filters. For this article, we will go with "Full Account Backup" which includes everything present on cPanel (Database, Emails, Forwarders, etc).

5. Select "Backup Destination", where you would like to keep the newly generated backup file. For this example, we will select "Home Directory" as Backup Destination. Enter the email address on which you would like to get a notification after backup completion, or you can select "Do not send email notification of backup completion" → Click on Generate Backup.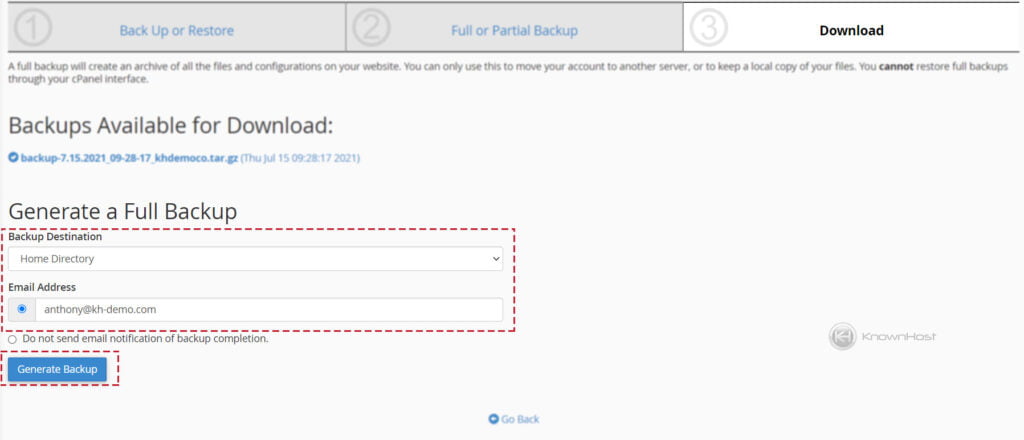 (Optional) Suppose you select Backup Destination as Remote FTP Server, Remote FTP Server (Passive Mode Transfer), or Secure Copy SCP. In that case, you need to specify the requested details such as Hostname or IP Address Username, Password, Port, Remote Directory Destination.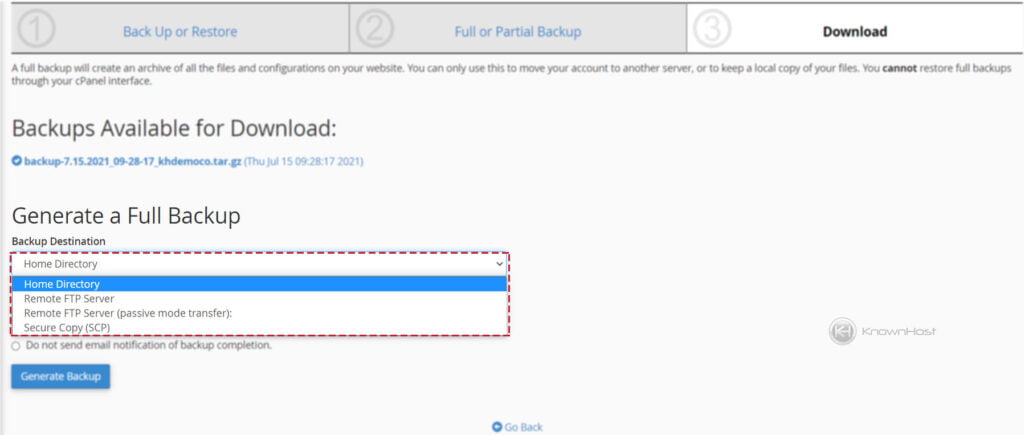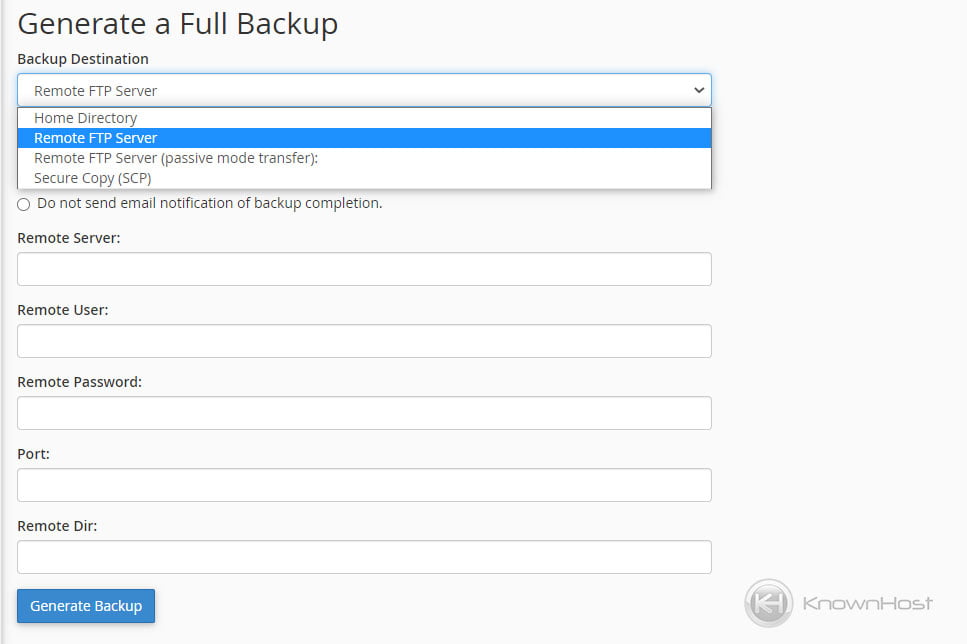 6. Once the Backup Copy has been generated, and you can find that copy at your "Backup Destination" location.

---
Additional Information
Have you considered utilizing remote backup space for off-site backups?This would allow you to keep your backups in a remote location in the event you experience some sort of failure. KnownHost offers Remote Backup Space for this exact purpose, check out our Remote Backup Space. It works great with the Remote FTP Location option for cPanel's backup wizard.
Conclusion
Now that we've gone over how to take complete database backup using the backup wizard in cPanel. You should be able to take cPanel's full account backup, which includes everything available on the present cPanel. Having a disaster recovery plan with backup copies can always keep you on the safer side.
KnownHost offers 365 days a year, 24 hours a day, all 7 days of the week best in class technical support. A dedicated team is ready to help you with requests such as creating account backups should you need our assistance. You're not using KnownHost for the best web hosting experience? Well, why not? Check with our Sales team to see what can KnownHost do for you in improving your web hosting experience.