In 2022, KnownHost launched Google Workspace offerings for those who want a dedicated and centralized environment for their email and related operations. What better service to partner with then Google?
With KnownHost, ordering the service through us allows you to keep everything in one place for easy Billing. Paired with our support team for any assistance as necessary for the service provided.
Google WorkSpace has three different tiers of service at different varying amounts. Google handles the pricing on a "per seat" basis, as such you pay for as many seats (users) that you need.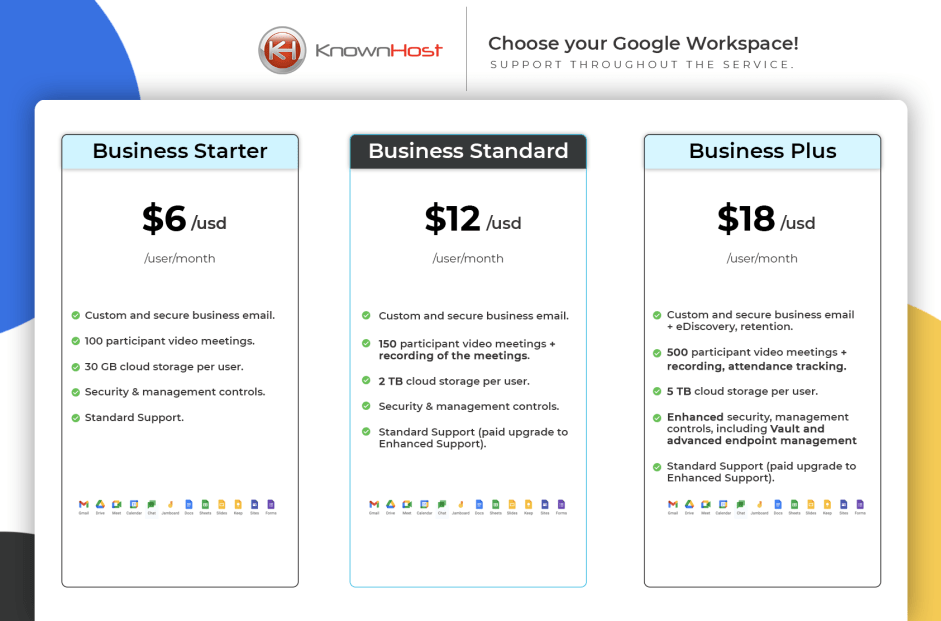 If you're interested in this service, go ahead and order now!
Getting Started
Now that you've decided to order a specific package, you'll be issued an email that will have your username and password to sign in to the Google Admin console and accept the Google Product Agreement.
First, you'll have to Verify domain ownership as one of the first steps. This involves using your domains DNS and setting a CNAME or TXT record, multiple options exist for this step.
Secondly, now that the domain has been verified, you will want to add new users so that everyone has their own email address/account.
Lastly, you'll then have to setup the MX records for your Google Workspace email. This is the final step to configuring your mail for usage.
The listed process above is roughly straight forward. Google gives you step by step instruction on how to go about it the entire time that you're logged in.
However, should you need assistance — KnownHost is here to help.
Other Resources
We recommend checking out Google's extensive Knowledge Base for their Workspace service.
However, we believe that below is some resources that may assist when it comes to self-servicing your Google Workspace account