How to view Disk Usage in cPanel?
cPanel offers multiple methods to check the current Disk Usage. This article will cover all the available options to check the current disk usage and how you can smartly manage the available data to free up disk space.

Lets get started!
---
Using Disk Space
To get proper disk space usage directory-wise, cPanel has its separate option called Disk Space. You can see the list view of directory names besides its actual disk space usage in MBs. This is quite an important tool to know more actually which directory is using the more space and get rid of unwanted files/data. Isn't that simple?
1. Log in to cPanel using Username & Password. i.e; (https://yourdomain.com:2083 or https://yourdomain.com/cpanel)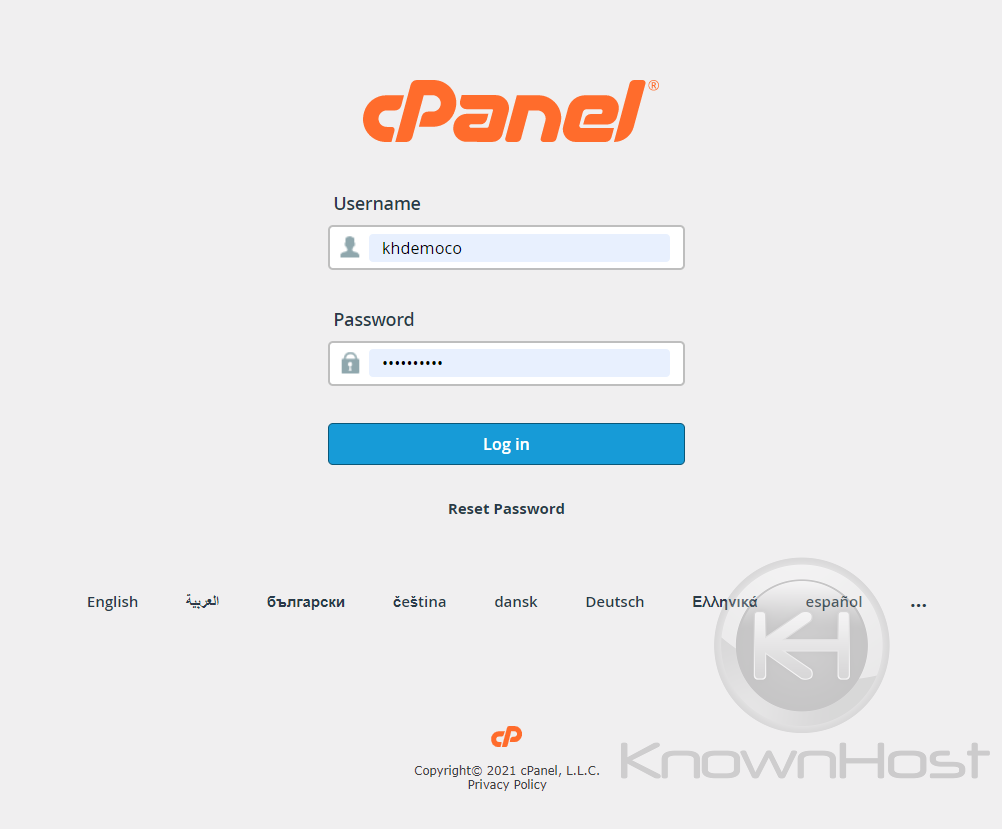 2. Navigate to FILES → Disk Space.

3. That's it! Here you can monitor the actual disk space usage directory-wise.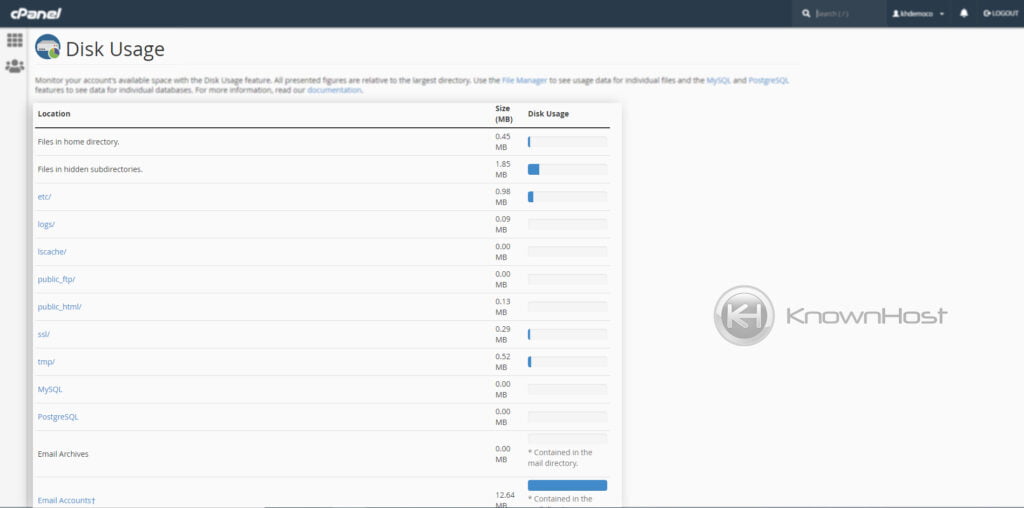 4. Furthermore, you can click on each directory to navigate to that location in the next window.
5. If you scroll down a bit, the same disk space in MBs, Bytes directory-wise, you can see it with Tree view.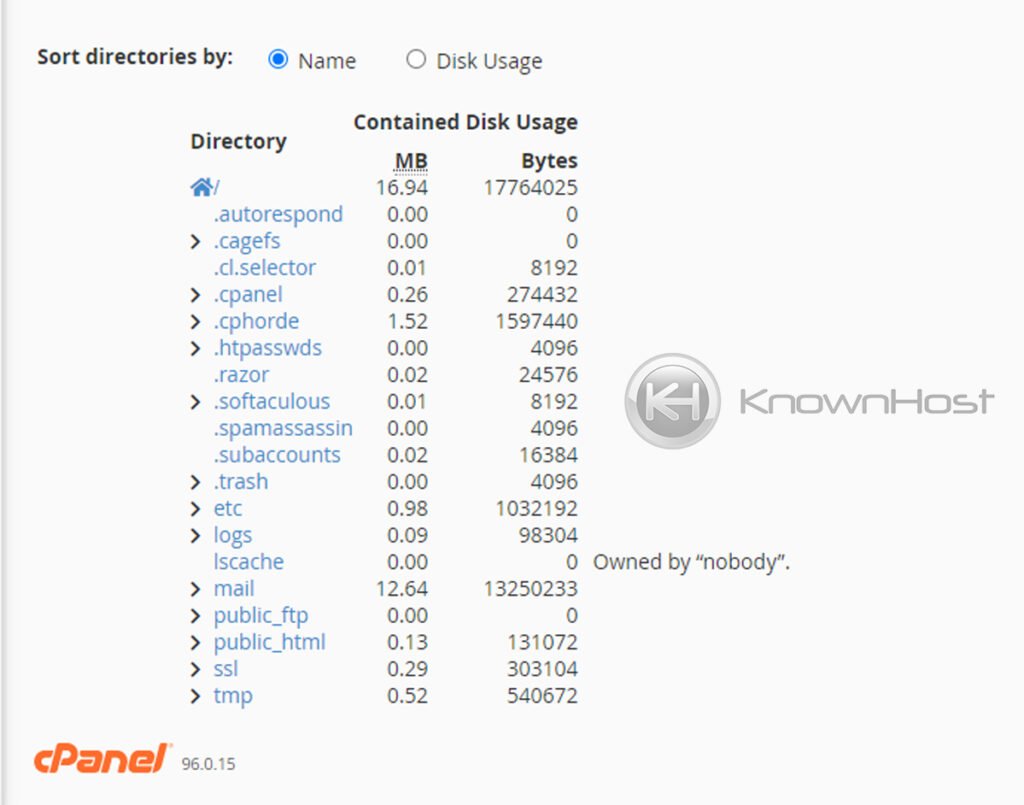 ---
Using STATISTICS
Most users use the Statistics information to know more about their actual disk space usage in MBs. This is the most accessible way to check out the present disk space and other parameters usage like RAM, IOPS, MySQL Disk Space, etc.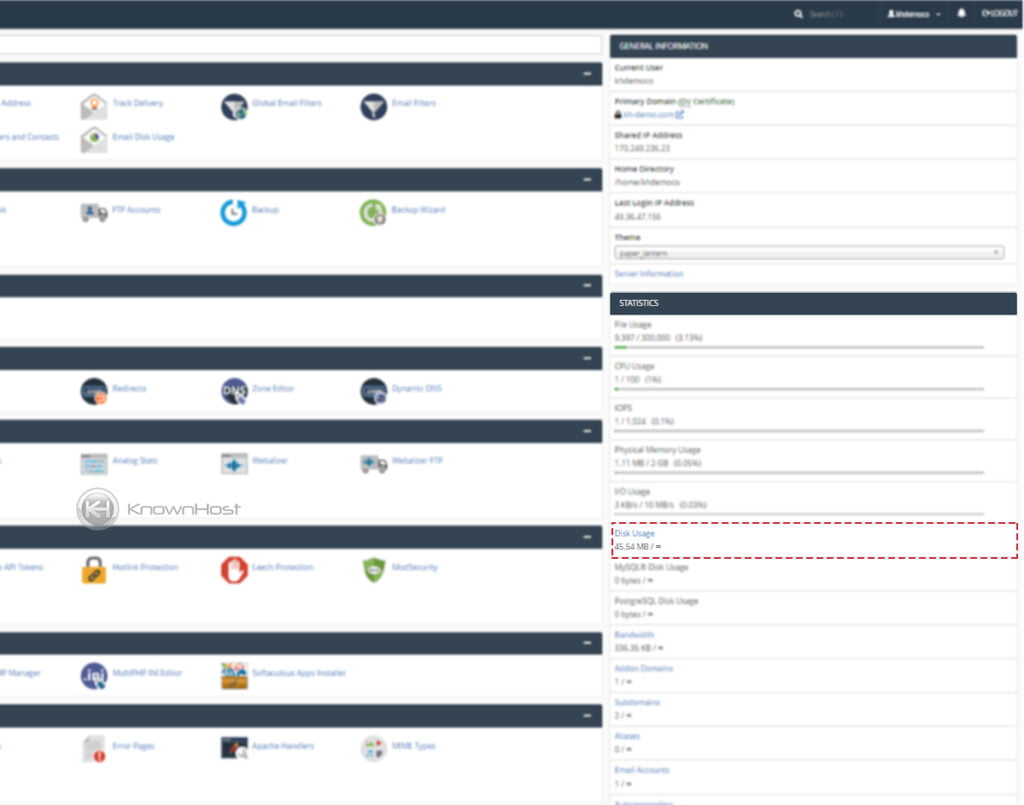 ---
Conclusion
Now that we've gone over how to check the disk usage in cpanel with two options. We have covered the individual option to check the disk space and the checking disk space from the statistics column. At KnownHost.com, we generally say TRACK IT – CLEAN IT.
KnownHost offers 365 days a year, 24 hours a day, all 7 days of the week best in class technical support. A dedicated team is ready to help you with requests such as creating MySQL databases and users, should you need our assistance. You're not using KnownHost for the best web hosting experience? Well, why not? Check with our Sales team to see what can KnownHost do for you in improving your web hosting experience.