How To Install Free Wildcard SSLs in cPanel?
We mostly use standard SSL, which covers the single domain name, and we have the second type that covers the unlimited domain names SSLs. In the cPanel, we can configure the free installation of wildcard SSLs with just a few steps. Let's learn How To Install Free Wildcard SSLs in cPanel?
---
Setup Wildcard Sub Domain
1. Log in to cPanel using Username & Password. i.e; (https://yourdomain.com:2083 or https://yourdomain.com/cpanel)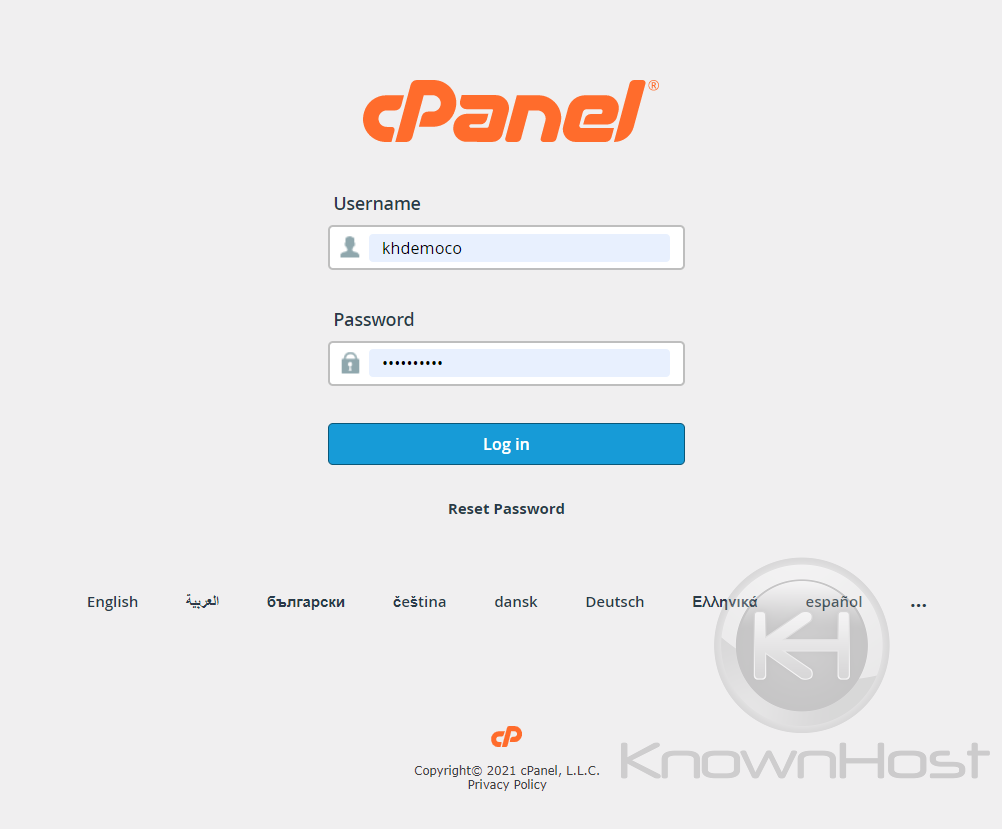 2. Navigate to Domains → Subdomains.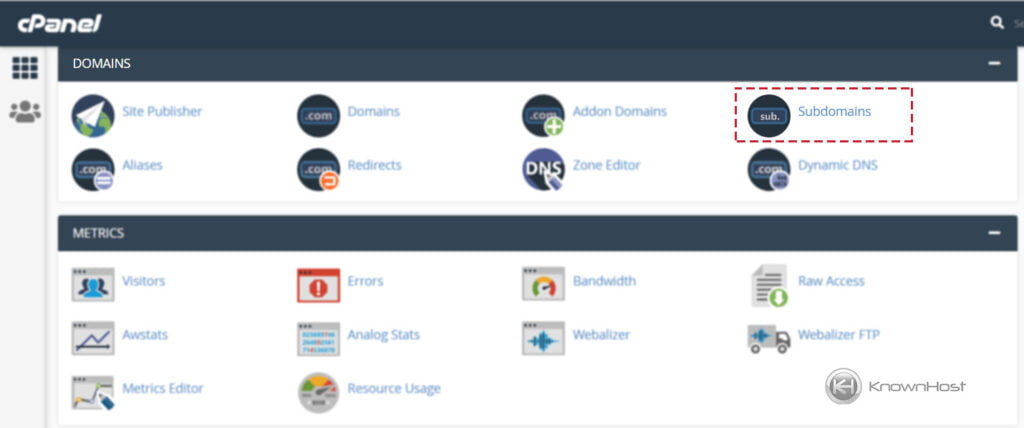 3. Setup the sub domain as shown the below image,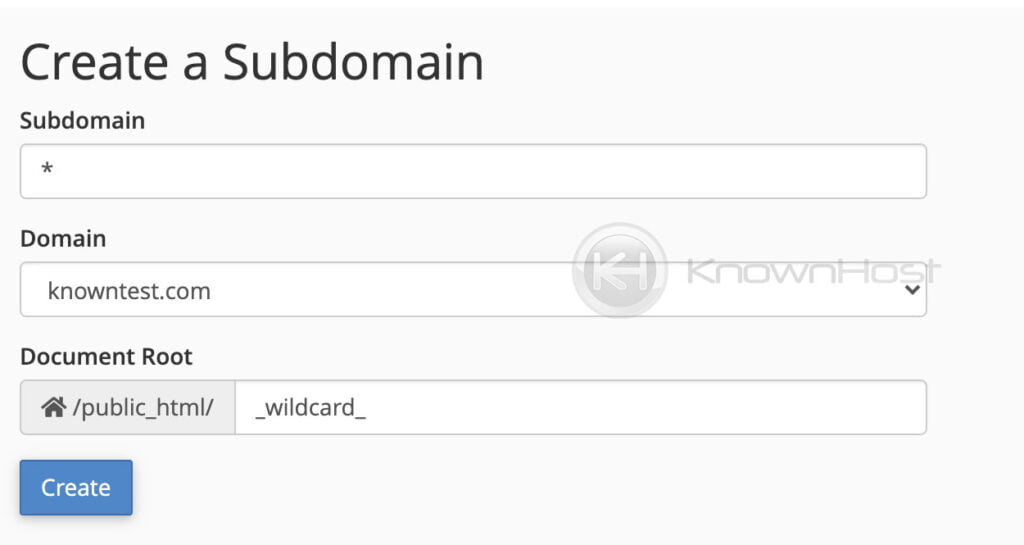 This will automatically create the necessary A record in the local DNS server. Note that this plugin won't issue SSLs for wildcard subdomains whose DNS is not hosted locally!
---
Enabling & Run Auto SSL
First and foremost, for automatic SSL installation, we have the Auto SSL feature available in the cPanel/WHM. Including SSLs powered by Sectigo, you can install the SSLs powered by Let's Encrypt. To install the Let's Encrypt SSL functionality of Auto SSL, run the following command as root,
/usr/local/cpanel/scripts/install_lets_encrypt_autossl_provider
Next, to enable the Auto SSL go through the following steps,
1. First, login into WHM panel,
https://your-domain.com:2087 or https://IP-address: 2087 or https://server-hostname: 2087.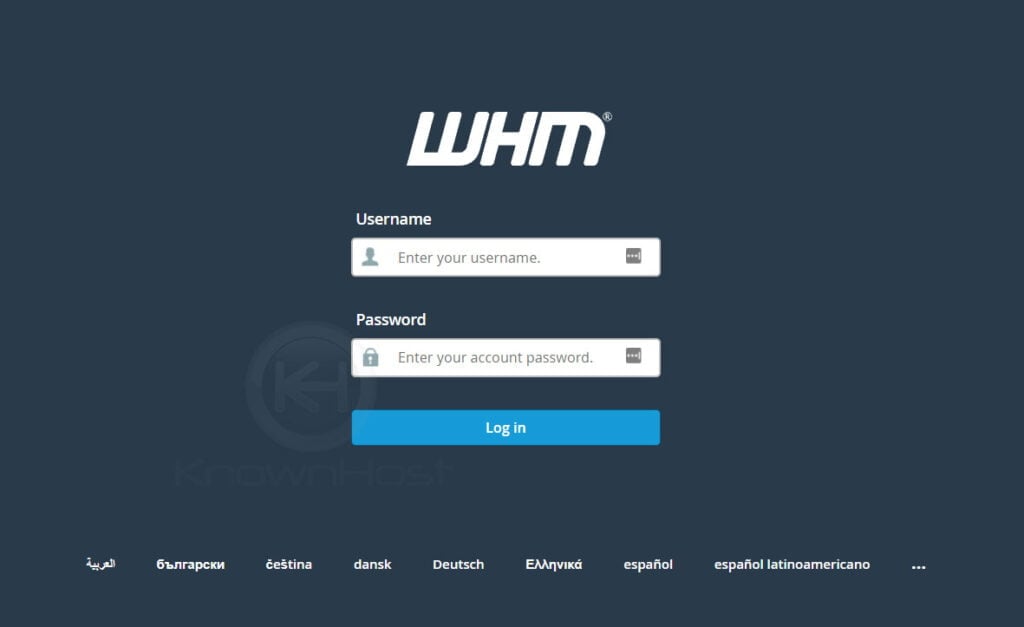 2. Navigate to SSL/TLS → Auto SSL.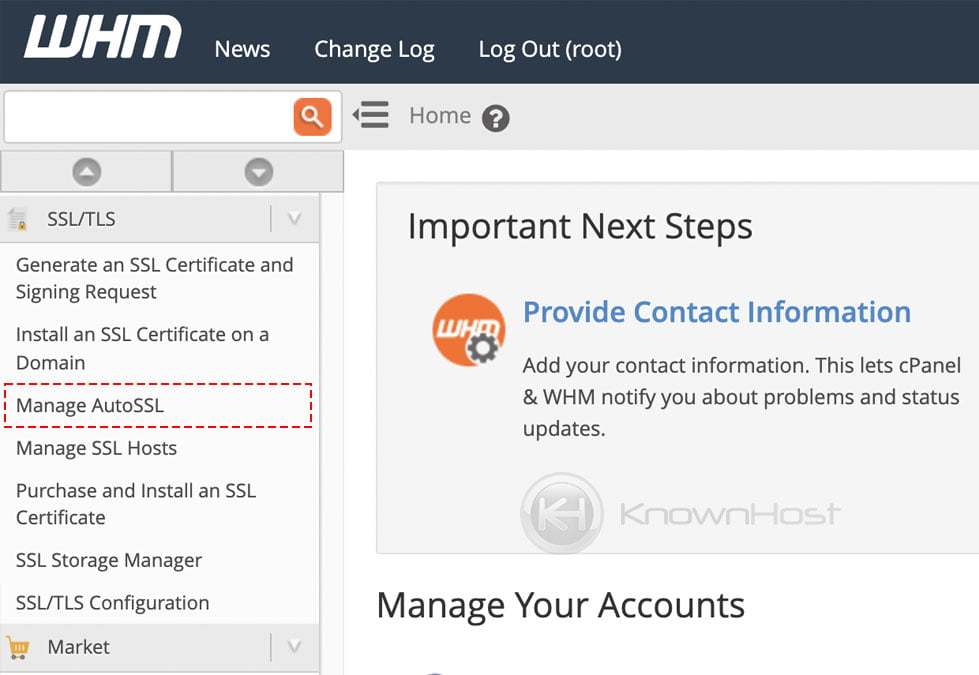 3. Select the SSL Provider → Click on Save.
4. Next, click on Run AutoSSL for All Users.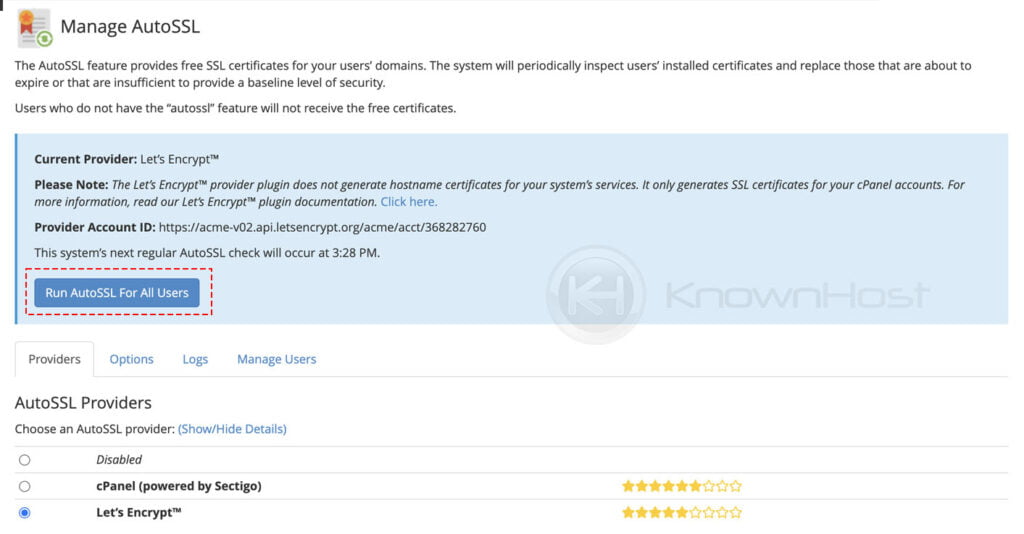 Now, cPanel/WHM will install the SSL certificate from the selected SSL provider for the newly available domain name under your cPanel account.
---
Conclusion
Now that we've gone over how to install free Wildcard SSLs in the cPanel account. Once you configure, this functionality cPanel will try to install SSL for all the available domains under a specific cPanel account.
KnownHost offers 365 days a year, 24 hours a day, all 7 days of the week best in class technical support. A dedicated team ready to help you with requests should you need our assistance. You're not using KnownHost for the best webhosting experience? Well, why not? Check with our Sales team to see what can KnownHost do for you in improving your webhosting experience.