We are proud to announce the immediate availability of Blesta licenses to all existing a new customers at a rate a $5.00 per month for a branded licenses, and $9.00 per month for an unbranded license. This is well below standard prices for these licenses adding yet another great benefit for our customers.
What is Blesta?
Blesta is a multi-purpose professional web-based billing solution, ideal for but not limited to web hosts. With Blesta you can easily manage clients, invoices, services, payments, and more! This fully featured solution is security conscious, developer friendly and not to mention easy to rebrand. Multi-Currency Billing.
Many users prefer Blesta to the commonly used system, WHMCS. In our own experience, we've found it to be a very stable, fast, and secure platform.
You can read more about Blesta on their website at
http://www.blesta.com
Unlike other licenses, there's no limit on the number of Blesta licenses you can purchase per service. One service for example could have 5 Blesta license addons resulting in 5 usable Blesta licenses or varying types and billing periods.
Purchasing a Blesta License(s):
New customers or existing customers purchasing new services will find the Blesta license option at the bottom of the order form under configurable options: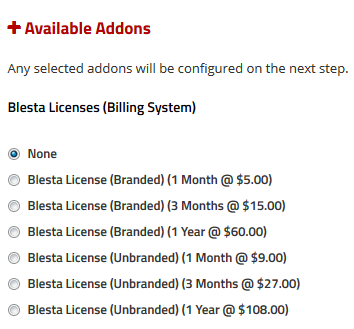 Existing customers can add it by logging in at
https://my.knownhost.com
and proceeding first to the manage service page:

From here move to the addons tab and click "add":

You're now presented with a dropdown which will let you select the type of license you want: