First off thanks to BAlGaInTl for the
original write up
on how to integrate with DirectAdmin. Much of how to do this is the same as BAlGaInT's post and you can accomplish the goal using his write-up as well but since it is a different control panel I thought I would make a post as well.
Google Apps
is an offering by Google to help out with a number of things most significantly (in my opinion) is email storage. With the standard (free) account each user (up to 100) gets 7Gb of storage. In addition to email there is also Google docs, calendar, a custom start page, and their Chat utility as well. Head on over there and read up on it if you'd like more information.
Sign up for a
Google Apps
account for your domain.
Once in the control panel there will be a link to verify ownership. I never even bothered to try the html route as the CNAME is very easy to do.
Log in to WHM and go to Edit DNS Zone. Select the domain you're adding Google Apps to and click edit. At the bottom you will find where to enter new records. Enter the random string from Google, select CNAME, and put in google.com. (have to have the period at the end).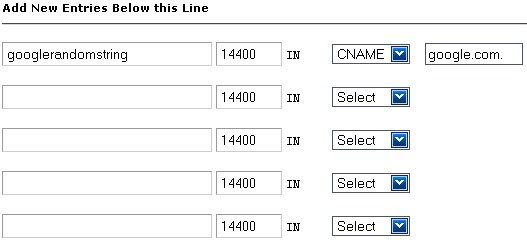 And then click Save.
On the Google Apps page click I have completed this step. At this point Google claims this can take up to 48 hours but I have always seen it happen very quickly.
I then customize/configure the services I want to use. Click the service name (Ex: Start Page) and configure it as you want. I like to give access to the services being used through subdomains as they are much easier to remember. As you go through and do this you will be told to add the CNAME to your DNS zone which you can do at that time or you can do all at one time. I use the subdomain "email" for email rather than "webmail" because cPanel has that one pretty well tied up, I'm sure it could be changed but I didn't find it worth the trouble to do so. Here is what I end up which sets up email.domain.com, start.domain.com, calendar.domain.com, and docs.domain.com.

Then we need to modify and add MX records so that email gets routed to the Google servers instead of locally. Click the link under Email to Activate email. This will give you instructions on how to modify your DNS zone. I modify my local MX to be higher than Google's. That way if there is ever a problem then my server will catch the email and when Google's come back up it will be spooled off to them. Local accounts can NOT exist for this work. If they do then when the email is received the system will spool it into that users inbox rather than spooling it off to Google's server when it comes back up. Here is what you should end up having (the order does not matter) note that the record pointing to domain.com has been changed to 40.

Once you click to save the DNS zone you will be informed that cPanel is not handling the email for this domain any longer. That's fine it's not supposed to be since we just changed to Google's servers.
You will also need to either add or modify your SPF record for the domain. Google gives you one but in order for your VPS to also be allowed do not use it. Here is what I have mine set to.

At any time during this process you can delete the googlerandomstring CNAME once the control panel shows that it has been verified.
Now simply create your users. By default they will be assigned a temporary password and will be prompted to change it at first login. You can instead assign a password for them if you know what it should be. At first login all users will also have to verify a CAPTCHA image.
Everything should be good to go now except for migrating everything over. I found that simply adding the new account to my email client (go to "Settings" and then "Forwarding and POP/IMAP" to enable) and copying emails over worked well although I did read posts of people trying to copy too much and it caused problems. I kept it to a max of 12megs at a time and didn't have any trouble.