How do I submit a ticket?
Please visit our KnownHost support portal at support.knownhost.com/ and then enter your login information to the left. Once logged in you can now click "Submit a Ticket" item to open a Support, Sales, or Billing ticket with us.
To open a Support or Billing Ticket, you must be logged into your Client Account before submitting. Only the Sales Department is available for non-client tickets.
To log in, simply provide your Client Portal login and password as shown below.

After logging in successfully, simply choose the Submit a Ticket option.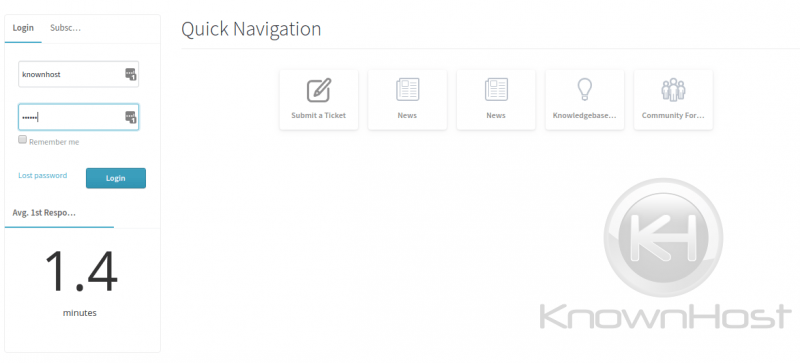 When providing the details in the ticket submission form, please ensure the following:
provide the VPS's correct IP address the ticket is in reference to.
when selecting the ticket's priority, keep in mind that "Critical" refers to the following: "The priority of critical is used for instances of down services (Apache, MySQL, etc) or a completely downed server which allows us to quickly filter tickets internally and provide you with the best support possible."
provide the server's root password for proper and accurate resolution. If the root password is unknown, please state this in the ticket and request a secure reset.
if the VPS's SSH port has been changed from the default 2200, provide the newly configured port number.
the more detailed information provided in your ticket, the more quickly and thoroughly our support team will be able to assist or resolve your issue.