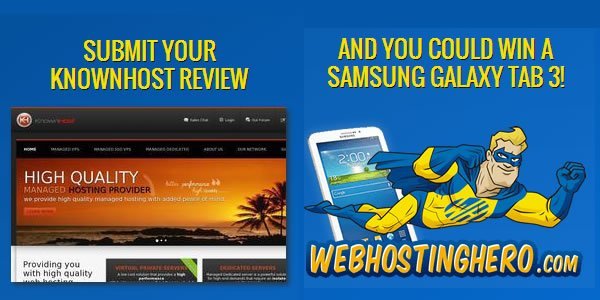 Yes, you've read that correctly – you can enter a draw to win the superb Samsung Galaxy Tab 3  by simply submitting your review for knownhost at webhostinghero.com!
The process is easy, it's only 3 steps and it will take less than 3 minutes to complete!
Click this link: http://www.webhostinghero.com/contest/knownhost/to go to the contest page:
Step 1: Fill in your personal details
Type your full name, email address, website url and select the type of hosting you have with us.
Step 2: Write your review
Share the experience you had with knownhost with other people. Be honest and write exactly of what you think about our products, support and services.
Have a look what others are writing about knownhost on Facebook and other sources
Step 3: What is our rating?
Select from a scale of 1 to 10 what do you think about:
Our performance & reliability
Features we offer with our hosting packages
Competence of our technical support team
Overall rating about our products and services
Finally select if you would recommend knownhost to others and click the I'M Done button.
As a last step and in order to avoid spam entries you need to confirm your participation in the draw by clicking the confirmation link (in the email address you have specified in step 1).
Contest Rules and FAQ
Contest ends on April 14, 2014 and the winner will be announced on April 24, 2014.
The winner will be contacted by email
Participants need to be knownhost customers and residents of United States or Canada
The winner will get a brand new Samsung Galaxy Tab 3 (8 GB, Wi-Fi edition)