An incredible 80% of all Internet users own a smartphone. In practice, this means when they're online they're likely on a mobile device, so you also have to gear your content towards mobile content. We're going to show you how to do it.
See Also: Why is a Mobile Friendly Website a Must Have in 2015?
1. Follow the Money
Over half of all Internet traffic to eCommerce sites is coming from mobile devices. This is simply the principle of following the money. If half of your customers are coming from a certain location, it makes sense to cater to them.
Not Standing for It
To put it simply, customers are pickier than ever before. If your site isn't perfectly optimized for their screen, they'll go elsewhere. Don't leave all this money on the table.
2. Follow Your Customers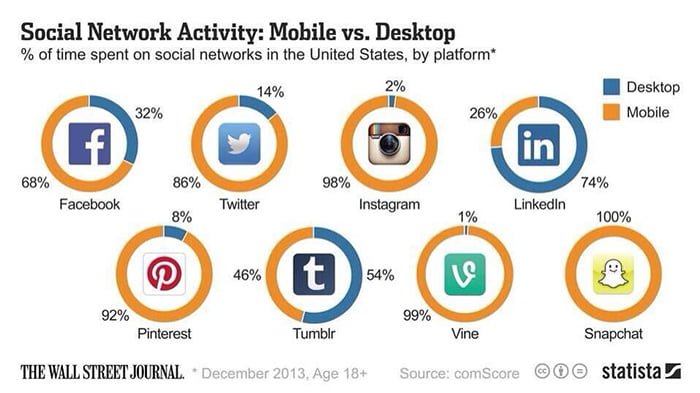 We don't need to write out more statistics relating to how prominent smartphones are. You already know this. It's also a fact that a couple of years ago smartphone users outnumbered desktop users. It's your duty as a business to follow your customers, so do so by gearing your store towards mobile users.
See Also: 10 Reasons Why People Won't Buy From Your Website
3. Mobile Devices are Credit Cards
If we look at the numbers, smartphone users account for the lowest dollar amounts. In practice, this means they're making lots of small purchases, which really start to add up. The fact it's so easy to make a purchase from a mobile device is evidence that you need to adapt to a world without cash.
Make your purchasing process as simple as possible.
4. The World is Addicted to Feeds
Smartphone users are obsessed with finding out anything from their live feeds. Whether it's a Facebook feed or an RSS feed from a favorite blogger, this is how they keep up to date with everything that's going on in the world. You have to follow them.
Making it Work
In practical terms, you have to implant yourself into these same feeds. If your customers are prone to checking Facebook at all hours of the day, ensure they're seeing your ads. The same goes for Twitter.
5. Apps are Everything
Another major trend is the growth of apps. Many people browse and shop exclusively via apps. If you don't yet have a dedicated app, you're behind the competition. Place your services into a free app that any interested customers can access today.
6. Mobile is Security
More often than ever, mobile devices have become a security blanket. Whether it's for personal safety or simply peace of mind, people are attached to their mobile devices like never before.
Fear Drives the Market
Fear is driving this growing market. Whether it's fear of becoming a social outcast or fear of being disconnected, this market is only going to grow through fear. Like always, follow your customers.
7. Mobile is Sexy
Mobile devices are sexualized in every single way, particularly when it comes to teenagers. They're using it for hooking up, pornography, and sexting. It's another major driver because it's accessible from anywhere.
So What Does this Mean?
For marketers, it's further proof that sex sells. If it applies to your business, making sexy available on mobile devices is essential.
8. Tracking Devices
It's well-known that merchants track their customers. You can use mobile devices to analyze the marketing habits of customers in order to improve your products and services. This is vital information that will prove crucial in developing your business.
9. Marketing is About Social and Personalization
Professional should always be at the forefront of your business, but become too professional and you risk becoming cold and formal. Social media has altered the business environment and the way companies interact with customers.
Creating a Personal Relationship
It's all about crafting that personal relationship with customers. When 91% of mobile Internet access is used for social activity, you have to get into that category. Here are a few ways to craft that personal relationship via mobile:
        Direct email marketing campaigns. Communicate with segments of customers using content they'll be interested in.
        Social media promotions. Give people a reason to contact you.
        Talk to customers directly. The rise of mobile has made it easier than ever before to communicate with people. So why wouldn't you take advantage of this?
10.Mobile Usability Ranking
To put it simply, if you don't take notice of the mobile revolution Google is going to punish you. Mobile usability is now ranked in the search engines. If your site isn't responsive, Google will slap you down with the full force of its power.
Consequences
That means less traffic, less visibility, and continuing to slip behind your competitors. In a world where targeted organic traffic remains essential, this could be the difference between a successful business and complete failure.
In addition, you can do it all with a simple responsive WordPress theme. What will you do to make your website responsive today?